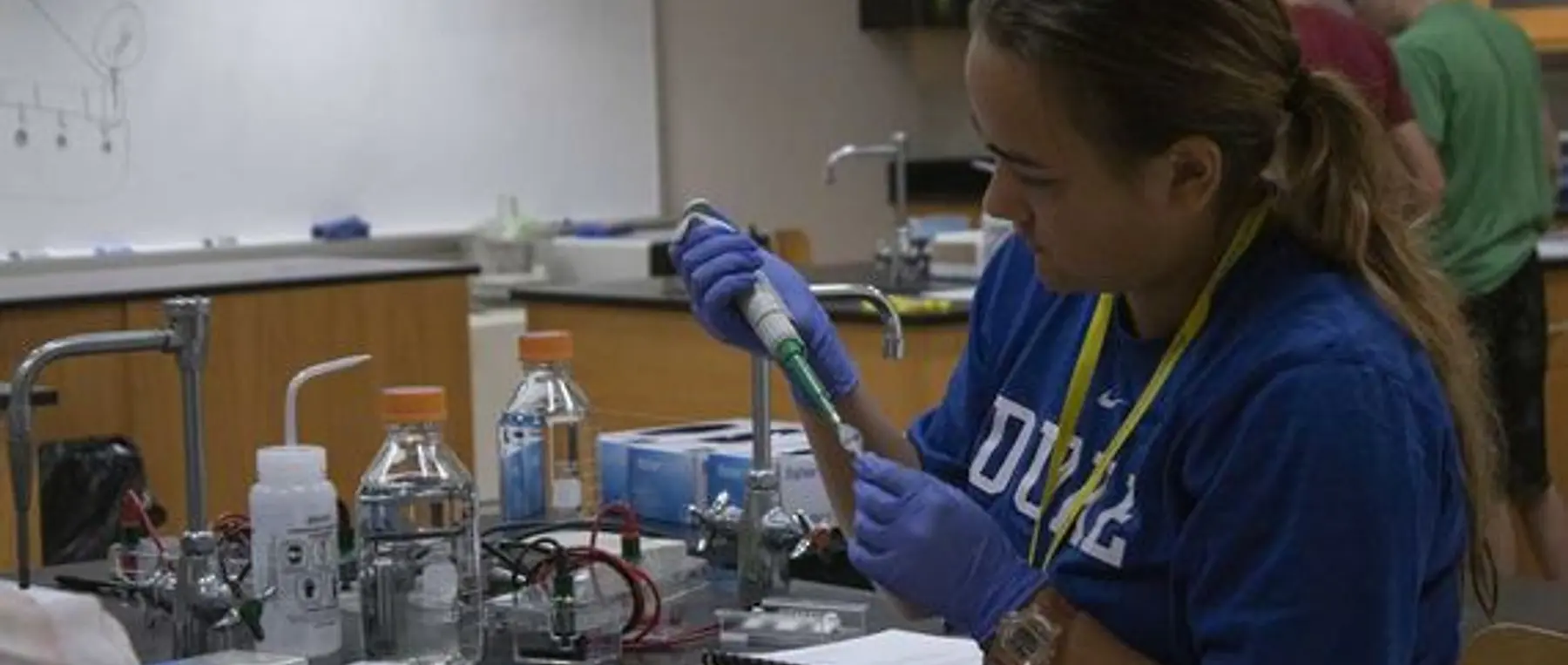 What is the learning experience like?
Summer Accelerator courses are delivered online by skilled instructors and leaders in their fields, with years of experience in mathematics, the sciences, and the humanities.
Our instructors are committed to the learning experience of each student, and bring their professional experience to the online classroom, broadening the experience for each student through a blend of asynchronous and real-time, synchronous coursework and collaborative projects.
May I apply if I live outside North Carolina or the US?
Yes! Students from all over the globe are welcome to apply. Please note that webinar times are shown in Eastern Standard Time.
Can I enroll in classes with overlapping dates?
Absolutely! However, you may not enroll in courses with overlapping required class meeting times. Please double-check the dates and class meeting times before applying to multiple courses.
What are the requirements for admission?
We accept students who excel in science, technology, engineering and mathematics. Each course has different specific prerequisites, such as Algebra or Biology. Please check the course listings for each course's requirements. Every student is required to fill out the online application themselves in order to be considered for the program.
We do not have a specific GPA requirement. The committee that reviews the applications looks at a number of factors to ensure that a student will be able to succeed in the rigorous course they are applying for.
Who are the instructors?
The lead instructor for each course is typically a year-round NCSSM faculty member, or a local content expert educator. Additional classroom instruction may be provided by other experts in the field. See individual course descriptions for more details on each instructor.
Are there tests?
Summer Accelerator Online courses have different methods of assessment depending on the content. Though some courses may include tests and quizzes, it is more common for instructors to use other means of assessment, such as individual and group projects, presentations, and labs.
What type of computer/electronic device should I have?
A computer is needed to participate in our Summer Accelerator Online courses. Students must have regular access to a computer with an Internet connection.
How are my privacy and personal data protected?
Any personally identifiable information (PII) collected by NCSSM will only be used for the purposes of the program, and will not be sold or otherwise given to any third parties. The privacy policy for CampMinder, our the registration system, can be found here. Students will receive their own NCSSM email address for the duration of the course.
What are the student's behavioral expectations in an online course?
Students must adhere to the Participant Code of Conduct while participating in Summer Accelerator.
When are payments/deposits due?
Full payments will be due by April 1 or within 2 weeks of enrollment if enrolled after April 1.
How do I log into my course?
Instructions for setting up your email account and logging into your course can be found here. If you have trouble logging into your NCSSM account or have questions about Canvas, email ithelp@ncssm.edu. 
What if I am on vacation / still at school / at another camp during a portion of the online course?
Exact requirements vary by course, but aside from the meeting times listed for each course, students complete the work at their own pace and are able to be on vacation or still in school and do the work required. Students must have access to an Internet-connected computer with strong bandwidth for the duration of the course. However, students may complete this work from anywhere in the world, and are not required to log in from the same location.
If I apply for the Accelerator program, am I also accepted into the NCSSM Online or NCSSM Residential program?
No. You are accepted only into the Accelerator summer course for which you apply. Application for the NCSSM Online and NCSSM Residential programs is a separate process. Visit http://www.ncssm.edu/apply/ for more information on these programs.
Does participating in Summer Accelerator help me get into NCSSM Online or Residential?
Though participation in Accelerator signals a strong interest in science, technology, engineering and mathematics, Accelerator participants do not receive preferential treatment when being considered for the NCSSM Online and NCSSM Residential programs.
If I am an NCSSM Online student and received a tuition award last summer, will I be eligible for one this summer?
Yes; however, neither acceptance or an award is guaranteed. Check out the FAQs for NCSSM Online students for more details.
Will I receive credit?
You will receive a pass/fail grade for the program. You will also receive a certificate of completion. Please note that this is NOT official credit.
NCSSM Online students will see the course on their NCSSM transcript and it counts towards the 4 courses for completion of the program. However, the course will not count towards as credit nor will it impact GPA.
What Internet speed is required to participate?
For synchronous videoconferencing sessions, we generally recommend a bare minimum of 5 Mbps up and down. Please note that the bandwidth in a household is generally shared, and so even with that connection speed, you may need to adjust household usage to maximize the quality of connection for Zoom calls. For more detailed information, visit NCSSM's IT wiki.
What about safety in an online environment?
In accordance with the UNC System Protection of Minors Policy and NCSSM policies, all instructors and staff members interacting with students enrolled in the program have undergone background checks and training. All NCSSM employees are required by law to report suspected abuse or neglect of a minor. Students must agree to a code of conduct before participating in online programs.
Reporting of illegal or inappropriate online behavior: pom@ncssm.edu; Brian Wiggs, NCSSM Security 919-416-2910; Ayesha Yousafzai, NCSSM Security 919-416-2644; or Summer Programs, summer@ncssm.edu, 919-416-2608
What if I have to cancel?
Cancellations prior to April 1 will receive a full-tuition refund less the supply fee (if applicable). Cancellations made on or after April 1 are not eligible for a refund.
If the minimum requirements for running the program are not met, we reserve the right to cancel a course at any time, and will provide registered participants a full refund, including the deposit amount.