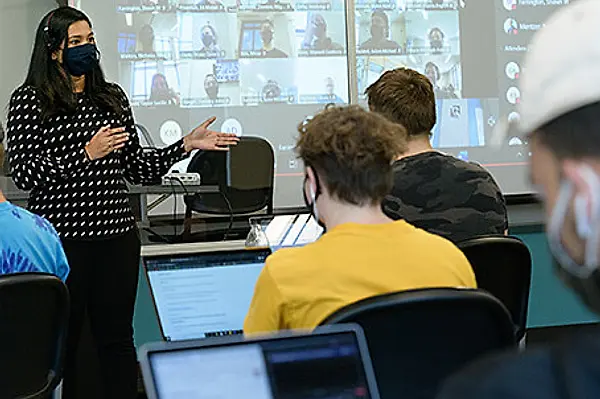 story
Best Practices for Implementing Successful Hyflex Learning
Graduate student Lakshmy Mohandas instructs Tech120 students in-person while Nathan Mentzer, an associate professor in Purdue's Polytechnic Institute and College of Education, teaches online through Microsoft Teams at the same time. The blend of both face-to-face and online instruction, also known as a HyFlex model, give students the option to stay home and participate in class in real-time online or physically attend on any given day. (John Underwood/Purdue University)
Best Practices for Implementing Successful Hyflex Learning
Presented by Joyce Ventimiglia
October 21st, 11:00 am EST
In our rush to "return to normal" during the COVID-19 pandemic, it has become necessary to reshape the classroom. The hyflex instructional model makes it possible to accommodate learners at home and in-person by increasing accessibility for students who may not be able to participate in class otherwise. However, this model is not without challenges. In this webinar we'll discuss some technological and pedagogical best practices for creating and maintaining a successful hyflex learning environment.  
Learning Objectives: 
After participating in this session, learners will be able to
Identify some best practices for hyflex learning 

Discuss technological and pedagogical elements of a hyflex learning environment

Explore design approaches for successful hyflex implementation

 
Register Here
About ​Joyce Ventimiglia:
Instructional Design Specialist
Joined NCSSM October 2000
919-416-2637 ventimiglia@ncssm.edu  ​
Joyce Ventimiglia has been integrating digital tools and resources into teaching at NCSSM since 2001, including over 1,000 educational and promotional videos she created for the school's YouTube Channel.  In 2015, Joyce received the Chancellor's Award for Excellence for outstanding service to the NCSSM community. After graduating from NC State in 2019, she's taken on the role of project manager and educational consultant, specializing in using video & audio production, and storytelling, to create student-centered learning experiences. Joyce has lived and traveled all over the country, is a musician, and a filmmaker. In her spare time, she enjoys practicing meditation, and spending time with her family. A life-long learner, Joyce believes that creating connected learning communities that are accessible to everyone will allow us to continue to produce the knowledge needed to take on the global challenges we'll be facing over the next century.
MEd, Learning Design & Technology, NC State University
BA, Communication Theory, Media Design & Production, University of Massachusetts-Amherst
Certificate in Project Management, NC State University
Instructional Design Specialist
Share this post.