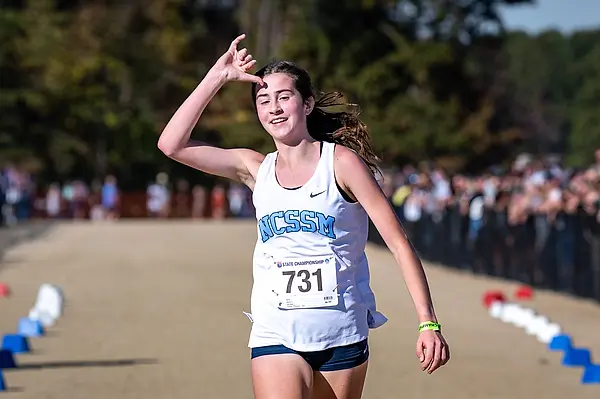 news
Women's cross-country three-peats as state champions
NCSSM-Durham's women's cross-country team claimed their third-straight 2A state championship recently by topping 15 other schools in the NCHSAA State Championship 2023 meet in Kernersville. Catherine Parker, a junior who came to NCSSM-Durham from Eastern Alamance High School, claimed the individual title in the 132-runner event, crossing the finish line 36 seconds ahead of her nearest competitor. Two other Unicorns – junior Caroline Downs, originally from Atkins High School, and senior Anika Raburn, originally from Riverside High School – finished in the top 10. Sophia Roman, a senior originally from Asheboro High School, was awarded a 2A Women's Cross Country Sportsmanship award.
While a three-peat in any sport is an incredible accomplishment, NCSSM-Durham's is especially so as the school's structure as a two-year residential school means that runners have only two years to develop as a team. Too, an intensive academic program that requires a significant amount of work outside of class hours means that the team doesn't get to practice as a group quite as frequently perhaps as many schools.
Such challenges, says Charlie Payne, a physics instructor at NCSSM-Durham and the school's cross-country coach since 2013, are overcome by the maturity of the student-athletes and their commitment to each other as teammates.
"It's like every year we have a new team," he says, "but what we try to do is encourage the development of leadership skills in the juniors who can then be ready to lead when they are seniors. And the girls just did an amazing job. They did that all season. They grouped together and listened to each other and worked together during every race."
As examples, Payne noted that one of the team captains was unable to compete in meets this year due to injury, yet still remained a vital part of the team's dynamics. Other student athletes understood early on that the competitive nature of the sport was more than they were interested in, but still chose to remain involved with the team by helping out at practices and meets. Perhaps the most selfless example of dedication to the team is that of a junior who volunteered her spot on the team to a senior who had previously been unable to compete, also due to injury.
That students on their own chose to make such sacrifices to strengthen the team and support their teammates indicates a relationship that looks more like family than a team, says Payne. That may be what lies most at the core of the string of recent championships.
Parker, the individual state champ who has run competitively since sixth grade, says passion for running also helped the team come together. "In lots of schools, I think some of the runners get into cross-country so they can get in shape for other sports," she says, "but everyone on this team is passionate about running, and we love running together as friends. Even on weekends, we'll go for long runs together. I love the team, and I'm really happy I got to be part of a state championship team."
Sacrifice, bonding, passion; a lot goes into crafting a state championship team. And then sometimes – sometimes three times in a row – things just work out. "Whatever we were doing in the program seemed to gel with these girls," Payne says. "It's not always perfect for everybody, but with these girls, it seems to have been. More than anything, though, I think it just goes back to what I always say: these kids, they're good kids. Yeah, they're good kids."
NCSSM-Durham's men's team also had an impressive showing at the meet, finishing seventh out of 16 teams in the team standings. Rafferty Koontz, a senior originally from Trinity School of Durham and Chapel Hill, finished second out of 138 runners.