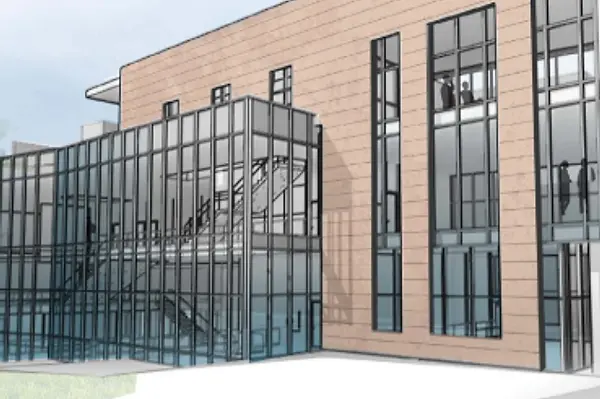 news
Record $7.5M gift to renovate dorms, add academic commons on NCSSM's Durham campus
An architectural rendering of the new academic commons building extension to be built alongside Bryan Center in the service area known as the Pit.
A $7.5-million private gift — the largest ever in the history of North Carolina School of Science and Mathematics — will help construct a new academic commons on the Durham campus and will launch an effort to renovate every residence hall as well, the school announced today.
The school, which has offered a transformative living and learning experience to NC students since 1980, was established on a repurposed historic hospital campus. A diverse planning team of teachers, students, parents, alumni and other constituents identified revitalized facilities as important to advancing student wellness and the academic experience.
"Most of our student living quarters were adapted from the patient wards of the decommissioned Watts Hospital in 1980, and some halls are more than a century old," said Chancellor Todd Roberts. "Even our newest dormitory, built in 1990, is showing the wear and tear of decades of use. This donation covers about half the estimated cost of renovation and puts us in a strong position to raise the additional funds from other private donors and the state of North Carolina, which are needed to refurbish each of our 348 dorm rooms."
The school will need to raise an additional $4.5 million from private and public sources to complete the dormitory renovations, which will be implemented in phases over the next four to five years. The balance of the contribution will fund a substantial portion of the estimated $12 million needed to renovate the Bryan Center cafeteria and construct a new three-story Academic Commons addition that will extend into the middle of the campus, envisioned by architects as a bright and airy multi-purpose dining, instructional and meeting space that can accommodate collaboration among larger groups of students and educators, similar to student commons commonly found at other UNC System institutions and in many NC high schools. 
Overall, NCSSM has identified more than $50 million in basic repairs and renovations needed on the Durham campus to uphold its educational mission and reputation as a top secondary school worldwide. Facility upgrades are a strategic priority for the school, with some $20 million in renovations to residence halls and construction of a new academic commons topping the list.
The $7.5-million gift breaks the record for the largest in school history for the third time in less than two years, establishing strong momentum as the NCSSM Foundation seeks to raise at least $50 million to propel the school into its next 40 years.
First, Carl Ryden '89 set the record by giving $2 million in December 2018 to establish the Ryden Program for Innovation and Leadership in Artificial Intelligence at NCSSM, the first artificial intelligence program at an American high school. Then, in June of 2019, Carolinas HealthCare System Blue Ridge committed $5 million toward the student health and wellness center to be built on the new NCSSM-Morganton campus.
And now comes this leadership gift from an NCSSM alum who graduated in the 1990s, pursued a successful career in finance, and who is choosing to remain anonymous. The donor says facilities on the Durham campus should be up to date like those being newly built in Morganton, a second NCSSM campus funded primarily by a 2016 statewide bond issue that will accommodate an additional 300 residential students as well as more online students. 
The donor expressed the hope that this leadership contribution will inspire personally significant gifts from fellow alumni who found their residential experience at NCSSM just as enriching and transformative and also position the school for additional state appropriations, especially for Durham facility improvements.
"I hope this is the same story a lot of people say about Science and Math," the donor says. "For me it was like finding your home. You bond with people on your hall in a way you've never experienced before. To me, that residence life was such a rich part of the experience — not only the friendships you made and the fun and the pranks that you had — but you learned things. You got an education from the other kids on your hall, too. You'd have a person doing computer graphics, someone doing electrical or chemical experiments. People had different skill sets and knowledge areas, and you would learn from them all in your downtime."
After living in another state for many years, the donor returned to campus for a class reunion and was both impressed with the academic innovations and surprised at how similar the buildings still looked after two-plus decades.
"When you're first back on campus, you're like, wow, nothing has really changed here," the person remembered. "A lot of the stuff looks kind of worn down." An exception, though, was the school's Peter T. Haughton Fabrication Lab, funded by a major gift Ryden had made before his $2-million AI gift to the school.
"Then you go in there and think it is great the school is staying on the leading edge on the academic front," the person remembers, adding that the experience inspired musings about a major gift that would be personally meaningful. 
"I do think that it's worthwhile to realize that places like Science and Math need money from alumni and other supporters to supplement what funding they can get from the state to keep the school the amazing place it has been," the donor said. "Sometimes, you can get so caught up in the college alumni culture that you can kind of forget about Science and Math — but you realize that maybe the School of Science and Math could use my contribution a little more than my university with a multibillion-dollar endowment."
Ryden came from a working-class background and built on his NCSSM experience to go on to found a successful banking software company that employs hundreds in North Carolina, while the $7.5-million donor recalls a more privileged childhood, attending private school before being selected to attend NCSSM. Yet both of them value that, as a public school, NCSSM offers talented students the opportunity to maximize their potential, and both found mathematics classes that allowed them to grow, which were not available in their home schools.
"Another important point for me about the school," the donor says, "is the way it put students from really different backgrounds on an even footing. Absolutely everything was covered. Room, board, your books, everything. As long as you can get yourself to campus — and some students struggled to do that — you had all of these opportunities. There is so much in this world that is easier when you come from a little bit of privilege, but to abstract all of that away for all the students as NCSSM does is just a really forward thinking thing to do. I love that North Carolina is able to provide that for students, and I think it's great they're opening a second campus to give even more people that opportunity."
Roberts expressed the school's gratitude and exhorted fellow alumni and friends of NCSSM to follow the record-breaking donor's lead.
"I thank you for raising our sights above what we even would've believed possible just a few years ago," Roberts said to the donor. "It is humbling to be part of a place that has sent so many amazing people like you out into the world, and so gratifying to see how much you want to ensure the opportunities that you had, or even better ones, are there for future students. May many others be inspired to join you in giving back so that we can see both the dorm renovations and the academic commons — and countless other needed investments — become reality at NCSSM, allowing our school to continue serving students from across our state for the next 40 years and inspiring a new generation of thinkers, makers, doers, and leaders."
Academic Commons addition
What: Newly constructed building addition attached to Bryan Center facing the interior of campus in a service area now known as "the Pit."
Key elements: Will incorporate renovated dining hall space and dining area expansion that will offer daytime and evening social and study space for students even outside of mealtimes. Large, multi-purpose spaces for meetings, group work, seminars, lectures and presentations that accommodate larger groups. Something of a town square feel. Lots of sunlight. Multi-story, with grand staircase that also functions as stadium seating. 
Project status: Architectural firm ClearScapes of Raleigh has been engaged for advance planning (Fun fact: NCSSM alumni working on the project for ClearScapes include: Mon Peng Yueh '88, Principal, Architect; Brandy Thompson '97, Principal, Architect; Henry Newell '97, Architect and Structural Engineer Intern; Kate Whalen '11, Mechanical Engineer). First-phase cafeteria renovations to begin summer 2021.
Anticipated total cost: About $12 million
Dorm renovations
What: Renovation of the 7 residence halls on the Durham campus, which comprise 348 dorm rooms. One or two residence halls will be renovated each summer until all are complete by about 2026 (4-5 years). 
Key elements: New flooring, walls, paint, bathrooms, furniture and upgraded lounges
Project status:
Architectural firm MHA Works engaged for advance planning and design
The first halls, likely in Hill, will be renovated in summer 2021.
Anticipated total cost: About $8.5 million