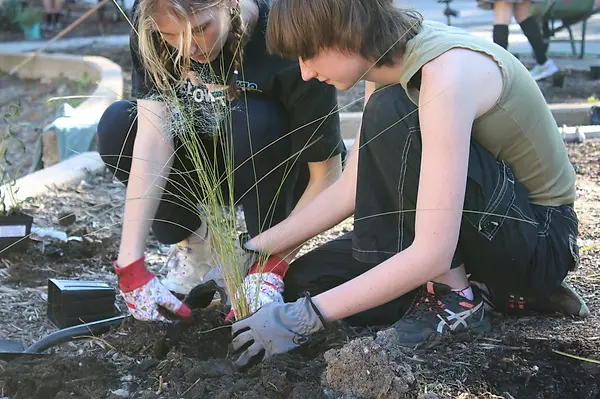 news
New pollinator garden to act as living lab
With help from students, staff, faculty, and even a fairy dressed for a school trick-0r-treat event, a new pollinator garden of native plant species has now replaced what once was an imposing thicket of "over-mature" holly, nandina, and azalea bushes near the main entrance to NCSSM-Durham. The new garden joins three other natural spaces on campus that provide habitat for wildlife and serve as outdoor teaching laboratories for the school's life science courses.
Amy Sheck, NCSSM's Dean of Science, a certified master gardener and an entomologist, led the effort to establish the natural space. Plans for the garden began to take shape in the spring, she says, several months after the unmanageable tangle of greenery had been cleared away to the dirt. "That's when the teachers started looking at the space," Sheck says, "and saying to one another, 'Oh, my gosh, there's an opportunity here!' It opened our minds to a whole new type of planting in support of environmental, aesthetic, and educational objectives." 
For months Sheck and a number of volunteers including NCSSM-Durham biology instructors Heather Mallory and Erin Quinlan, faculty emerita and master gardener Joan Barber, class of '82 alumna and master gardener Shauna Farmer, and grounds supervisor Todd Bollinger, worked together to create a plan for the space. The group settled on native pollinator plants such as firepink, Eastern bluestar, and butterfly milkweed, and brought in Mackenzie Noel of Haw Honey, an apiary, meadery, and native plant nursery in Saxapahaw, NC, as a project partner. Funding for the plants came in part from the NCSSM Foundation.
"Plants are the basis of all life," Sheck says, "and the more native plants we have, the more native organisms we can support. We could have planted pretty, non-native plants, but they're not supporting pollinators in the same way native plants would. The diversity of pollinators we will bring in with this garden is enormous compared to what we would attract with non-native flowers."
"And this garden should require less work and thrive more easily," Quinlan adds. "These plants have evolved for this area. They take less water, less fertilizer, and so they have a greater chance of surviving with less human interaction."
By the end of the afternoon, 189 individual plants from 23 different plant species had been put into the ground. Great care was taken to select a variety of native plants featuring seasonal flowers, colorful foliage, winter grasses, and seed pods, that will create a year-round habitat for pollinators and other small wildlife.
A pollinator garden with native plants generally takes about three years to fully establish itself, with plants building a root system in the first year, growing deeper roots and possibly producing a few blooms in the second year, and reaching full maturity by year three, says Haw Honey's Noel. "We like to say it's 'sleep, creep, and leap.'"
Already, Sheck says, the school has begun the process of certifying NCSSM-Durham as a pollinator-friendly campus, but she'll be letting the garden sleep until the beginning of the next school year. Once students are back on campus in August, however, Sheck and her science colleagues will put the garden to work as an outdoor laboratory when they lead students in a citizen-science, shared-data pollinator census counting the number and types of pollinators found among the plants. "I'm excited," Sheck says, "to see how the data evolve over time as the garden matures."
Though nearly 200 plants were put in place, Sheck and her team aren't done. There remains in the targeted space a sloped area that rolls down and away from the pollinator garden that will, in time, be turned into a micro-meadow with a mix of grasses and flowering plants. And just like the bees and butterflies that will be ferrying pollen to and from the garden and throughout Durham, Sheck has carried forward the idea of a pollinator garden to NCSSM-Morganton, where she is already working with science faculty there to establish a space with plants native to the foothills.
"Planting a garden is a joyful and hopeful process; a celebration of fecundity, photosynthesis, beauty, and the symbioses between plants and pollinators," Sheck says. "I look forward to making the campus a haven for native plants and pollinators and an educational model that other schools can look to."