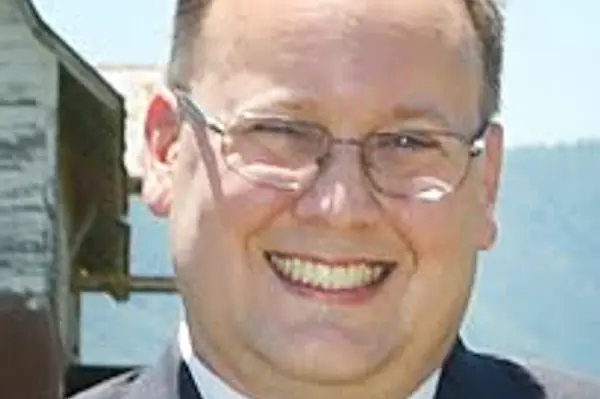 news
NCSSM-Morganton Names Chief Campus Officer, Announces First Job Postings
Kevin Baxter has been named Vice Chancellor and Chief Campus Officer for NCSSM-Morganton.
The North Carolina School of Science and Mathematics (NCSSM) announced today that its board of trustees has tapped Kevin Baxter to serve as the Vice Chancellor and Chief Campus Officer for NCSSM-Morganton. Baxter has previously served NCSSM as Director of Western Campus Planning and Project Management, and his appointment to this new role marks a significant milestone as the construction project matures into a full campus program. NCSSM also announced the posting of several new faculty and staff positions that are critical to operationalizing the new campus that will open in 2021 and enroll its first residential class in 2022. NCSSM offers a no-cost world-class education for the state's most academically-talented high school students. 
"Kevin has the vision, leadership experience, and proven commitment to NCSSM-Morganton that we were seeking in the Vice Chancellor and Chief Campus Officer role. I am thrilled with this decision," said Mark Morgan, chair of the NCSSM Board of Trustees. "He embodies NCSSM's values and has a keen understanding of what makes our institution special — empowering students, spurring innovation, and enriching the communities that surround our campuses."
Along with the promotion of Baxter comes the opportunity to begin building the team of highly-qualified faculty and staff at NCSSM-Morganton, which will be the only campus of the University of North Carolina System in the Unifour region. As it begins the hiring process, NCSSM-Morganton expects to fill 14 positions this fiscal year and grow to an eventual workforce of nearly 100 positions over the next three years. 
"NCSSM is well-known nationally and internationally as a world-class teaching institution, and we are eager to attract a diverse and talented team of professionals for our emerging state-of-the-art campus in Morganton," said NCSSM Chancellor Todd Roberts. "Kevin and the growing NCSSM-Morganton team will amplify our mission to bring transformative results not only for our student body but also for our entire state and its citizens."
The state of North Carolina has demonstrated its commitment to construction of the NCSSM-Morganton campus  through appropriations totaling $73 million, and the school continues to raise a significant amount of private dollars to complete its 21st century STEM campus. Already a tremendous spectrum of supporters have stepped forward to contribute to the cause. To date, the NCSSM Foundation has recorded more than 200 gifts that total nearly $10 million in support of the emerging campus in Morganton including a $5 million gift from Carolinas HealthCare System Blue Ridge.
"We are delighted to see the daily progress of the new campus in Morganton," said Kathy C. Bailey, President and CEO of CHS Blue Ridge and Immediate Past Chair of the Burke County Chamber of Commerce. "The school will bring new families and jobs to the area which will enhance the quality of life for those in our community."
NCSSM-Morganton promises academically-talented students from anywhere in North Carolina the opportunity to study advanced classes with top instructors and mentors in science, technology, engineering, and math. The new campus will provide living and learning space for 300 juniors and seniors from across North Carolina and increase distance education and summer learning opportunities for many more, extending NCSSM's world-renowned academic programs beyond its original home in Durham. NCSSM is the only high school among the 17 campuses of the UNC System and will be the first program of its kind anywhere with two physical locations.
"I am honored to take on this new leadership role at NCSSM-Morganton, and I want to thank the people of this region who have embraced us with open arms from the very beginning," said Kevin Baxter, Vice Chancellor and Chief Campus Officer for NCSSM-Morganton. "Not only are we poised to bring the promise of NCSSM to hundreds more students each year, but we are also bringing a once-in-a-lifetime opportunity to western North Carolina."
For more information about the development of NCSSM-Morganton, including information about the capital campaign and forthcoming job postings, visit ncssm.edu/morgantoncampus.