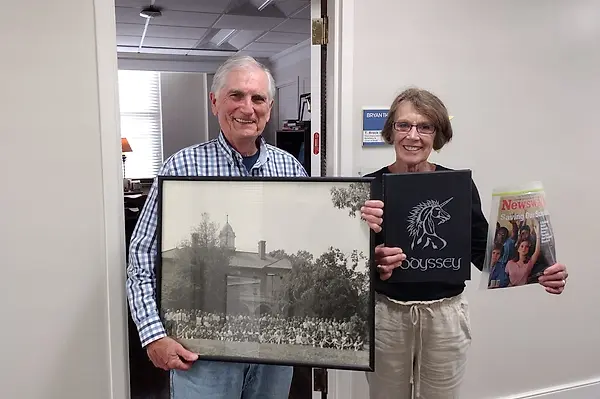 news
Founding dean of students donates items to NCSSM-Durham
Mike Collins, NCSSM's first dean of students, returned to campus recently to donate a framed black-and-white photograph of the entire student body, faculty, and staff that was made on the very first day of classes at NCSSM in 1980. At that time, the school was still in transition from a shuttered hospital to a high school. Power tools and buckets of paint stood along walls outside classrooms, and there was no functional cafeteria; the school's 150 students walked down the street to a nearby elementary school cafeteria for meals.
Over 40 years later, NCSSM is regularly noted as one of the best public high schools in the entire country. Its campus in Durham now serves 680 students in its Residential program, and reaches thousands of students and teachers throughout the state each year through outreach and online programs. In 2022, NCSSM innovated once again when it opened a second residential campus in Morganton, NC, that now has a full complement of 300 students calling it home.
"NCSSM was truly visionary," Collins says, "and every person in that photo was a risk taker. Every person in that photo made a decision to, in many cases, leave behind good situations to be there, and I admired the ability of the faculty, the staff, the kids, and their parents to look beyond the moment and see the opportunity and what it would lead to."
Though Collins, who spent four years with the school and helped implement the school's admissions process, describes his vital contributions to NCSSM's history as "modest," his admiration of the school and its people has remained constant.
"NCSSM more than survived," he says. "It has taken a leadership role and has been a good example for what can be done, not just in North Carolina, but in other parts of the country, as well. Whenever I've looked at that photo, I've felt a sense of pride in what the students did, and what they've done since."