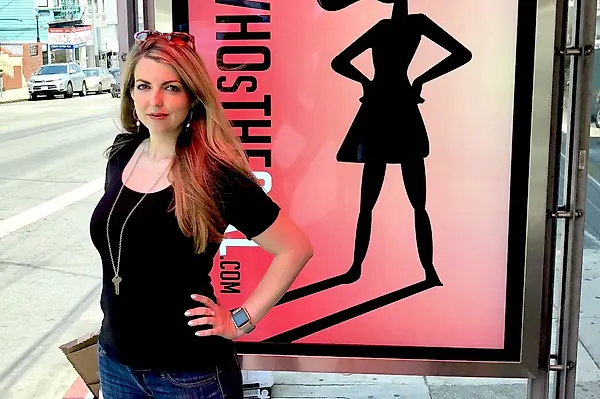 news
Alumna works to help exploited youth find their inner power
Alia Whitney-Johnson stands with one of the Jasmine Strong posters in San Francisco.
A bus shelter poster shows the silhouette of a heroic cartoon girl, the breeze blowing her long hair sideways while she stands strong, hands on hips, casting a long shadow.
This fall, dozens of these mysterious signboards scattered across San Francisco asked passers-by to wonder, "Who's the girl?" and to visit whosthegirl.com to submit guesses like the first female president, the hero we need, someone ready to fight injustice.
Just before Halloween, the nonprofit organization Freedom Forward revealed her identity: Jasmine Strong, a fictional 13-year-old composite character built from the real-life stories of area girls who had been lured and coerced into commercial sexual exploitation — and then escaped that life.
Jasmine is offered as a cautionary tale to prevent sex trafficking, but even more as a role model of strength for reasserting control over her own life and stepping into her power, explains Alia Whitney-Johnson '04, Co-founder and Executive Director of Freedom Forward.
A 5-minute animated YouTube video tells the story of how Jasmine meets an older boy named Daniel, who first seems to offer love and belonging, complimenting her and buying her gifts — but then pressures her to have sex with his friends for money, becoming first manipulative and then abusive. Contrary to the stereotype of an abducted teen, Jasmine is exploited within the course of her everyday life, which is a much more common scenario.
"We really wanted to move beyond a story of victimization to portray Jasmine for her power," Whitney-Johnson says. "In stepping into her power, Jasmine creates a website for other teens like her — complete with real blogs and tips from youth who've been there, ideas for self-care and healing, and social media channels that show life beyond her exploitation. What I see every day working with young people in San Francisco is that the picture is a lot more complex than victims and villains. Young people are often first let down by the very systems that are designed to protect them, like child welfare. Traffickers then prey on our deepest needs as human beings, such as our desire to belong. How do we enable youth to know that there is a non-judgmental community out there and that they are not alone?"
Seven "incredibly resilient" young people who had experienced sexual exploitation and the underground street economy helped Freedom Forward craft Jasmine's story, website, and tips for youth to be posted online — the same place that, according to research, more than half of exploited youths meet their trafficker. The video, which has an educator's discussion guide, is also meant as a conversation starter for schoolteachers unsure how to approach such a sensitive topic. At the end, the video shows viewers who need help where to send a confidential text message.
"Where I come from, a lot of people don't find their inner power and aren't able to leave what they're used to. They become a product of their own environment," one of Freedom Forward's youth consultants explains. "Jasmine sees the chance to leave and claims her power. A lot of people give up even when they have the chance. Jasmine reminds us that we are powerful."
Whitney-Johnson hasn't turned out to be a biologist as she expected after enrolling in the North Carolina School of Science and Mathematics residential program from her farm childhood outside of Asheville. But she says her time at the school helped her develop the passion, boldness, and leadership skills that equipped her for the work of founding and leading Freedom Forward.
"Science and Math was a completely transformational experience that really set me on my trajectory in a way I didn't expect at the time," she says. "While I was there, I did a lot of research and independent projects and became really comfortable prepping a plan and owning a project from end to end."
After doing extensive research with Dean of Science Amy Sheck on the impact of global warming on a butterfly species and a summer internship at UNC-Chapel Hill, Whitney-Johnson earned a scholarship to the Massachusetts Institute of Technology to study engineering.
That led her to Sri Lanka to do an engineering project as part of tsunami relief. There, she met an 11-year-old girl who had given birth to an infant son after being sexually abused by her own father — and found a new calling working with youth who had experienced abuse and exploitation. She took some time off from MIT and helped to start a non-profit in Sri Lanka to help girls like her. Upon returning to the United States and seeing the prevalence of commercial sexual exploitation in her own backyard, she founded Freedom Forward in San Francisco.
NCSSM formed her to do this work, Whitney-Johnson says.
"I was surrounded by such an incredible community of support there," she recalls. "When I think of the type of community we are trying to develop in San Francisco and in Sri Lanka, I think about the Science and Math community as a model. I want every young person to be able to have those kinds of positive relationships, people who see them for their greatest potential."
Share this post.