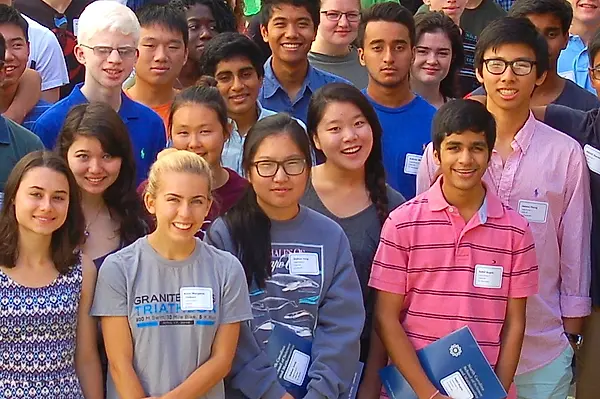 news
116 students begin summer research experiences
Our record-breaking 2016 cohort of summer research students, who will live on campus while working with mentors on and off campus.
A record 116 students are participating in the 2016 Summer Research Internship Program, up from 75 students in 2015. They include primarily rising seniors in NCSSM's residential program but also one NCSSM Online student, two students from Louisiana School of Math, Science, and the Arts, and a student from Croatia. 
The students convened on campus June 20 to kick off the program. Joining them for "Lunch with a Researcher" were Duke University researchers Bob Beringer, Gary Kapral, Micah Luftig, Meg Shea, and Yuchen Zhao. Recent grads Dominick Carbone, Alisa Cui, and Gabrielle Hall (all Class of 2016) shared their expertise and insights with the students.
Beginning their first day of research on June 21 were:
76 students traveling to work with mentors at Lenovo, Duke, NC State, UNC-Chapel Hill, and NC Central
2 students working at NC Research Center in Kannapolis
2 students working at VersaMe, a start-up company in Huntersville
21 students working with NCSSM research instructors Jon Bennett, Robin Boltz, Michael Bruno, and David Cantrell.
15 additional students will begin work in July with Amy Sheck and Cheryl Gann.
Join us Friday afternoon, July 29, for the Summer Research Symposium to hear about the students' summer adventures in research. — Sarah Shoemaker, Mentorship and Research Coordinator
Share this post.