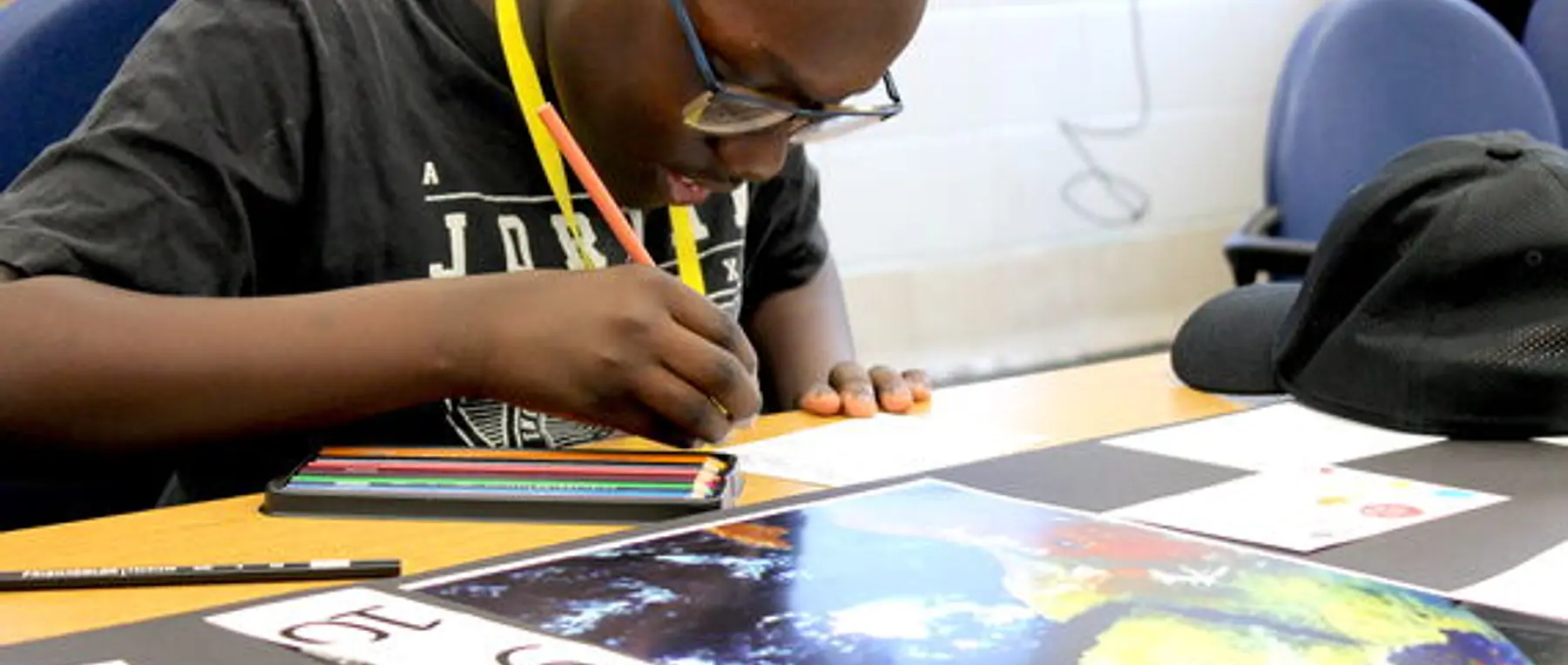 What makes Summer Accelerator different from other STEM camps?
Summer Accelerator courses offer students academic growth through engaging, challenging STEM courses on topics they can relate to. Students learn with like-minded peers and are taught by scientists, university professors, engineers, and others who bring real-world experience and activities to the Accelerator learning experience.
Who can apply?
Summer Accelerator courses are for exceptional rising 7th- through 12th-graders. Any student who meets the requirements for a particular course may apply for that course. Applicants do not have to be residents of North Carolina — students from all over the globe are encouraged to apply.
The application process
Part 1 of the application must be completed by a custodial parent or guardian. The short answer portion must be completed by the prospective participant. Applicants should be thoughtful in their responses. The application will take between 30–60 minutes to complete, and students are encouraged to save their short answers in a separate document and copy and paste them into the form, as the online form may time out and answers will not be saved. Please be sure to provide the correct email addresses for both the participant and the parent/guardian contact.
Past participants in the Accelerator program who are rising 8th-12th graders do not need to complete the short answer questions. After submitting the parent/guardian portion, Accelerator alumni will hear back within 2 weeks.
Application deadline
The application will open on December 6 and stay open until all spots are filled. You may indicate a second-choice course on the application in case your first choice is full. Some classes have supplies that are mailed out to students, and in that case, the deadline is at least one week prior to the start of the course. We recommend applying early as courses will fill, at which time we will begin a waitlist.
Admissions are made on a rolling basis. Applications are reviewed and admissions decisions are made once per month.
Admissions criteria
Applications are scored by a committee that considers many factors in order to admit students who will succeed in the program. The reviewers look at self-reported GPA/grades, passion for subject area, interest in learning, behavior and conduct, and experience in the subject or related area (if opportunities are available). The student portion of the application must be completed and written by the student.
When will I learn if I'm accepted?
Applications are reviewed monthly and notifications are sent by the 15th of each month. For example, for completed applications received in January, families will be notified of course placements by February 15th.
Are there discounts available?
Yes! Below is the list of discounts offered for Summer Accelerator.
Residential
Early Bird Discount: students who apply by February 1st receive $100 off.
Siblings: $150 discount for each sibling enrolled after the first one.
Multiple Session Discount: 10% off each course after the first one.
Online
Early Bird Discount: students who apply by February 1st receive $50 off.
Siblings: $25 discount for each sibling enrolled after the first one.
Is there financial aid available?
Yes, any student in the United States who has been accepted to the Summer Accelerator program may apply for financial aid by completing a FACTS Aid Assessment. Students in North Carolina whose families are eligible for the Supplemental Nutrition Assistance Program (SNAP) may apply for a full financial aid scholarship for our summer programs without doing the FACTS assessment.
We will award financial aid to at least 10 eligible students each summer. To apply for aid, please fill out the same application and indicate that you are applying for aid. Once accepted to Early Accelerator or Summer Accelerator, we will provide details about applying for financial aid. At that point, applicants can choose to complete the FACTS assessment to apply for financial aid or send proof of SNAP to summer@ncssm.edu in order to be considered for aid. The student's spot will be held without a deposit during the financial aid application process, and a deposit will be due one week after the assessment depending on aid amount.​
We are seeking funding to expand our financial aid to families in need and will announce any expansion of financial aid through email to those subscribed to our mailing list. You can subscribe here.
We also highly recommend the Jack Kent Cooke Young Scholars program.
What if I am a current NCSSM Online student?
Students in the Online Program at NCSSM are eligible for tuition awards, which will be limited to our Online courses this year. Rising seniors who have not yet received an award are eligible to receive awards starting December. Incoming juniors are eligible to receive awards upon notification of admission to NCSSM. Rising seniors who have already received an award will be considered after the incoming juniors. See the Online Awards FAQs for more details.
Cancellation Policy
Cancellations prior to April 1 will receive a full-tuition refund less the Supply fee (if applicable). Cancellations made on or after April 1 are not eligible for a refund.
In the case that the minimum requirements for running the program are not met, we reserve the right to cancel a course at any time and will provide registered participants a full refund, including the deposit amount.