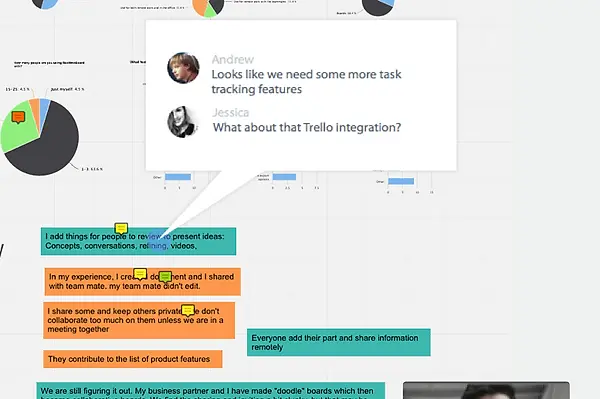 story
RealtimeBoard provides interactive bulletin board
RealtimeBoard allows real-time collaboration and planning with a very flexible virtual whiteboard.
RealtimeBoard is an online bulletin board creator that allows users to collaborate in visual planning. RealtimeBoard sacrifices the simplicity of other online bulletin board sites such as padlet for more advanced features helpful to visual planning. This does however result in a somewhat steeper learning curve. It is the solution for the padlet user who needs more features for online collaboration.
RealtimeBoard allows users to create an online bulletin board using a number of templates, from a timeline or calendar to a Gantt chart or Scrum board. Users can also choose to use no template at all, and just create an online space where students can post.
Why we like it:
RealtimeBoard is flexible. It supports more input formats than sites like Padlet. Users can easily search and post YouTube and Vimeo videos, Google images, icons and wireframe models. Users can also draw on walls and add text and comments. RealtimeBoard shares features with mind-mapping software in that users can link objects together and highlight connections.
Users can zoom in and out of bulletin boards, and can create massive boards that can hold hundreds of posts. In this way, it's like having a school-sized whiteboard in each classroom.
Boards can be exported as pdfs, images, or can be exported to Google Drive. There is also a chat feature, so collaborators can chat with each other in real-time as they work on their board.
RealtimeBoard provides free accounts for educators, which allow unlimited collaborators and all the features of their premium accounts.
Uses in the classroom:
Students can add their names to a shared calendar.
Students can collaboratively design a user interface using wireframe models.
Users can create timelines or charts.
An instructor could create a basic outline for a project and ask students to flesh out the details.
Students can take visual notes of a lecture, or use mind-mapping to brainstorm ideas.
Potential drawbacks:
RealtimeBoard is complex and can take time to learn. Boards cannot currently be embedded on other websites or in learning management systems. Share this post.