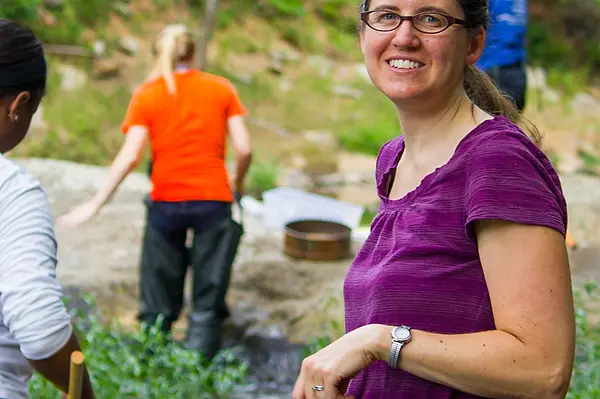 story
NCSSM biology instructor Christine Muth shares curriculum on urban streams
Christine Muth helps students collect and identify aquatic macroinvertebrates in Eno River. Photo: Jeff Mahorney
Growing up, NCSSM Instructor of Biology Christine Muth spent much of her free time exploring forests and creeks near her home in North Carolina. Her exploration continues even now, as Muth focuses part of her studies on the effects of urbanization on stream ecosystems. Last year, Muth participated in a National Science Foundation Research Experience for Teachers fellowship, where she developed new curriculum on stream urbanization.
She recently shared this new curriculum at the North Carolina Science Teachers Association (NCSTA) Professional Development Institute. Titled, "All Urban Streams are NOT Created Equal: Development, Connectivity, and Stream Health," the curriculum focuses on current research and how it is being used to determine which aspects of urban development have the greatest impact on stream health.
The curriculum is available for teachers anywhere to adopt and use in their classrooms, free of charge. It is especially appropriate for teachers to use after administering the AP Environmental Science Exam.
View the curriculum
Share this post.