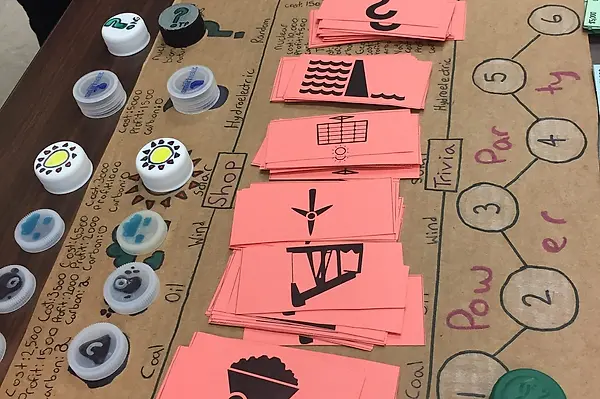 story
April 14th Webinar– Top Tips for Creating Meaningful PBL: Using Reverse-Bloom's Taxonomy to Create Intentional PBL
Meaningful Project-Based Learning
Project Based Learning looks different across the board, depending on who you talk to in K-12 education. How can we create project based learning that will engage students in a deeper and more meaningful way? Bloom's Taxonomy is one approach that helps teachers to capitalize on their curriculum by creating intentional project-based learning scenarios for learners in their environment. In this session, learners will gain a thorough understanding of how to create project-based learning scenarios for their class. Participants will come away with a toolkit including thinking map templates and examples to use in the classroom.
Webinar Presenter: Douglas Price
When: April 14, 2:00 pm
Learning Objectives: 
After participating in this session, learners will be able to
Create meaningful PBL outline

Differentiate intentional PBL framework from other project-based approaches 

Utilize a Reverse-Bloom's Taxonomy
Watch the Recording HERE
​About Douglas Price
2019 Burroughs Wellcome North Carolina Charter School Teacher of the Year
6th Grade Teacher at Voyager Academy Middle School
Contact Info:
dprice@voyageracademy.net
  /
@dc_price
(Twitter) ​
Doug is an energetic, creative, and successful classroom educator who seeks to create unique and challenging ways to learning within the classroom. With a strong passion for inter-disciplinary learning and 21st century technology skills, Doug incorporates the latest in research-based teaching that encourages pedagogical success for students in each venture they encounter. He is an advocate of parental involvement, a champion of student growth, and a voice for fellow educators.
Outside of the classroom, Doug seeks to further his understanding of education and his relation to local, state, national, and global student learning, as well as advocacy for the classroom. Over the past few years, Doug has taken his personal education to new heights by endeavoring into several fellowships and internships that have allowed him to explore the world of education deeply, igniting his ongoing passion.
At the end of 2018, Doug was named as the Burroughs Wellcome Fund North Carolina Charter School Teacher of the Year and Charter Regional for NCDPI. 

Education
BS, Auditory Oral Therapy; Early Childhood Education, University of North Carolina at Greensboro
M.Div., Christian Education, Southern Baptist Theological Seminary
M.Ed., Elementary Education with Technology and 21st-Century Tools focus, North Carolina State University 
Ed.D. (in progress),Educational Leadership and Administration, University of North Carolina at Greensboro
Share this post.