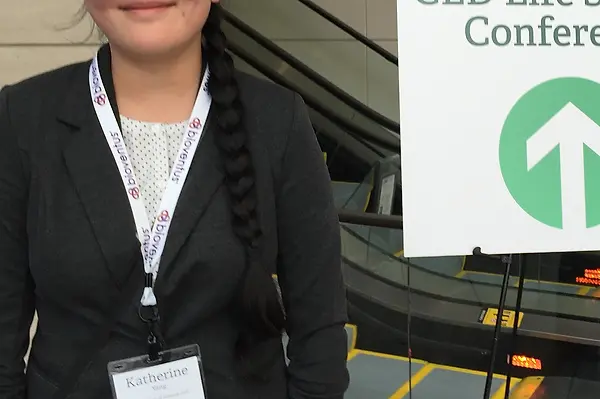 news
Yang '16 impresses life science audience with research on cancer treatment
Katherine Yang '16 presented her research to a crowd of 1,000 at the CED Life Sciences Conference in Raleigh.
Katherine Yang, a senior at North Carolina School of Science and Mathematics, recently presented her research on possible cancer treatment at the CED Life Science Conference as the only high school student to present. The conference, presented in partnership with the North Carolina Biotechnology Center and the North Carolina Biosciences Organization, brings together approximately 1,000 scientists and business leaders in the fields of medicine, pharmaceuticals, and life sciences.
"It takes a special student to speak confidently to the CED audience of 1,000 biotechnology, pharmaceutical, and medical device industry leaders, as well as venture capital and corporate investors," says Amy Sheck, NCSSM's dean of science. 
Yang spoke as part of the "grand finale" of the conference, presenting her research just before Nobel Laureate Robert Lefkowitz, M.D., who won the Nobel Prize in chemistry in 2012, gave the featured talk. Yang's project, "Developing Cellularly Active Inhibitors of CARM1 for a New Anti-Cancer Treatment," lays the groundwork to identify a compound that could help treat certain types of cancers.
"The CARM1 protein has been linked to tumor growth in breast and prostate cancers," Yang explains. "Currently, there are no anti-cancer treatments that aim to inhibit this target protein. I used computational and biochemical methods to test five compounds, one of which significantly inhibited CARM1 activity. Additionally, I combined previous knowledge to develop a new laboratory test for compounds inhibiting CARM1 in cells."  
Much work needs to be done before Yang's idea could benefit the public, but her research impressed many CED attendees, including Robin Deacle, vice president of corporate communications at N.C. Biotechnology Center, one of the conference partners. Deacle holds NCSSM students in high regard, he writes for WRAL TechWire, and Yang lived up to that tradition. "Every year, these students blow us away with their presentations," he writes. "That's right. High school students. Doing research I couldn't even do in college. Katherine was no exception."
Yang conducted her research at Duke University, working with primary investigator Dr. Qiu Wang (Department of Chemistry), graduate students Lingyan "Lily" Du and Chetan Rupakheti, and undergraduate student Jeffery Cornelison. Yang's research led to her being named a finalist in the Science and Engineering Fair, for which Yang will travel to the Intel International Science and Engineering Fair (Intel ISEF) in May. Yang was also named a semifinalist in the Intel Science Talent Search (STS) for her project.
"Katherine is a brilliant and motivated student who has made real progress towards identifying a new cancer treatment," says Sheck. "Many NCSSM students dream of curing cancer, and Katherine is on the road to making that dream come true. I love that our students have the wherewithal to use the skills they learn at NCSSM to make the world a better place." 
Share this post.