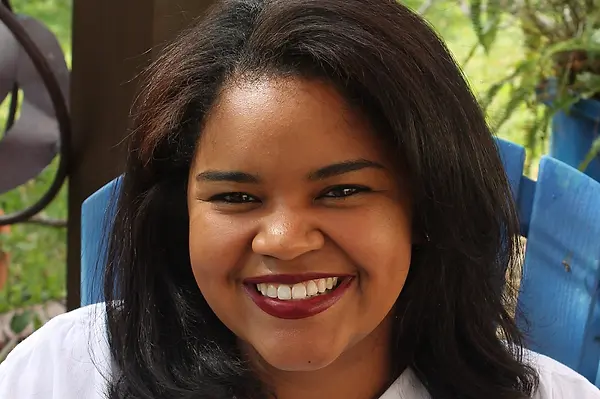 news
With story of Miami, humanities instructor celebrates first book-length publication
The University Press of Florida has just published Tatiana McInnis' first book, "To Tell a Black Story of Miami."
A decade of work was rising quietly to an end for NCSSM humanities instructor Tatiana McInnis. Open on her laptop as she sat by a sunny morning window during the second Covid-19 summer was the introduction to "To Tell a Black Story of Miami," a book-length scholarly exploration of anti-Blackness and segregation in her native city. She'd begun writing it 10 years before as a graduate student at Vanderbilt, and now it was being published by The University Press of Florida. They were eager for her final revisions.
McInnis was almost there. She had saved edits to the introduction for last, and with each pass through she'd struck the keys less and less.
A lot had changed in McInnis's world in the years since a fuzzy idea for a book about Miami first appeared in her mind; she had moved three times since then, gained college degrees, and matured as a person while cities and nations around the globe became unsteady, rocked by upheaval in social, political, and global health structures. One thing that had not changed, however, was the promise McInnis had made to herself to tell the truest story she could about her hometown.
She reached the end of the introduction once again, and this time, she had not stopped reading to change even a period. The book was done. She loaded the manuscript into an email to the publisher, hit send, and turned back to the morning outside her window. A promise made, a promise kept.
"Not the truth of the city"
"To Tell a Black Story of Miami," which hits bookstores and university libraries the first half of December, uses contemporary film and literary works created by and/or focusing on Black people in Miami as the basis of an exploration of the chasm between literary, media and public relations-driven depictions of the city and the reality of life for its minority majority citizens. In the book, McInnis argues that neither television shows like the iconic, stylized crime show "Miami Vice" from the 1980s that painted the city as a drug-smuggling haven, nor virtually any of the sun-soaked marketing and public relations materials of at least the last 60 years depicting Miami as a multicultural paradise, cast Miami in the truest light. Instead, McInnis says, the city has been and continues to be a major metropolitan area rooted in a long history of anti-Blackness despite its rich ethnic demographics.
What McInnis learned in writing her book she will also bring to her classroom and public lectures.
For years, McInnis herself bought into the narrative of an always-sunny Miami that celebrated its ethnic and cultural diversity. Though teachers and adults warned her in voices both stern and whispered to stay away from certain neighborhoods because they were unsafe, the bright white cruise ships, coastal pastels, and constant marketing messaging everywhere all convinced her that she was living in something of a paradise.
"These tourism signs, they're up all the time," she says. "We were looking at a mirror, but of course, it's a mirror that's showing you the aspiration of the city, not the truth of the city. It was distorted."
While an undergrad at Florida International University, McInnis took courses in Black American literature and Black American history that helped her begin cutting through that distortion. It was the culture shock of arriving for graduate school in Nashville, however, that became the catalyst for a deeper understanding of where she had come from.
"My initial perception," she says, "was that Nashville was more racially segregated, more binary in terms of racial experience, a little bit less culturally diverse than my experience in Miami."
Perhaps most stunning were the racial inequities, and – sometimes overt – displays of racism.
But in those uncomfortable moments was something familiar McInnis couldn't quite pin down. In her search for its origin, she turned her mind once again toward home. A strange and discomforting realization dawned on her. Stripped of slick marketing tactics and entertainment-driven media, Miami, in all the glory of its diversity, was just like many other cities across America, especially in the South.
"When I started looking," McInnis says, "I was like, well, Miami has really intense residential segregation and really, really biased policy against, you know, the very immigrant communities that we celebrate in the city. But it manifests in really interesting and different ways."
It was like discovering her entire life had been lived knowing only half the story. The compulsion to reexamine the city she thought she had known turned into her graduate thesis. And as an English major, it was only natural that she turned to realist literary and cinematic representations of Miami and south Florida, works created by people deeply connected to the region, to gauge the authenticity of Miami's manufactured face.
Nothing like that new book smell! McInnis opens a box from the printer filled with copies of her book.
In time, the thesis became "To Tell a Black Story of Miami." With chapters such as "Who Speaks for Miami? The White Lens in the Tropical Metropole" and "Dawg Fight in the Moonlight: Black Masculinity in Miami," a scholarly book – perhaps for the first time – now exposes through the lens of literature, cinema, and media the wildly divergent versions of Miami. Marketing and public relations material hyping the city to tourists ignored the race-based struggles of many of its citizens and painted the most flattering picture of a flourishing mishmash of lively, celebratory cultures. Books and movies exploring Miami's underbelly dramatized or exaggerated for entertainment purposes life beyond the palm trees and suntanned beach goers, often resulting in seedy representations of a city rife with crime and crawling with drug smugglers.
Neither picture, McInnis says, comes close to capturing the true humanity of the city's people, nor the deep societal issues originating in race that, since the city's founding, have consistently posed significant barriers to equality and security for many of Miami's people just like they have for brown and Black people throughout America.
"A little closer"
There were moments when writing the book that McInnis felt "devastated" by the struggles of so many of her native Miamians, and frustrated by the lack of progress that is so often falsely, or at least incompletely, claimed. She was already into the story when Trayvon Martin was killed in Florida. Sometimes it was too much. More than once she had to step away from the manuscript to wrestle with her emotions.
But in the morning sunlight Tatiana knew she was done when she finally reached the last word of the introduction without having raised an editing finger. It's impossible, of course, to guess what kind of impact the book might make on the larger picture. All writers hope for something of consequence beyond themselves. What McInnis is certain of is that she now knows her hometown and herself better than she ever has.
"I think that is the smallest and biggest lesson that I've gotten from this is that every day, you've just got to look a little closer," she says. "You might not get it in its entirety, but you're gonna learn so much if you just sit with something for a little longer. And that can be a text, that can be a city, that can be a nation. If you sit with it a little bit longer, you're gonna notice all these different things. That's the thing that I'm really excited to cultivate in our students: this boundless curiosity, this long-term hunger for knowledge. Writing this book definitely cultivated that in me and I feel very grateful. I feel like a better, kinder, and more mature person and I want that for our students."