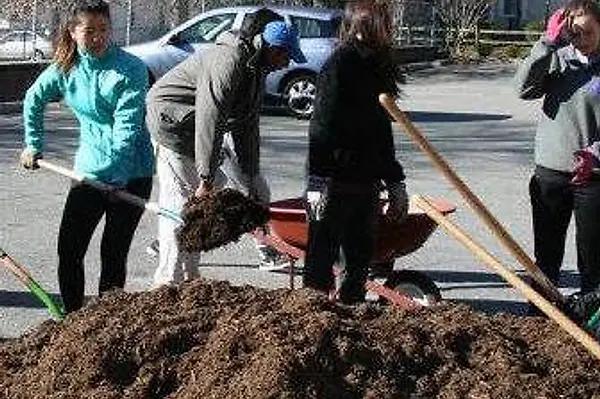 news
With first-ever Day of Service, NCSSM gives back to community
Habitat for Humanity is just one of many organizations and location NCSSM will support on this year's Day of Service.
Spaces are still available for NCSSM's first-ever Day of Service. Sign up today to give back on behalf of NCSSM.
 
On April 9, North Carolina School of Science and Mathematics will host its first-ever Day of Service, one day when students, employees, alumni, families, and friends of the school pitch in at sites throughout their communities. 
"The idea came from seeing another institution field a group of volunteers at the Food Bank of Central & Eastern NC last spring," says Sue Anne Lewis, service learning coordinator at NCSSM. "I immediately thought it would be a positive way the NCSSM community could connect while giving back to the areas in which we live."
The event continues and expands upon a long tradition of service at NCSSM. All NCSSM students participate in summer service, volunteering at sites in their home communities between their junior and senior years at NCSSM. Students also do work service assignments around campus during the academic year.
"Day of Service continues the long-standing tradition of service at NCSSM and offers an outreach opportunity for the agencies involved, of course, but also gets the NCSSM name out there in circles and ways that might reach new people in new ways," says Jennifer Deets '85, a member of NCSSM's Alumni Association Board. "Even doing a solo project on the NCSSM Day of Service adds those hours and visibility and sense of community to the good that Unis will be doing all over the place. You won't be alone!"
Shauna Farmer '82, a member of the Alumni Association's Volunteerism Committee, is excited to participate. "I am also really excited to work alongside other NCSSM folks, and look forward to meeting new people while doing something worthwhile for our community." 
Volunteer sites have been coordinated across Durham at organizations such as Habitat for Humanity and the Food Bank of Central & Eastern NC, as well as in locations around the state, and even a few beyond North Carolina. Alumni in New York, Massachusetts, Michigan, and the West Indies have registered to volunteer on behalf of NCSSM that day. (See all sites currently registered here.)
While this is the first Day of Service, "my hope is that this will become an event that the NCSSM community embraces and looks forward to participating in year after year," Lewis says.
Sign up to participate at a sponsored location, or register your own: http://bit.ly/NCSSMDayofService
Share this post.