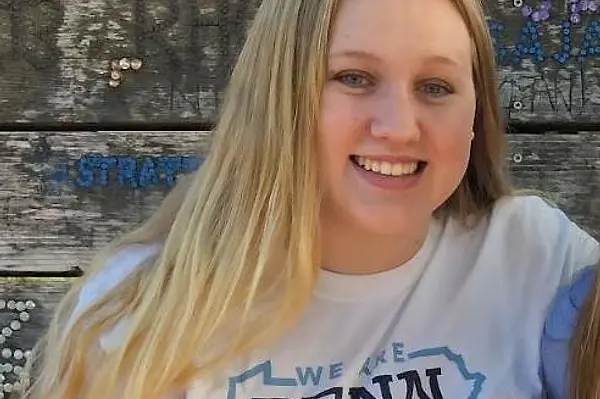 news
Why she gives: Emily Falise '18
By Belinda Hu '18
With graduation less than a week away, I sat down with current senior Emily Falise to reflect on her experience here. Emily was a student at Northern High School in Durham before coming to NCSSM. Even though she has lived fifteen minutes away from the school her whole life, she didn't hear about NCSSM until her freshman year of high school. Despite the difficulties that came with attending a residential high school and being in such a challenging academic environment, Emily ultimately found her time at NCSSM to be transformational.
As a swim team captain, an "attaché" student worker for the Department of Institutional Advancement, and a member of Young Life, Emily found a deep sense of community at is a notable member of the NCSSM community outside the classroom. But it has been through the classes she's taken here that Emily discovered and explored her passion: industrial engineering. Emily has always liked solving optimization problems. After being introduced to the various fields of engineering in her Fundamentals of Engineering Cclass, Emily did some independent research. Ultimately, she found that a career in industrial engineering would allow her to solve optimization problems in real life. Emily plans to attend Pennsylvania State University in the fall, where she will pursue her passion and study industrial engineering.
Emily has also formed many meaningful relationships during her at time at NCSSM. She tells me that her closest friends are from Charlotte and Concord, places over two hours away from Durham. These are people she probably would've never met if not for NCSSM. She has also learned to effectively communicate with her teachers, saying that even though it took her two trimesters to start going to office hours, she has now realized how much help teachers at NCSSM will give, if you just ask.
Looking ahead, Emily says she is certain that she will continue to give to the NCSSM Foundation to ensure that future generations have access to the opportunities that she did. She cites the abundant engineering and computer science courses she was able to take, as well as the incredible friends and teachers who defined her experience here overall. She concluded, "NCSSM introduced me to a whole new world, and I'm grateful for that."
To support experiences of students like Emily, please join her and make a contribution to the NCSSM Foundation today.