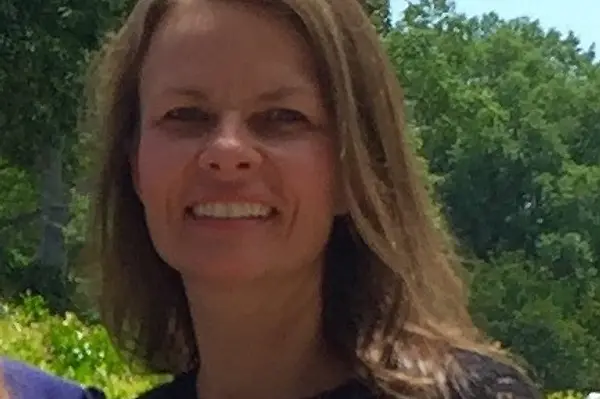 news
Why I Give: Trish Aiello
Trish Aiello, far right, with her husband and children at the graduation of her oldest daughter, Claudia '16, from NCSSM.
For this homeschooling Asheville family, initial hesitations have melted into wholehearted support — and a second Unicorn heading to NCSSM.
The Aiello family is well on its way to becoming a family full of Unicorns. Trish Aiello and her husband, Joseph, are parents of Claudia, who graduated in May as a member of NCSSM's Class of 2016, and Mark, who begins at NCSSM next month as a member of the incoming Class of 2018. With two years of parenting an NCSSM student under their belts, and as they gear up for two more years, the Aiellos appreciate all that NCSSM has to offer.   The family of eight lives in Asheville, NC. Joseph is a physician and Trish, in addition to being a trained nurse, has homeschooled all six children, ranging in age from 8 to 18. Claudia heard about NCSSM from a friend in Asheville who had applied the year before. The transition wasn't easy, says Trish. "At the time, to be brutally honest, to send our child away two years early seemed really far out of the question. But we decided to let her apply, thinking it would just be a good experience for her." When Claudia was accepted, the family debated and then finally agreed to send her, "with a huge amount of reservations on our part. Had we not had a friend there, I'm not sure we would have sent her, but I'm so thankful we did. I'm the mom who would say, 'It'll be great, they'll take such great care of your child.' And the opportunities afforded to her just by being at Science and Math, she would not have had here in western North Carolina."   Recognizing how Claudia thrived during her two years, the Aiellos were "fully on board" when Mark expressed interest in attending. "As a parent," Trish says, "it is a great feeling and such a rewarding experience to see your child that you've raised for 16 years be able to actually go out on their own and be successful, even if that is just that you can get up and get to your class, or feed yourself. It can be the simplest things, but they need to see that too. As a parent, to see them being successful—academically, spiritually, emotionally—is extremely rewarding."   For their family, the NCSSM experience extends beyond Durham. "NCSSM has also provided us with a broader sense of community with other parents of other students throughout the state," Trish says, with offers of rides back and forth from school for extended weekends, or delivering items to a student during a campus visit. "It's a strong communit, of camaraderie and working together. It's so nice to meet other people that we have some common ground with—that we all value education—and that's a great springboard to form friendships."   That emphasis on education is one of the reasons the Aiellos choose to support NCSSM financially. "We feel it is important to invest in what we value," Trish says. She also emphasizes the importance of participation, "even if a family or student gives $5 or $10," she says. "We give to convey a message of support and encouragement to the NCSSM community." And, after experiencing firsthand the opportunities and growth for Claudia, and now Mark, they give "so that NCSSM will be able to continue to provide opportunities for gifted students in North Carolina."     As Mark heads to NCSSM Claudia begins at UNC-Chapel Hill, Trish is sure there will be some family visits to Durham this fall. And who knows, there may be a few more Aiello children in line for NCSSM. At Claudia's graduation, the youngest Aiello daughter, age eight, asked her parents, "So are you excited that you'll be here ten years from now when I graduate?"
Share why you give to NCSSM here.
Share this post.