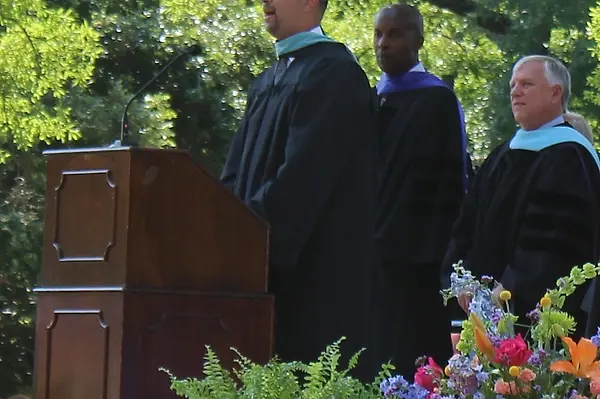 news
Why I Give: Terry Lynch
Vice Chancellor for Student Life Terry Lynch on stage at Commencement.
As the seventeenth constituent institution to the University of North Carolina system, the North Carolina School of Science and Mathematics shares a number of commonalities with its sister institutions: a deep commitment to educating North Carolinians; high-quality, rigorous academics; and a flourishing campus life, to name a few. But there are those key differences, chief among them our mission-driven state mandate to remain tuition- and fee-free for all admitted students, that make private support and giving crucial to NCSSM success. And it is Vice Chancellor Terry Lynch's unique understanding of that key difference that underpins his decision to give to NCSSM.
Before becoming the vice chancellor for student life at NCSSM, Lynch worked in residence life at Duke University where, in addition to private support, the ability to charge and regulate tuition and fees provided the operating budget for university services. In his transition to NCSSM, Lynch immediately identified the challenges that could come from a lack of diversity in funding streams, especially as it related to non-academic experiences at the school. But, as Lynch was quick to note, because of the Foundation, much of the programming, support, and activities that Student Life provides is possible because of the generosity of our donors — and that was something he wanted to be a part of supporting.
"When you make a gift to NCSSM, your dollar means much more and goes much further," says Lynch. "From school dances to athletics to student development sessions of safe and proper social media usage, the private gifts to the Foundation support many of the services we are able to provide for students."
Lynch says it is not just what NCSSM does for current students that compels him to give, but the opportunities for growth as well. "The Mentorship program is a great example of what can happen when we devote time, effort, and increased private support to a strategic goal," he says. "If we took another initiative such as college and career preparation, mental health services, or even dining we could grow those experiences for students in the same great way we have seen Mentorship grow. And again, those are services students incur costs for on university campuses, but that we must decide to actively support through charitable giving."
Still, Lynch added, even with our limitations, we have done something that a lot of schools, both on the collegiate level and other residential STEM high schools are striving to do — create a true living-learning community. "When students leave NCSSM, we know that they can absolutely draw on their experiences here to be successful in their new environment. And isn't that what this is all about?"
Join Lynch in making a gift to NCSSM.
Share this post.