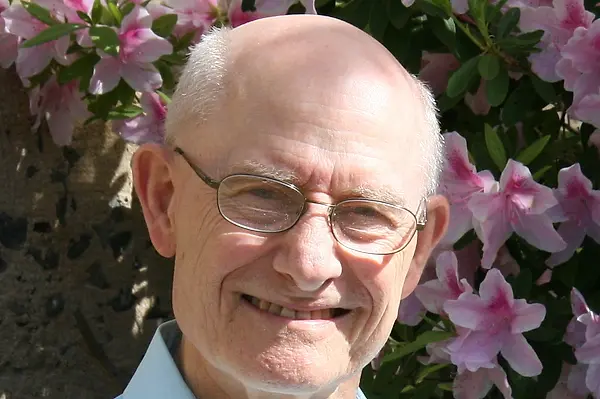 news
Why I Give: Steve Warshaw
Steve Warshaw visited campus recently to talk about sustainability at NCSSM and why he chooses to support it.
The retired academic vice chancellor maintains his special interest in the environment and sustainability — he and his wife, Cecelia, give to the school for these efforts. During April, Earth Month, NCSSM is focusing on fundraising specifically for sustainability initiatives, including a solar panel project.
When Dr. Steve Warshaw, who retired last spring after 30 years at NCSSM, visited campus this week, he was greeted with cheerful salutations and hugs from just about everyone he met. His latest visit was to discuss sustainability at NCSSM, a cause to which he dedicated much time as vice chancellor of academic programs, and a cause that he and his wife Cecelia continue to support.
Sustainability and the environment have long been interests of Warshaw. He received his doctorate in freshwater ecology before coming to NCSSM in 1985, where he began teaching biology. In recent years at NCSSM, he took a leading role in sustainability efforts both in and out of the classroom. A major push toward sustainability began in 2012, with the school's Strategic Planning initiative, which highlighted sustainability as a key value of the institution and outlined the need for sustainable use of resources as a priority, both in operational and instructional practices. The school embarked on a multi-year sustainability plan still underway today. Warshaw recruited a group of student leaders to help guide the process. "It was clear to me from the beginning that the people we're trying to influence, to educate, to inspire, are the students," he says. "And by far, the best way to do that was to get students involved in the process." Shortly after NCSSM dove into the sustainability project, the UNC system announced its own system-wide sustainability project. "We were really ahead of the game on that," Warshaw recalls.
He sees NCSSM's leadership in sustainability continuing into the future. Had he remained at NCSSM a few more years, Warshaw would have worked to make NCSSM a showcase of sustainability within the UNC system. NCSSM's smaller size compared to the other UNC-system schools helps make that plan feasible, especially for large-scale changes such as reducing the institution's energy footprint and overall use of resources. Finding funding for major changes like these can be difficult. But, Warshaw says, "It's a great time to think about sustainability, and what better place to be doing that than with students of this age, high school. You can still really affect them. This would be a place where you could really make a big difference without a huge [financial] input."
In the years since the Strategic Plan was set in place, NCSSM has made great strides toward its sustainability goals, from fixing steam and water leaks to growing the student sustainability project leader (SPL) group, adding recycling bins, Elkin water bottle refilling stations, composting, and vegetable and rain gardens to campus. But there is still more to do. The school is in need of updates to make the school more sustainable, Warshaw says, as well as potentially expanding facilities to better serve students, all of which costs money. That is where private support comes in.
Although not tackling sustainability at NCSSM through his job anymore, Warshaw and his wife, Cecelia, whom he describes as a "fiery-eyed environmentalist," have chosen to support sustainability at the school by volunteering with the SPLs on campus, and through financial contributions designated specifically toward sustainability. "I knew there were limited sources available to fund the good ideas our students had, " he says, when asked what prompted them to make their gift. He hopes their gift would encourage others to give in support of sustainability at NCSSM as well.
These gifts "have the promise of making a real impact," both financially, and also in emphasizing the importance of sustainability to those on campus and beyond.  He hopes alumni in particular will lend their support. "I think when the students on campus know that people outside the campus, and particularly alums, are supporting that sort of thing, that they care enough to donate some money, I think that makes it mean more to them."  
During the month of April, Earth Month, NCSSM is focusing on fundraising specifically for sustainability initiatives, including a solar panel project. "More money allows you to do things that are more visible, like the solar panels, that makes a statement about our commitment that, among other things, we believe in using resources sustainably, and are investing in those things so we can make that happen." Warshaw hopes that many will also give and designate their gifts toward sustainability at NCSSM. With a long career focused on students, and which extends to alumni after they graduate from NCSSM, his thoughts are drawn there again. "I would like to see a lot of alums saying, 'I support this, and I'll send you some money!'"
Join Dr. Warshaw and make your gift today in support of sustainability at NCSSM. Choose "Sustainability Initiatives" in the drop-down menu as your designation.
Share this post.