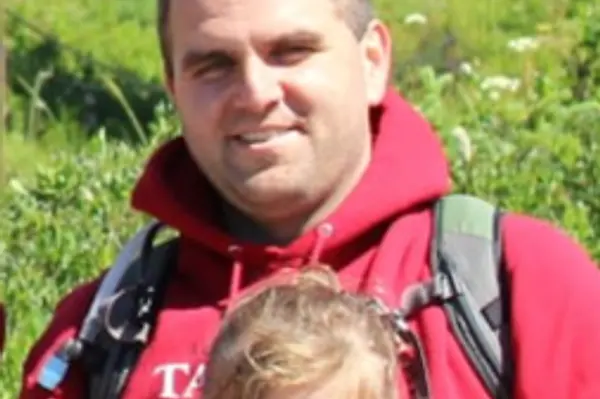 news
Why I Give: Paul Raff '00
Paul Raff '00 (right) with his wife, Audria Stubna, and their children Claire, Ben, and Alaina, hiking near Mount Rainier in Washington.
Paul Raff '00 wants to maximize his support of NCSSM in any way he can. Raff, a principal data scientist manager at Microsoft, uses his company's matching gift program to double the impact of every gift he makes to the NCSSM Foundation. (See if your company has a matching gift program here.)
We asked Raff to share his thoughts on why he gives in support of NCSSM, how he ensures his gifts have the biggest impact possible for the school, and why, for him, it's never enough.
"Giving is simple, and that's a theme that is reinforced at Microsoft. Posters all around campus indicate that one is equal to two in a way that makes the mathematician part of me shudder:
(Mathematically speaking, one is rarely equivalent to two)
"These posters advertise the matching gift that Microsoft provides to all donations and volunteer time given by its employees, a program that has resulted in over a billion dollars in additional funds given to charities and schools and other institutions that would not have been given otherwise.
"I have been blessed and am fortunate to be where I am today, growing my career, the career of others, and the mission of Microsoft. It unambiguously started at NCSSM. Being at NCSSM provided a foundation that I leveraged continuously through my subsequent education at Carnegie Mellon and Rutgers University.
Therefore, I give $5,000 to NCSSM annually, which turns into $10,000 with Microsoft's match. For what NCSSM has provided me, it doesn't feel sufficient."
Raff, who celebrated his 15-year reunion at NCSSM last fall, used the opportunity to consider how else he might expand his support of NCSSM. He chose to increase his support with his largest gift yet.
It isn't about the dollar amount, though, says Raff. "Not everyone is able to give that much, and that is okay," he says. "If NCSSM had a positive impact on your life, then give what feels right to you, based on what NCSSM has done to you and what you want NCSSM to do to others."
"$5,000 is not an easy amount for us to give," Raff says. "That can go a long way for the basic needs of our family. However, it can go much farther and impact more people with Microsoft's match and NCSSM's mission."
Share why you give to NCSSM here.
Share this post.