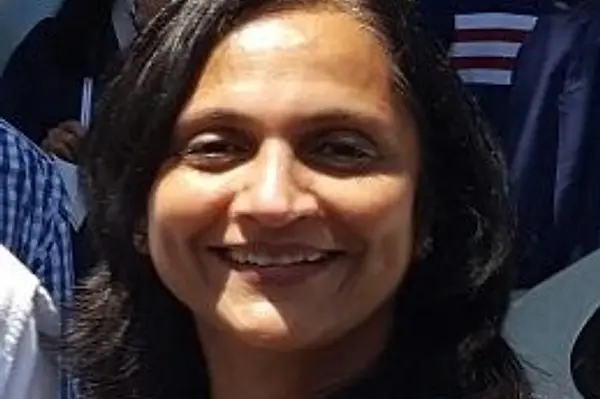 news
Why I Give: Mini Mittal
Mini Mittal, far right, with her family at daughter Tanya's graduation this past spring. From left: husband Madhur, Tanya '16, Dhruv '11, and Mini Mittal.
Nivedita "Mini" Mittal is a parent of two NCSSM alumni, a former member of our Parent Association, and has served on the NCSSM Board of Trustees for four years now. But none of her service is enough for Mittal. "Whatever I do, I can never do enough for the school," she says.
Mittal was first exposed to the school shortly before her son, Dhruv, applied in 2008. "As a parent, I really wanted my son to go here," she says. After he was accepted, many others from their town of Jacksonville, North Carolina, expressed hesitation about attending school 2.5 hours away in Durham. "'Why do you want to send your kid that far?'" she remembers them saying. "But we came all the way from India for education here. We are all for education, and NCSSM is such a great school." Dhruv "fell in love" with the school when they visited, Mittal says. She remembers attending Welcome Day in the fall of 2009 and hearing just what it takes to offers so many opportunities to our students. "They said it takes about $20,000 for our kids to attend each year. I felt compelled at the time, I thought, this is such a great school, and we need to contribute to be sure this goes on for others. I started giving right then."
Mittal became involved with the Parent Council "because I love the school, and I wanted to be involved in every way I could." She was asked to become a member of NCSSM's Board of Trustees about four years ago. "I couldn't say no!" she remembers. "It is a very fulfilling to be involved in this way. I've been loving all the things I've been doing with the school. The only problem I have is living this far away!"
NCSSM's influence on each of her children has been great. "It opened up the whole world for them," Mittal says. Dhruv '11 found his passion for physics and computer science and has since graduated from UNC-Chapel Hill. He is now completing his master's at Stony Brook University in New York. This summer, he is in San Francisco for a two-month fellowship in data science. Tanya '16 will attend NC State in the fall, having discovered her passion for engineering and robotics at NCSSM. "She didn't go in an engineering student," Mittal says, but by the time she graduated was deeply entrenched. "She took most of those [engineering] classes, and even won the departmental award for engineering!" Tanya also found a love for robotics, sometimes spending five hours a day in the lab.
Mittal appreciates the role NCSSM played in helping her children grow in other ways as well. "Both kids became very responsible, worked hard, and became very confident. I could see a sea change in my daughter, especially," she says, describing the way Tanya explained her decision on where to attend college with family and friends. Mittal could see how Tanya laid out her arguments and defended her points. "I was so happy to see the way she argued with them!" Mittal laughs. "You learn how to debate, how to sell yourself in marketing and in business. She learned how to get funding for robotics projects, how to work as a team. It all made her come out of herself, and reach out to other people."
As for Dhruv, the challenges of NCSSM "prepared him better for the world, so that he knows his weaknesses, and he worked at overcoming them. These kids, they develop so much on their own, because they are living at home," Mittal says. "I'm not at all worried about Tanya going to college."
"It's a great school. My kids benefitted from it, and I really want other kids to benefit from it as well. I don't want the services to decrease [because of lack of funding]. If anything, I want them to increase and keep continuing and improving." 
Share this post.