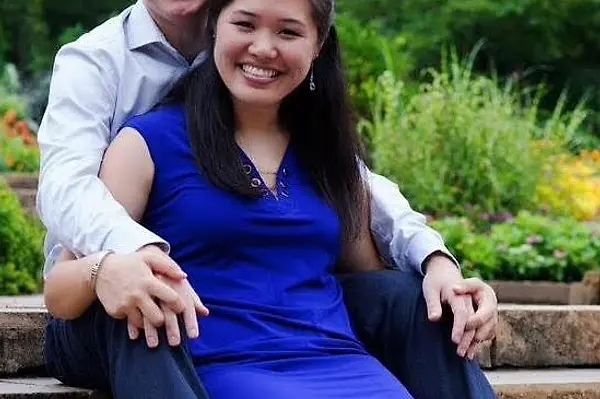 news
Why I Give: Justine Tsao Davey '08
Justine Tsao Davey '08 and her husband, Benjy Davey
Justine Tsao Davey '08 has always had a heart for people — so it's no surprise that she has chosen to pursue a career in macro-level social work. And it was at NCSSM, where she says she made friends from all corners of the state and all walks of life, that her passion for serving diverse populations really took root.
Tsao Davey, a Durham native, was an active part of the NCSSM community as a student — she played a sport every season, was an enthusiastic member of Asian Cultures Club, and served as a Residential Life Assistant (RLA) her senior year. After NCSSM, she attended NC State University, where she majored in communications with a focus on public and interpersonal communication and minored in sociology. After graduation, Tsao Davey began working with Habitat for Humanity as an Americorps member, seeing the need for intervention and support with affordable housing in the triangle community.
"I love the interpersonal relationship building that comes from other areas of macro-level social work," says Tsao Davey, "but there was something particularly exciting about the ability to create change in a very tangible way — by coordinating volunteers, swinging a hammer, and building homes. More than that, the joy you see when families who never thought they would own a home have the opportunity to do so, lets you know that the hard work and blisters are worth it. And that joy is only compounded because these families have been right beside you building their own home and others."
Tsao Davey eventually made her return to NC State to pursue her master's degree in social work, which allowed her to also make her return to NCSSM, as a Graduate Resident (GR) with Student Life. As a GR, Tsao Davey lives in residence and supports the Royall Student Life Instructor with on-hall programming and the Assistant Director of Student Services with campus-wide programming. It's an experience she calls a bit surreal, but that has been an important reminder of why she loves and gives to NCSSM.
"I watch my students go to mentorship, and dance in cultural fests, and volunteer in the community, and win sporting events and it reminds me of why I loved being a student at NCSSM," she says. "That is why I give. The opportunities [students] take advantage of — opportunities that some of them might have otherwise not had — are phenomenal. And I'm proud to be a part of the alumni who see and understand the importance of sustaining the NCSSM experience. I see giving as another way I can create positive change."
Share why you give to NCSSM here.
Share this post.