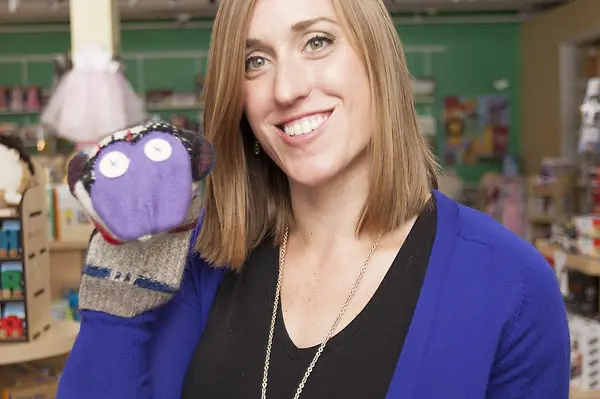 news
Why I Give: Heather Mohorn Kachinske '05
Her life wouldn't be the same if it weren't for NCSSM. Heather Mohorn Kachinske '05 gives back, and encourages fellow alumni to do the same.
NCSSM "prepared me for my life"
The impact that North Carolina School of Science and Mathematics has on its students is often long lasting, and sometimes manifests itself in surprising ways. For Heather Mohorn Kachinske '05, it even extends to her job as the owner of a toy store. "You can't really run your own business without math," Kachinske says. "As a small business owner, it is so important."
Kachinske is the owner of Momo's Tree House, an independent toy store in Old City, Philadelphia, which sells "toys for curious kids." The store, which celebrates its one-year anniversary on November 7, was named the city's best toy store by Philadelphia Magazine this year.
Kachinske majored in math and economics at Yale University and initially worked trading equity options after college before changing course to open the store. "[Trading equity options] was very interesting on an intellectual level, drawing on my quantitative background, and seemed like a good fit based on my education, but there were a lot of things I wanted to do. I had always wanted to work with children, and be my own boss," Kachinske says.
Her love for mathematics was nurtured at NCSSM. "I had always been interested in math, and thought of myself as someone who was good at math, but that really grew at Science and Math," she says. One instructor in particular, Dr. Dan Teague, really encouraged her and fostered that interest, pushing her to stick with it. "And I'm glad he did!" she says. "Yale is an intimidating place. That quantitative background was so important. It wouldn't have been the same if it hadn't been for NCSSM." ("First of all, I wouldn't have even gotten into Yale if I hadn't gone to NCSSM," she ponders.)
It isn't just about the math though. "Beyond academics and what you're learning in class, I feel like NCSSM prepared me for my life now," Kachinske says. "Doing something from the minute you wake up until when you go to bed, teaching yourself how to stay organized…. When you're a small business owner, that isn't something you learn in a classroom, but it's really important, and I am so glad I had that experience, even before college."
The other big part of the NCSSM experience is the people, she says. "I am still very close with a lot of my friends from Science and Math. I don't think that at any other stage in my life have I made such close friends."
She chooses to give back to her high school because "I think when you receive a gift, it's natural that you want to do something in return. At Science and Math, we received room and board and a world-class education—for free—and it felt natural that once we graduated, we would want to give back."
She challenges fellow classmates and other alumni to give back as well. "It may not be something a lot of alumni are thinking about, but it seems very obvious," she says. Sometimes it just takes a little encouragement. "Life would be totally different and a lot of things I am grateful for—my career, my friendships—would have been different if I hadn't had this opportunity," Kachinske says.