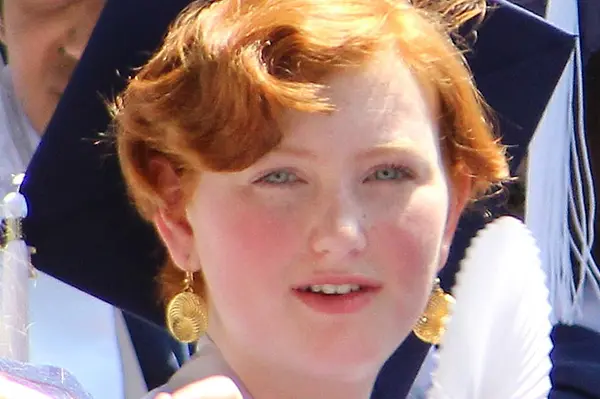 news
Why I give: Class of 2019 grads
Sophia Israel '19 and Corinne Miller '19
Sophia Israel '19
"Science and Math undoubtedly changed my life. I gave because I wanted to start contributing to the school that offered me such fantastic opportunities so that those same opportunities will be extended to students in the future."
  Sophia's post-high school plans were significantly influenced by her involvement in NCSSM's Research in Humanities program. She is so grateful to all of the donors and friends of the school who made her successes possible.   Sophia will attend Elon University as an Honors Fellow and William R. Kenan Jr. Honors Fellow and plans to major in anthropology with a minor in American studies.    
Grace Bassett '19
"I give because I know that NCSSM is more than just a residential high school and that it does so much more for North Carolina than meets the eye."
  Grace decided to make a donation to the NCSSM Foundation because after two years of attending NCSSM, she knows just how big of an impact NCSSM has on education in North Carolina. From summer research programs, to online schooling, NCSSM has a much wider outreach than the exceptional education it provides to 650 residential students. Grace has seen NCSSM affect the lives of a variety of North Carolina students.    Grace will attend the University of Virginia but anticipates coming back to NCSSM for various occasions over the next several years.     
Caroline Brewton '19
"It's important to give in order to help people discover how to make the world a better place through their passions. Without NCSSM, I wouldn't have as clear a perspective as I do now."
  Caroline has always dreamed of working with refugees as an immigrant social worker, and before coming to NCSSM, she wanted to do so by working in a government position. However, through her NCSSM experience, she discovered that she is truly passionate about working toward the goals she cares about in a different way. While taking humanities classes at NCSSM, Caroline transitioned toward a more direct approach through learning foreign languages and social sciences. In order to prepare herself for this vocation, Caroline has learned several foreign languages, including Russian, Mandarin, and Arabic.   Caroline will attend college in France to further her education in refugee social work. Her summer plans included putting her learned skills to work as a social worker in Southern Mexico.    
Corinne Miller '19
To the Class of 2019: "No matter what your time was here, you definitely gained and learned a lot. Use what you've learned to do something for the world!"
  Because of the wonderful opportunities and lessons Corinne learned during her time at NCSSM (as well as her junior year roommate who became one of her best friends), she will continue to give to the NCSSM Foundation, to support future students having access to the same transformational experience that she had.    At NCSSM, Corinne was a member of the robotics team, Technology Student Association, Youth and Government, and the Stentorian Staff, and served as an Institutional Advancement Attaché. Corinne has always been interested in STEM but didn't realize that she wanted to study public policy until her senior year. During her Mini-Term, she participated in the Research in Math course, spending a week and a half focusing on one particular math problem, which she says made a big difference in her deciding to study math in college.   Corinne plans to take a gap year in Hong Kong as a part of an internship program and hopes to study math and public policy afterward. She hopes to use math to better understand and model policy in order to build better legislation in the future.    
Thanks to Grace Bassett '19, Jack Iles '19, Sophia Israel '19, Ashley Talton '19 and Rhona Zhang '19 who compiled these stories.
Make your own gift today!
Share this post.