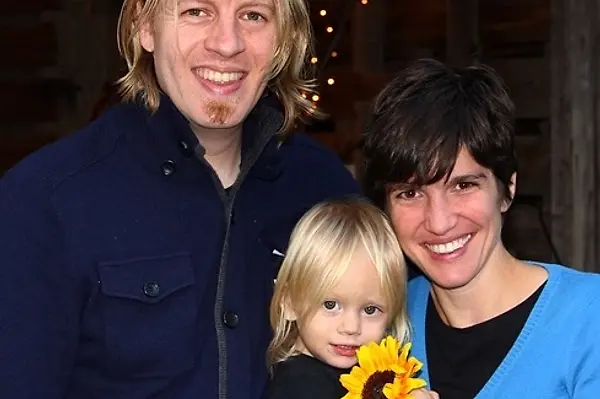 news
Why I Give: Adam Sampieri
Drama Instructor Adam Sampieri with his family
For Adam Sampieri, working at NCSSM has been a learning experience since the day he walked in the door. Whether it was in 2006, during his first meeting with the NCSSM Drama Board, when he learned that auditions for the spring musical were the next day and that he'd be jumping head first into his new role as Drama Coordinator, or when then-Chancellor Gerald Boarman asked him to move the theatre program toward being the curricular, instructional-based program it is today. But, as a professional theatre artist, Sampieri would have it no other way. In many ways, this is what his training as an actor prepared him for ― to take things as they come and create more with them ― and this is the role he was born to play.
If you haven't guessed, a lot of things have changed about theatre at NCSSM since Sampieri joined the team in 2006. He did create a curriculum-based program with instructional courses like theatre performance workshop and Shakespeare Now, moving him from drama coordinator to a faculty position as instructor of drama. NCSSM is now home to the Promethean Players, a student-run theater company, which sees Sampieri serving as artistic director instead of an advisor. The thing he is most proud of though is the conversation happening about theatre at NCSSM.
"The program has become a part of the fabric of the school. It is less, 'NCSSM has a theatre program,' and has shifted to, "I hear they have a good theatre program at NCSSM,'" Sampieri says. He credits that shift and the other changes that he has seen to the increased funding that the theatre program has received, thanks to generous support of the Joe Liles Fine Arts Endowment and the NCSSM Fine Arts Fund via the NCSSM Foundation.
Sampieri sees giving to the Foundation as a way of being invested in the NCSSM community, which has invested so much in him and what he, the students, and his colleagues have been able to create. The importance of investing in the community that has invested in you is a lesson Sampieri has passed on to both current and former students. McKenzie Millican '13 is one of those alumna. "In an environment as fast-paced and demanding as NCSSM," she says, "for many, access to the arts becomes more than a want: it becomes a necessity. The NCSSM theatre program provides a haven for us as students, and a challenge for us as artists. I make a point to give back to NCSSM, and specifially to the arts program, because it gave me skills and tools I use to this day. Adam gave us space to take risks, make mistakes, and pick ourselves back up and try again. The sense of autonomy and confidence he fostered in his students is completely invaluable ― I give so that current and future students have access to that as well!"
Sampieri noted that gifts to the Foundation not only allow them to give back to the NCSSM community but the greater Durham and local community. "Because of the Foundation, we are able to keep our shows admission free. I wholeheartedly believe that art should be accessible. All people deserve to experience good art in every stratum. Also, due to the very nature of our school, it's comforting to know that when a parent invests the time and the money to, say, drive from the western part of the state, they get to see their child perform for free."  
When asked if he had any final thoughts, Sampieri closed the way he opens every show at NCSSM, by simply stating, "I have the best job because I work with the best people ― our students."
To support the Joe Liles Fine Arts Endowment, the NCSSM Fine Arts Fund, or any of the great opportunities at NCSSM, visit our giving page at www.ncssm.edu/donate.
Share this post.