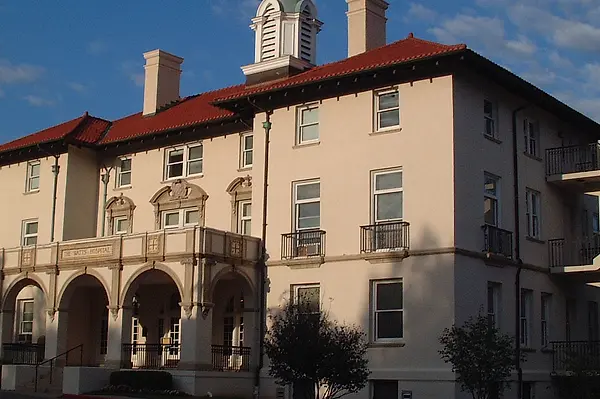 news
Welcome to our newest employees (2020)
As we prepare for the 2020-2021 school year, we'd like to officially welcome the talented new faculty and staff who have joined Team NCSSM since August 2019.  
Find contact info for faculty and staff in our employee directory.
  Welcome to:  
Layla Aldousany, Instructor, Humanities
Layla Aldousany joined NCSSM as an Instructor of American Studies and Humanities in August 2020. Although she is originally from Miami, Florida, she has enjoyed finding and building community in Durham since she first moved here in 2007. She earned a doctorate in English from Duke University, where she taught as a graduate student in the Thompson Writing Program, the English Department, and the Women's Studies Department. Her classes ranged from introductory courses on subjects like the representation of the Middle East in American Pop Culture to interdisciplinary seminars on gender, literature, and science. Her research interests include sixteenth- and seventeenth-century British literature and scientific experimentation, as well as Islam and early modern Europe. As a result, she enjoys teaching courses like British Literature and Culture and Shakespeare Now, as well as working more generally with students interested in the intersections between the sciences and the humanities. Most recently, Layla taught high school English for Vance County Public Schools. When Layla is not in the classroom, she enjoys tackling her TBR pile (or reading fanfiction), swimming laps, and quilting. Layla also holds a bachelor's degree in English and religious studies from the University of Miami and a master's degree in English from Duke University.  
Michele Dalencour Alexandre, Instructor, Biology
Michele Dalencour Alexandre earned her doctorate degree from The Brody School of Medicine at East Carolina University. Her dissertation focused on the role of tight junction proteins in the paracellular transport of kidney epithelial cells. She conducted two post-doctoral research studies in molecular biology, first at Johns Hopkins Medical Center in Baltimore, Maryland, then at the Biomedical & Biotechnology Research Institute at North Carolina Central University. Prior to joining the NCSSM community, she worked as a biology instructor with the North Carolina Community College System. Outside of teaching anatomy and physiology, she enjoys gardening and spending time with her husband and two daughters.  
Kiy Benton, AI Educator Advocate, Ryden AI Program
Kiy (pronounced "key") Benton is a firm believer in all children having access to an excellent and equitable education. Kiy entered the field as a 6th grade English language arts teacher where she was nominated Rookie Teacher of the Year. A New York native, Carolina cultivated, she is passionate about serving in the field of education in the state of North Carolina. A graduate of North Carolina A&T State University with a background in communication and visual rhetoric, Kiy went on to obtain a master's degree in education from Johns Hopkins University. Since 2017, she has worked in teacher preparation where she has worked with over 4,000 new teachers. As the NCSSM Ryden AI program's Educator Advocate, Kiy gets to combine both her undergraduate and graduate backgrounds in her dream role. When she is not spending time with her "doghter," Pinkachu, she is working as press and media for various fashion shows.  
James Blackwell, Instructor, Humanities
James Blackwell came to us from Michigan State University, where he completed his doctorate in African history. James is happy to have returned to his hometown of Durham, NC, where he first began his teaching career as a history teacher at Southern High School of Engineering. While in East Lansing, James taught numerous courses in US history, African history, sport history, and world history. James' dissertation examined Igbo labor migration between southeastern Nigeria and British Southern Cameroon, 1900-1975. He conducted dissertation research in southeastern Nigeria, where he collected oral interviews as well as conducted archival research. His research interest includes African American history, African history, labor and migration, consumption history, and digital humanities. When not teaching, you can find James tracking down new restaurants in Durham, watching sports, or finding new ways to win in civilization. In addition to his PhD from MSU, James holds both bachelor's and master's degrees in history from North Carolina Central University.  
Camilla Brothers, Outreach and Partnership Manager, Distance Education & Extended Programs
Camilla Brothers joined NCSSM in 2019 as Outreach and Partnership Manager for the Open Enrollment program in Distance Education and Extended Programs. She works with schools and districts to create partnerships and ensure schools are aware of the dynamic programming NCSSM offers. Camilla grew up in Charleston, South Carolina, near the Air Force base, which introduced her to people from diverse cultures and backgrounds, and developed her passion for inclusiveness and access for underrepresented populations. During her career in education, she has served as a classroom teacher, curriculum facilitator, assistant principal, and Title I specialist. Most recently, she served as a principal with Union County Schools. In her free time she enjoys gardening, working sudoku puzzles, and going on weekend travel adventures. Camilla has a bachelor's in early childhood education from Winthrop University, an MEd in divergent learning from Columbia College, and an MEd in school administration/educational leadership from UNC-Greensboro.  
Shenedia Carthens, Payroll Specialist, Business Office
Shenedia Carthens came to NCSSM in 2019 as a payroll specialist. Her primary responsibilities are entering monthly and bi-monthly timesheets, and processing billing. Outside of work, she is continuing her studies in accounting at Fayetteville State University. In her spare time, she enjoys spending time with her family and traveling.  
Michael Conner, Grounds Worker, Facilities
Mike Conner joined NCSSM in 2019 as Grounds Worker, bringing with him many years of groundskeeping experience, including work at Piedmont Community College and with Garden View at Croasdaile. Born at Watts Hospital, his return to NCSSM has been something of a homecoming. Mike loves working outdoors, and is also a skilled mechanic. In his spare time he enjoys tinkering, fishing, spending time with this wife, and looking after his kids and their cars.  
Barbara Coury, Vice Chancellor and President, Development and NCSSM Foundation
Barb Coury is Vice Chancellor for Development and President of the NCSSM Foundation. Prior to joining NCSSM, Barb served as the interim Chief Development Officer for Mission Resolve, a disaster response nonprofit engaged in supporting affected areas of the Bahamas post-hurricane Dorian. Prior to this she served as the National Director of Foundation and Federated Giving for the American Red Cross and prior to that served as the Regional Chief Development Officer for the American Red Cross in Indiana. She also has development experience at St. Richard's Episcopal School in Indiana and at Purdue University in their Cancer Center and School of Nursing. Barb has a bachelor's degree in psychology from Eastern Illinois University and completed PhD coursework in experimental psychology at Southern Illinois University at Carbondale. She has a master's in philanthropic studies and nonprofit management from The Lilly School of Philanthropy at Indiana University. Barb and her husband live in Chapel Hill and have a son who attends Northeastern University in Boston.  
Chavis Crawford, Client Support Specialist, Information Technology Services
Chavis Crawford joined NCSSM in 2019 as a client support specialist for ITS. In this role he handles help desk requests, assists with Focus and Canvas, and provides other forms of technical training. Chavis is from Raeford, NC, and has been a resident of Durham since 2010. Prior to his work at NCSSM, he worked at Orange High School from 2015-2017, and at the UNC School of Social Work from 2017-2019, both in a tech support role. In his spare time, he likes to spend time with his wife, daughter, family and friends, play his Xbox, watch football and basketball, see a few shows on TV, all while keeping up on all IT trends to provide support in the best way possible for his colleagues. Chavis holds an AAS in IT from Durham Technical Community College and a bachelor's in IT from Western Governors University.  
Chad Cygan, Instructor, Music
Chad Cygan joined NCSSM's Humanities Department and Fine Arts Program in August 2020 as an experienced choral director, instructor of voice, guitar and piano, and an active performer. Chad has served as faculty at the Juilliard School, City College (NY), Maine South High School, Ohlone College, the Amherst Early Music Festival, and many other organizations. Chad completed his bachelor's of music education (Illinois) and master's degree in music (Juilliard) and will complete his doctor of musical arts degree at the Graduate Center (CUNY) this academic year. He is a certified K-12 teacher.  
Hale Durant, Instructional Designer, Ryden AI Program
Hale Durant joined NCSSM in 2020 as an instructional designer in the Ryden Program for Innovation and Leadership in Artificial Intelligence after being an educational consultant in the Distance Education and Extended Programs Division, researching the efficacy of the STEM Scholars program. He has worked in public education in North Carolina since 2003 and most recently has served as the library media coordinator of Brevard High School since 2011. Prior to his career in education, Hale served as an Infantry Officer in the United States Army for five years. Away from work he is most likely to be found running Dungeons and Dragons campaigns for young players or chasing his next goal as an outdoor enthusiast.  
Ariana Eily, Instructor, Biology
Ariana Eily grew up in Florida surrounded by orange groves, woods, and cow pastures. She earned her bachelor's degree from Rollins College in biology, splitting her time between researching how carnivorous plants eat, captaining the debate team, and doing improv. She followed her love of teaching to Duke, where she completed a doctor's degree in biology, continuing to research plants with strange eating habits. Always a fan of different disciplines, she fused her science with work in communication, outreach, diversity and inclusion to help science become more deeply connected to society. She continues to study science, humanities, and arts collaborations, including using improv to help scientists communicate, launching a science-art exhibit, working in STEM ethics, and fostering community engagement regarding water issues across the state. In her personal life, she loves cooking and used to be a sous chef; occasionally sings lead for a friend's band; is an avid sports fan—both playing and watching and has been at every Duke men's game since 2012; and loves spending time adventuring with her friends and her dog.  
Kristen Glees, Intern, Counseling
Kristen Glees is originally from the suburbs of Chicago only having moved to North Carolina in 2020. She attended Prescott College in Prescott, Arizona, where she majored in human development and minored in education. After graduating college she moved back to the Chicago area where she worked in the human resources field before moving to North Carolina to pursue her master's degree in school counseling and to serve as a counseling intern at NCSSM. In her free time she enjoys watching TV and movies and spending time with her dog, Charlie.   
Raquez Godfrey, Housekeeper, Facilities
Raquez Godfrey joined NCSSM's housekeeping staff in December 2019. His primary role is to strip, buff, and wax floors throughout campus, and he enjoys that process and interacting with colleagues. In his spare time he loves following sports, shopping, and spending time with his daughter and other family and friends.  
Ashley Grindstaff, Office Manager, NCSSM-Morganton
Ashley Grindstaff serves as the Office Manager for the NCSSM-Morganton planning office in Burke County, managing events, budgets, and day-to-day office operations. She joined NCSSM-Morganton in March 2020 following several years working in higher education at UNC-Wilmington. At UNCW, Ashley provided support in a variety of roles to the Dean of the Watson College, Department Chair for the Department of Instructional Technology, Foundations, and Secondary Education, and most recently, the Associate Dean of the Office of Teacher Education and Outreach. Prior to her roles at UNCW, Ashley enjoyed serving as the Aquarium Registrar at the North Carolina Aquarium at Fort Fisher. She earned her Bachelor of Science degree in Marine Biology from UNCW in 2008 and her MBA, also from UNCW, in 2020. Ashley enjoys spending time with family and friends, days at the lake, fishing, and walking the Greenway with her dog, Quinn.  
Kevin Ji, Instructor, Mathematics
Originally from Durham, Kevin Ji joined the NCSSM faculty in August 2020. He brought with him seven years of teaching experience in Washington, DC, and the San Francisco Bay Area, during which time he taught a range of courses from algebra I to AP statistics, and advised student-led math clubs and Asian student organizations. Kevin has spent summers growing a variety of personal and professional interests, including time at the Park City Math Institute (PCMI) focused on math teaching and research, participation in a summer workshop centered around Chinese immigration and the Chinese Exclusion Act hosted by the Museum of Chinese in America, and serving as a cooking instructor for elementary school age kids in the Bay Area. Kevin earned a bachelor's degree in mathematics and public policy from UNC-Chapel Hill and a master's degree in education from American University. In his spare time, Kevin enjoys playing sports of any kind (especially basketball and soccer) and indoor rock climbing. He also enjoys cooking.  
Melissa Lingle-Martin, Instructor, Humanities
Melissa Lingle-Martin joined NCSSM as an Instructor of American Studies and Humanities in August 2020. She has more than a decade of teaching experience, and has enjoyed working with high school and college students at schools and universities around the country and the world. Most recently, she was an Assistant Professor at the American University in Bulgaria, where she taught courses in American literature and culture, writing, and interdisciplinary studies. She especially loves working with students to better understand and reimagine—even transform—our world through interdisciplinary study. She is deeply committed to equity and justice, and she looks forward to contributing to NCSSM's work as an anti-racist and inclusive learning community that furthers education and justice here in North Carolina and beyond. Melissa has a doctorate in literature and criticism from Indiana University of Pennsylvania and was a Taylor Fellow at the University of Virginia's Harrison Institute for American History, Literature, and Culture. Outside of the classroom, library, and conference room, Melissa enjoys walking, hiking, and running, especially in the mountains, and she is a passionate supporter of all of the arts.  
Antonio Lopez, Lab Manager, Chemistry
Antonio A. Lopez joined us in 2020 as manager of the NCSSM chemistry lab. Born and raised in Texas, he gained an interest in chemistry from an enthusiastic high school teacher who became a family friend. That spark of interest led him to pursue and earn a bachelor's degree in chemistry from St. Mary's University in San Antonio, TX. After graduation he then moved to Raleigh, where he earned a master's degree in chemistry from North Carolina State University. His research focused on synthesis and photophysical characterization of dinuclear Pt(II) molecules that exhibit metal-metal-to-ligand charge transfer. In his free time, Antonio enjoys volunteering with his wife at their parish and dog-butlering at SPCA of Wake County. He also enjoys woodworking and plans to eventually make his own furniture.  
Breanna McLane, Assistant Athletic Trainer, Physical Activity & Wellness
Breanna McLane joined NCSSM as Assistant Athletic Trainer in 2020. In this role, she works to rehabilitate and fix injuries athletes may experience in a variety of sports. Her favorite part about being an athletic trainer is helping student athletes return to health and to playing the sports they love. In her spare time, she enjoys staying active in a variety of ways such as working out and hiking. In her down time, she enjoys reading and drawing.   
Paul Namaste, Research & Assessment Specialist, Distance Education & Extended Programs
Paul Namaste firmly believes in the power of education to transform people's lives and the need to use data to make better informed decisions. Whether it has been in the classroom as a professor, on campus working in student life, or in the office as an analyst, he has always viewed himself as an educator who tries to help people and organizations learn, grow, and improve. Besides living for nearly a year in Barcelona and London, Paul along with his wife, Nina, and their kids, Samira and Kai, worked out their travel bug by also visiting Italy, France, Israel, the Czech Republic, and Morocco. He is originally from New England where he developed his love for the outdoors. Paul enjoys woodworking and home improvement projects. Lastly, no he was not born with the last name Namaste, but he would be happy to explain it to you over lunch or a cup of coffee if you wish.  
Ethan Pardue, Community Coordinator, Student Life
Ethan Pardue was born and raised in Nashville, North Carolina, and returned to his home state in 2019 to join the NCSSM Student Services team as a community coordinator. He graduated from Harvard College as a member of the Class of 2019 with a bachelor's degree in English and secondary coursework in psychology. Ethan spent two summers as a resident advisor with the Harvard Summer School's Secondary School Program, served as a hometown ambassador to Nash County for the Harvard College Admissions Office, and is passionate about preparing students from under-resourced rural areas for their college experience. Ethan also has a longstanding love for all things music. He sang with the a cappella group "Under Construction" at Harvard from 2015 to 2019, interned at Geffen Records in California during January 2019, and has performed in musical theatre showcases since he was in high school. Ethan began exploring songwriting and vocal music composition while in college, and is happy to share these interests and many more with the students at NCSSM.  
Carolina Perez, Instructor, Music
Carolina Perez, from Cary, NC, joined NCSSM as Instructor of Music in August 2020, teaching Wind Ensemble, Jazz Ensemble, and Music Theory. She holds a master's degree in instrumental conducting and a bachelor's degree in music education from the University of North Carolina at Greensboro. While studying at UNCG, she served as graduate conductor for the university's three concert bands, the graduate chamber ensemble, and the UNCG Pep Band, and also served as a university supervisor for pre-service student teachers. Prior to her graduate studies at UNCG, Carolina spent six years as a band director in the public schools of North Carolina, where she led successful concert and marching ensembles at the middle school and high school levels. As an educator, Carolina is passionate about using nonverbal communication to enhance musical performances, studying and performing the music of diverse cultures, connecting music with other academic disciplines, and creating unique performance opportunities for her students. Outside of music, her interests include traveling, cooking, hiking, and playing with her pup, Elli.  
Alana Sanders, Office Manager, Finance & Operations
Alana Sanders came to NCSSM in 2019 as the office manager for Finance and Operations. Alana has over a decade in the UNC System. Previously, she worked at Fayetteville State University, the UNC System Office, and at UNC-Chapel Hill. Alana graduated from UNC-Greensboro in 2003 with a dual bachelor's degree in English and African American studies.  
Melanie Shivraj, Instructor, Biology
Melanie Shivraj earned her bachelor's degree in biology and chemistry from UNC-Chapel Hill while she also worked in a translational breast cancer research lab at Duke University. While in college, Melanie also spent a semester in India where she worked in an HIV/AIDS clinic in Chennai. After graduation, Melanie moved to NYC to pursue her master's in science education degree before starting her teaching career in Harlem. This jump-started seven years of work in education which fostered a love of equity and inclusion work in educational settings. Melanie continued teaching in sunny San Diego, CA, before deciding to move back to NC in 2020. Melanie is a diehard Tar Heel, spent a full month in France last summer for the women's world cup, and loves spending her time outside with her husband and dog.  
Matthew Trn '15, Community Coordinator, Student Life
If you would like to buy a vowel, Matthew "Mat" Trn cannot help you. His last name — pronounced "turn" — really is just three letters and no vowels. Mat graduated from NCSSM in 2015 and went on to study biochemistry at NC State University. After earning his bachelor's degree, Mat returned to NCSSM as a Community Coordinator. With his background as a scientific researcher, resident adviser, and small business owner, Mat is equipped to help the NCSSM community grow and innovate. Mat is passionate about entrepreneurship, especially as it pertains to science and technology. In his spare time he enjoys working on his "project of the day," whether that be programming a Raspberry Pi Minecraft server or 3D printing motorcycle engine mounts. If it is new and novel you can rest assured that Mat wants to learn what it is and how it works.   
Keith Werner, Interim CIO, Information Technology Services
Keith Werner was appointed as the new Vice President for Information Technology (VPIT) and Chief Information Officer (CIO) for the UNC System Office in 2018, and has served as NCSSM's Interim CIO since January 2020. Keith oversees information technology policy and standards, information security, enterprise business systems, applications development, information technology infrastructure and operations, networking and communications, and software licensing. Keith also focuses on system-wide coordination and monitoring of constituent institution activities related to information technology. Prior to his position at the UNC System Office, Keith worked for Ernst & Young as its public sector leader for North Carolina and South Carolina. Keith also served as the State CIO and first Cabinet Secretary for the North Carolina Department of Information Technology (DIT), where he led all technology solutions for state agencies and citizens and directed organizational operations and change management to modernize how core business needs were supported. He has also held leadership roles as the Deputy State CIO and the CIO for the NC Department of Environment and National Resources (DENR).
Share this post.