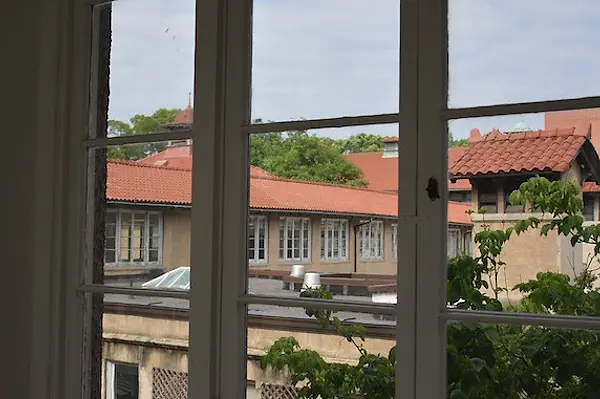 news
Welcome to our newest employees
We launch the 2016-2017 school year with a large crew of talented new faculty and staff joining our team.   
Find contact info for new hires and others in the employee directory
  Welcome to:   
Megan Aldrup-MacDonald, Instructor, Science
Aldrup-MacDonald will teach anatomy and physiology and AP biology. She holds a master's degree in genetics and genomics from Duke University and a BS in biology (and a BA in English writing) from Saint Mary's College. Her research at Duke focused on chromosomal abnormalities associated with human birth defects and implications for personalized medicine. She taught honors biology at Person High School, where she earned recognition as "Beginning Teacher of Excellence." She is committed to open inquiry, student engagement, and collaboration and she is keen to employ new pedagogical strategies to help students learn.   In her spare time, Aldrup-MacDonald engages in outreach with the NC Science Olympiad and the Duke Center for Science Education.  
Carrie Alter, Instructor Humanities
Alter joins us an instructor of studio art. She earned an associate's degree in creative writing and two bachelor's degrees (a BA from the University of Tampa and a BFA from Ringling School of Art and Design) before receiving an MFA from UNC-Chapel Hill in 2000. She has served as an adjunct professor of art at Meredith College, Elon University, Durham Tech, and The William and Ida Friday Center for Continuing Education. For four years, Alter was also a visiting lecturer in the art department at UNC-Chapel Hill. She has taught classes at The Carrboro Arts Center, at UNC-Chapel Hill, at the Nasher Museum at Duke, and at the North Carolina Museum of Art. She has spent several summers teaching Western philosophy at The Governor's School of North Carolina.   Alter is a practicing artist who has close ties to the Triangle-area arts community. She and her husband are raising two boys, and the family enjoys fishing in spots all over North Carolina. This school year, in addition to her regular courses, she'll be offering evening and weekend art activities for students as well as faculty and staff (and their children).  
Laura Baker Campbell, Executive Assistant to the Chancellor
Campbell comes to NCSSM from Motheread, Inc., a national family literacy nonprofit where she served as an executive assistant and literacy specialist for the past 22 years. She has experience teaching English at the university level, with the United States Peace Corps in Botswana, Africa, and in community and correctional settings. Campbell earned a master's in English from NC State University and a bachelor's degree in English Language and Literature from Ohio Wesleyan University.   She is working to improve her fluency in Spanish, and she enjoys walking her German shepherd.  
Nicole Collins-Givens, Library
Collins-Givens will provide evening library service to NCSSM students and staff. She holds a master's degree in library science and a bachelor's degree in history from North Carolina Central University. She has worked in libraries in Durham and Charlotte. She loves research and the research process, and teaching others how to use library resources to do their own research.   Collins-Givens works part time for the Town of Chapel Hill, but her heart is in the library, and we believe her enthusiasm will be contagious. She also speaks Portuguese.  
Rebecca "Bec" Conrad, FabLab Technician, Engineering & Technology
Conrad joined NCSSM in May to help David Bryan in the FabLab. She holds a bachelor's and master's of science in mechanical engineering from the University of New Hampshire as well as a masters of fine arts in digital media from Rhode Island School of Design. She provides student instruction and assists with faculty and student projects in the Peter T Haughton Fabrication Lab. After hours, Conrad is a consulting technologist for Tellart LLC, who received the 2016 Cooper Hewitt National Design Award in Interaction Design. Her portfolio of engineering day jobs includes: building robots to neutralize underwater explosives, programming arena-scale animatronic dragons for Dreamworks, and supporting an FDA-approved wheelchair that climbs up stairs.   Prior to coming to NCSSM, she worked for Bluefin Robotics, The Creature Technology Company, and DEKA Research & Development.  
Jewel Dale, SLI, Student Life
Dale was an AmeriCorps VISTA Member before coming to NCSSM. She focused on community engagement efforts across the Dan River region in Danville, Virginia. A California native, Dale attended Durham School of the Arts before heading to Averett University, where she earned a bachelor of science in aerospace management/aviation business.   While a student at Averett, Dale obtained her private pilot's license and served as a resident assistant, assistant hall director, building manager, peer instructor, and orientation leader. She also worked in the admissions office as a student ambassador.  
Justin Fleming '04, IT Analyst , ITS
Fleming grew up in Thomasville, NC. After graduating from NCSSM in 2004, he earned a B.A. in political science and history at UNC-Chapel Hill. In addition to his academic work, he provided tech support for UNC and later took a job as a representative for Apple, where he worked in sales, marketing, and support. Fleming worked at MIT for five years in IT support and project management.   In 2010, he married his high school sweetheart, CJ Fleming '04, a professor of psychology at Elon University. They returned to Durham in the summer of 2013, where he supported IT for researchers at Duke's School of Medicine until 2016. In his spare time, Fleming enjoys gadgets, reading, gaming, brewing, and travel.  
Kendall Hageman, Director of Distance Education and Extended Programs
Hageman comes to NCSSM from the Institute for Emerging Issues, where as education policy manager she worked collaboratively with individuals from all sectors and areas of the state to build capacity for collective action with a strong focus on education. Before joining IEI, she served as director of public policy research for the Public School Forum of North Carolina. She has also worked at the Department of Public Instruction as an accountant and allotment supervisor.   Hageman served as the vice chair for the Exploris Middle School Board of Directors from 2011-2016 and is a member of the Women's Forum of NC. She is a HOST Math Mentor at the Neighbor2Neighbor Outreach Program in Southeast Raleigh. She was a 2007-08 fellow of the North Carolina Education Policy Fellowship Program (also co-coordinator from 2008-2012) and a 2009 fellow of the Institute for Political Leadership.     
William "Will" Hall, Instructor, Math
Hall is teaching Pre-Calculus and BC Calculus/Topics this year. After completing his master's degree in mathematics education at the University of Maine, he moved to Raleigh to begin work on his Ph.D. in mathematics education at North Carolina State University (he expects to finish sometime this year). At the college level, he has taught calculus, advanced mathematics for engineers and scientists, and mathematics for preservice elementary teachers. He has also been a mathematics teacher at Sanderson High School in Raleigh.   He served as faculty advisor for the Sanderson Math Team and was the testing coordinator, where he scheduled and organized all federally and state mandated exams for more than 2,000 students.  
Jamie Hawthorne, HR Consultant, Human Resources
Hawthorne joined NCSSM last December from the Department of Health and Human Services – Murdock Center. She brings a wealth of knowledge and experience in the areas of benefits, training, and Beacon. She has also worked in human resources at Cree Research and at Underwriters Laboratories.   Hawthorne enjoys music, spending time with family and friends, and traveling. She is from Durham and has a strong connection to NCSSM because her grandfather, parents, and sister were born at Watts Hospital.  
David Hill, Instructor, Humanities
Hill will partner with Katie Moulder to teach American Studies and he'll teach the three-course sequence in British Literature and Culture. In the spring he will teach a section of Film Studies. He earned his B.A. in English at Temple University and his M.A. in English at Louisiana State University. As an undergraduate, he worked for two years as a writing tutor. During his time in graduate school, he taught multiple sections of analytical and argumentative writing and courses in American Literature. He also served as a teaching assistant for a course in Shakespeare. Hill's teaching interests include American literature and history, British literature, rhetoric and composition, and cinema studies.   Hill likes to run, watch movies, and play and study music— particularly percussion instruments and the variety of percussion instruments in different parts of the globe.  
Lacey Hudspeth, Library
Hudspeth holds a master's degree in divinity from Harvard University, a master's degree in religion/ethics/women's studies from Emory University, and a bachelor's in philosophy from Rhodes College. She also completed a history certification from Saint John's College, University of Oxford. She has worked in Harvard's Widener Library and Emory's Woodruff Library.   Hudspeth has a passing familiarity with Spanish, German, and Latin. Her customer-service bent will be helpful when providing evening library service to NCSSM students and staff.  
Rex Jeffries, Instructor, Engineering and DEEP
Jeffries will teach Biomedical Engineering, Honors Forensic Accident Investigation and Material Evidence, and the new College Board-approved AP Computer Science Principles course. Last school year he worked part time for DEEP as an IVC instructor of honors physics. Jeffries earned a BS and MS in electrical engineering from NC A&T State University and a PhD in biomedical engineering from NC State University and UNC-Chapel Hill's Joint Program in Biomedical Engineering. As a postdoctoral scholar, Jeffries conducted breast cancer research and managed the BioMed-Connect Alliance Mentoring Incubator in the College of Engineering, working with underrepresented minority high school, community college and engineering undergraduates in biomedical research.   Jeffries taught computer science classes as a lecturer at Winston-Salem State University. He has 15 years of industry experience as a senior software engineer in the telecommunications and networking industry, where his significant contribution was the software development of the first Digital Subscriber Line (DSL) offering for internet service providers.   Outside of teaching, Jeffries enjoys travel, Duke sports, and performing with the Justice Theater Project production company.    
Amber Kendall, Instructor, Science-Physics
Kendall will teach physics with advanced topics and research experience. She holds a masters in STEM education from Tufts University and a bachelor's in physics from NC State University, where she was a Park Scholar. At Tufts, she will soon be defending her PhD. thesis on how students use technology and modeling to learn STEM concepts.   Kendall is an experienced classroom teacher: She taught college prep and honors physics at Belmont High School in Massachusetts and tutored undergraduate students in physics and electromagnetism at NC State. She brings a special empathy and understanding for gifted students and for those with atypical learning styles and she relishes sharing best practices with the broader teaching community.   In her spare time, Kendall enjoys fiber arts, historical costuming and is active in the maker movement.  
Brent Kitchen '08, Instructor, Physics
Kitchen joined us in February as our physics lab manager. He supports physics courses by setting up labs and demos and by repairing equipment. He also manages science department equipment use during the summer programs.He holds a master's degree in mechanical engineering from NC State University and a bachelor's degree in physics, also from NC State. He is currently pursuing his Ph.D. at NC State, where he is a LORD Doctoral Fellow. His research project is aimed at diminishing the jarring vibrations experienced by troops in military helicopters.   Kitchen's skill set includes computer programming, development of algorithms, and building devices to measure mechanical and electronic performance. In his spare time, he officiates as a referee at basketball and volleyball games.  
Jason Lineberger '90, Instructor, DEEP
Lineberger will teach 21st-Century Media and Ecocriticism for NCSSM Online. He is a UNC-Chapel Hill teaching fellow and national board certified educator with 22 years of experience. As digital learning coordinator for Cleveland County Schools, Lineberger oversees course development, instruction, and teacher training for the online Summit Virtual Academy. He has been a technology trainer for the North Carolina Teacher Academy, a course developer and lead teacher for NC Virtual Public Schools, and in 2014 he was named one of 100 Digital Innovators by Public Broadcasting.   Lineberger conducts weeklong sessions at the North Carolina Center for the Advancement of Teaching, and he presents at state and national level conferences on topics as diverse as literacy, augmented reality, digital learning, and gaming. This past summer he taught Rebels, Outsiders, and Visionaries for Summer Accelerator. He has previously taught 21st-Century Media and Science, Culture, and Catastrophe for NCSSM Online.   He lives in Shelby, NC. In his free time he plays ukulele and assorted strange instruments in his band, The Dancing Fleas.  
Amanda Martyn, Instructor, DEEP
Martyn joins us full time to teach in the IVC and online programs. She has been teaching part-time IVC genetics & forensics courses as well as popular offerings in our Summer Accelerator program. A Canadian native, Martyn grew up in Ontario. She earned a Ph.D. from the University of Guelph, specializing in stress response and molecular neuropsychology.   In July 2012, Martyn and family relocated to North Carolina, where she did a year-long post­doctoral fellowship at Duke University studying PTSD.  
Ormand Moore, Instructor, Humanities
Moore will partner with John Woodmansee to teach American Studies, a section of Writing and American Studies, and, in the spring, a section of Poetry Writing. He earned his bachelor's and master's degrees at UNC-Chapel Hill, where he was a North Carolina Teaching Fellow. He comes to us from the Durham School of the Arts, where he taught English and creative writing and served as sponsor for the school literary magazine. He also taught for a decade at Chapel Hill High, where he coached the Quiz Bowl and Ethics Bowl teams.   Moore and his wife, fellow English teacher and writer Katherine Van Dis, have two boys, ages 2 and 6. He's an "obsessive" reader who still prefers printed books and a coffee enthusiast. Teaching must be in his genetic make-up: His father taught high school mathematics and chemistry, and one of his brothers was a physics major and now teaches high school mathematics.  
Wesley Morris, SLI, Student Life
Morris is from Troy, NC, and recently graduated from Wake Forest University with a B.S. in mathematics. At Wake Forest he served as a resident advisor for first-year students, operations manager for Wake Forest Summer Conferences, and as a member of the club basketball team. In his free time he still enjoys playing basketball and tennis.  
John Mruk, Campus Security, Student Life
Mruk comes to us with a wealth of experience in law enforcement, especially in a campus environment. He has served as a police officer at NC State and most recently at Boston College before moving back to North Carolina. He has experience in investigations and using CCTV and control access.  
Leah Pompey, SLI, Student Life
Pompey was born and raised in Durham and was a student at Hillandale Elementary during Todd Roberts' tenure as principal, 1996-1999. In middle school and high school, she was a cheerleader and enjoyed her front-row view of football and basketball games. She is a proud Pirate, an alumna of the Class of 2008 at Riverside High School. She earned a bachelor of science in exercise science with a minor in sports medicine from Winston-Salem State University in 2012. This past April, Pompey graduated from Florida State University with a master of science in family and child sciences.  
Erin Quinlan, Instructor, Science
Quinlan will teach climate change biology, AP environmental science, and environmental chemistry. She earned a PhD in aquatic biology from University of Florida and a BS in ecology and evolutionary biology from Purdue University. She recently moved to North Carolina from Georgia, where she was teaching a wide range of biology courses at Georgia Gwinnett College. She created a thriving research program that engaged undergraduate students in research on invasive species, bioacoustics, wetland mitigation, and ecotoxicology.   Quinlan also worked as a staff scientist for the Environmental Protection Agency, where she conducted research on fish kills and developed methods to detect toxins in the water. Her skill set includes statistical analysis, chemical analysis, and GPS, and she is a certified boat operator and SCUBA diver.   In her spare time, she volunteers with Horse Rescue, Relief, Retirement and the Forsyth County Beekeeping Club. She also serves on the advisory board for the Town of Wake Forest Greenways.  
Emerson Rhudy, Instructor, Student Life
Rhudy started at NCSSM in August 2015 as a part-time evening receptionist. She joined NCSSM full-time as a Student Life Instructor for Royall in November 2015, and looks forward to beginning her role as Residential Education Instructor teaching RE courses this school year. She is a graduate of both the University of the North Carolina School of the Arts and UNC-Chapel Hill, where she studied violin performance and American Studies.   Rhudy grew up with unique experiences in the NC public education system and is especially grateful to be a part of that experience for students at NCSSM. She likes to spend her free time running, reading, and volunteering with Girls Rock NC.  
Scott Schwartz '06, Counseling Services, Student Life
Schwartz graduated from NCSSM in 2006 and served as a counseling intern here in 2012. He has worked with our summer programs for the past two years as a counselor. He graduated from UNC- Chapel Hill with a bachelor's degree in psychology and biology and earned a masters in professional school counseling from Appalachian State University. He has worked as a school counselor for the past four years in both the public and private sector, where he taught numerous college preparatory courses and assisted students through emotional and academic challenges.   In his personal time, he likes to practice and teach martial arts. Schwartz recently married and moved to the Raleigh area.  
Sandie Shoe, Program Assistant, Mathematics
Shoe is grateful for the opportunity to work in the math department, where she already feels at home. She comes to NCSSM from Trinity School of Durham and Chapel Hill, where she was the assistant to the director of upper School and the college counselor. Her responsibilities included coordinating AP exams and PSAT/CWRA testing, online learning, and curriculum ordering. She also served as registrar and worked on the graduation committee. Prior to Trinity, she was a preschool teacher; she has a heart for students of all ages.   This past December, Shoe completed her bachelor's degree from UNC-Greensboro.  
Kathryn Wall, Instructor, DEEP
Wall will teach NCSSM Online's introduction to international relations course and introduction to political theory. She earned a Ph.D. from UNC-Chapel Hill, where she focused on southern history, American women's history, and oral history, and won her department's award for outstanding teaching by a teaching assistant. In addition to teaching while in graduate school, she also worked with both the Southern Oral History Program and the UNC Writing Center.   Her dissertation focused on the lives of southern women teachers in the Reconstruction era. She taught the US history survey and an upper level course on women in the American south at UNC after graduation, and then went on to serve as an academic skills instructor at Duke University. Afterward, she developed curriculum materials and worked directly with K-12 educators for many years as an affiliate of LEARN North Carolina in UNC's School of Education. There, she taught hundreds of teachers in online professional development courses and created a range of curriculum materials for classroom use.   Wall enjoys photography, gardening, spending time with her daughter and pets, playing softball, and skating with the Carolina Rollergirls.  
Mike Wester, Housekeeping
Wester worked as a temporary employee in the housekeeping department for four years before joining NCSSM full-time in October 2015. Before NCSSM, he worked in maintenance in RTP and served in the US Marine Corps. Wester is also a certified chef and worked at the Governor's Club and Omni, where he catered several birthday parties for the late Dean Smith. He enjoys all sports, fishing, and cooking.  
Ronnie Woods, Housekeeping
Woods worked for our housekeeping department last summer as a temporary employee before joining us full time in October 2015. Prior to coming to NCSSM, he worked at NC Central University and the Cheesecake Factory. In his spare time he volunteers at Urban Ministries in Durham, serving meals to the homeless. He enjoys the outdoors, drag racing, and football.  
Share this post.