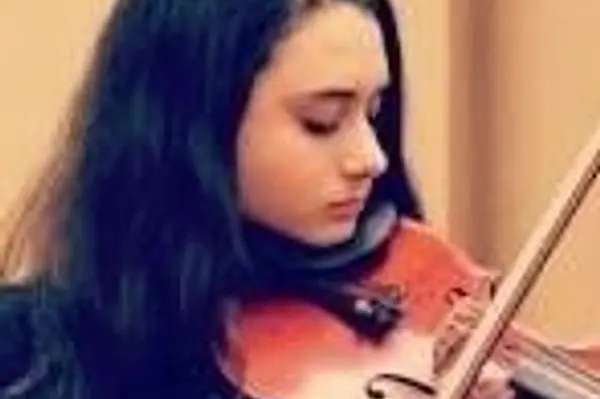 news
Violinist Emma Garval '17: Music helps her manage academics
Emma Garval '17
Violinist named concertmaster of the 2016 Eastern Regional Orchestra
Junior Emma Garval has been playing violin since she was four years old, and she's good at it. At the recent 2016 Eastern Regional Orchestra, a gathering of over 200 student musicians from eastern North Carolina, Garval was named concertmaster, the second-highest position in the orchestra. We asked her to tell us more about herself, and the role that music plays in her life.
On being a musician at NCSSM, balance, and the role music plays for her: 
In addition to playing violin in orchestra, I am an officer in the NCSSM Chamber Music Club. Throughout the year I have played in different chamber music groups at NCSSM. Over Mini-Term, I will be taking Sound Art class, where I will learn about different recording technologies and play electric violin.
This year was my third year attending Eastern Regional Orchestra. In addition, I have attended the North Carolina Honors Orchestra for the past two years. I always enjoy Eastern Regional Orchestra because it brings together the best musicians from the eastern half of the state. This allows us to learn challenging music, at a high level, in a short period of time. I am always able to learn new things from the experienced conductors and sectional leaders at the clinic.
It is often hard to balance my courses with all of the violin things I do. However, I use my time playing violin to relax and unwind after having classes all day.  Even though violin takes a lot of time, it helps put me in a better frame of mind to do the rest of my work.
The best part about being a musician at NCSSM is getting to meet other students who share the same passion for music. It is also interesting to get to know people who are talented and dedicated to music but also are talented and interested in STEM fields. This combination of talent and interest is what makes NCSSM's orchestra so unique.
Hometown:
Chapel Hill
Favorite class at NCSSM:
Research in Biology
Dream job:
Ophthalmologist
Favorite way to spend a Saturday afternoon:
Going for a hike in the woods
Favorite food:
Fruit
Secret talent:
Whistling through my teeth
What book are you reading right now:
A Tree Grows in Brooklyn by Betty Smith
Share this post.