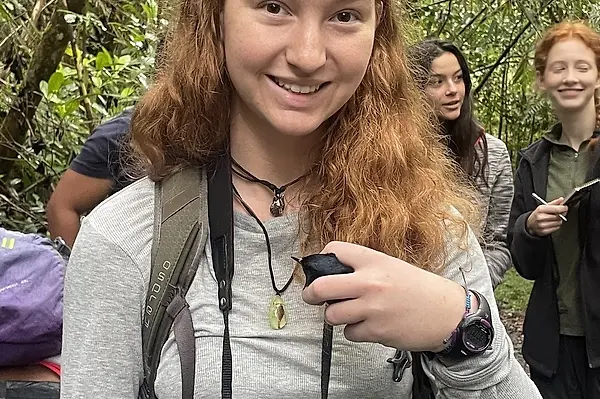 news
Used bookstore find leads to life-changing adventure
When the opportunity presented itself, Kayla collected data on animals other than lemurs in Ranomafana National Park, like this small bird in her hand.
Kayla Ruff '23 was standing in the rainforests of Andasibe, Madagascar, this summer while a pair of critically endangered indris – one of the largest of Madagascar's iconic lemur species – called to each other.
"This was something I had seen on YouTube and in wildlife documentaries dozens of times," Kayla says back in Durham, "[but] to witness it in person was indescribable."
She had to remind herself: this was no dream. Just a few days prior, she had still been in North Carolina, finishing up the spring semester of her junior year at NCSSM-Durham. Now the senior from Hickory was having one of many unforgettable experiences on a five-week research trip to the biologically unique island off the southeast coast of Africa. "Life-changing," she calls it. "Rewarding." "Formative."
That it began months earlier with an impromptu after-class visit to a battered but beloved used bookstore in Durham called Books Do Furnish a Room made it all the more incredible. That Kayla was in that store is not surprising; she goes to used bookstores often. For one, she says, it's a lot cheaper. And two, she says, "you never know what you're going to find."
A clue in a dusty book
Inside the shop, she went straight to the section of sagging shelves that held books on her passions: wildlife conservation and wildlife biology. As a child, she had imagined a future of swinging from vines through the jungle "like Tarzan." By the time she reached NCSSM, Kayla's dreams had evolved into something more mature. "If anybody had asked me at that point in my life, like, what I wanted to do, I would have said – definitely – wildlife biology. And I would have said Madagascar is the top place that I want to go to study lemurs."
At random, she pulled from the shelf a decades-old book called "For the Wild Places: Profiles in Conservation," by Janet Trowbridge Bohlen. "I just looked at it and was like, 'Oh, this looks cool.'" Kayla says. "I didn't even open it or read what it was about. It was just a wildlife conservation book, and I just got it."
Not until later, back in her dorm room, did she open the book to find something that would set a dream into motion. Inside the front cover was a long inscription – "a letter" Kayla calls it – dated May 2, 1993, from someone named Pat to someone named Elwyn.
"With much appreciation for making the Ranomafana Park Project possible," the inscription began. "For inspiring me to go to Madagascar in the first place, for providing the moral support, the guidance, the assistance on every level that made this all possible."
"She was thanking him for all his help in developing this national park in Madagascar," Kayla says. "And it was all about lemurs. I was like, 'Holy cow, this is so cool!'"
A discovery
Kayla had no idea who Pat or Elwyn were. So she started digging.
"Pat" is Dr. Patricia Wright, a primatologist, anthropologist, and conservationist based out of Stony Brook University who is considered one of the world's foremost experts on lemurs. Ranomafana National Park was created in 1991 due in large part to Wright's efforts. "Elwyn" is Dr. Elwyn Simons, a renowned Duke University paleontologist, paleozoologist, and a wildlife conservationist for primates who passed away in 2016. He is commonly known as the father of modern primate paleontology in recognition of his discovery of some of humankind's earliest antecedents.
And Kayla had made a find of her own.
The following day she emailed Wright at her Stony Brook address. In her message she included a photo of the inscription, professed a desire to live a life similar to the scientist's, and asked if she had any advice she'd be willing to share.
At most, Kayla hoped for a 'thanks for sharing' response at some point. A few words of encouragement would've been amazing.
"She emailed back right away," Kayla says, "and was like, 'We need to talk.'"
"I was quite surprised to hear from her, as you can imagine," Dr. Wright says. "It was like a trip down memory lane. [Simons] was my postdoc advisor, who I learned so much from, and this was a book that I had given to him. So to hear that she had found it at a used bookstore was really a pleasant surprise. I never expected to see that book again."
A few days later, Dr. Wright and Kayla spoke by phone for an hour. By the end of the conversation, Wright had invited Kayla to conduct research with her and her Stony Brook students in Madagascar.
This Milne-Edwards's sifaka lemur allowed Kayla the closest approach of her entire field research trip.
"That just doesn't happen," Kayla says. "I mean, most scientists, a lot of professors, when something like that happens … might be nice and like, you know, talking on the phone is great but for her to be so gracious and, you know, ask me to go to Madagascar with her, is just insane."
Kayla was right to be stunned.
"We're not supposed to bring young people like that," Dr. Wright says. "You know, we accept college students and graduate students and postdocs and researchers, and she's a high school student! She was quite a bit younger than anybody else that went over that year. But I could tell from her voice how passionate she was about the lemurs and about Madagascar, and [I knew that] once she had this opportunity, she would take advantage of the experience."
Profoundly changed
The first half of Kayla's trip was spent sharpening her research skills and exploring Madagascar's cultural and geographic landscape. In villages near her homebase of Centre ValBio – a research station founded and managed by Wright in the middle of the Ranomafana National Park where she sat in on research lectures – she had the unusual experience of listening to bands play music by the Grateful Dead and Bob Marley while a pig recently escaped from its pen milled about in the circle of dancers. Ring-tailed lemurs traveled through the canopy above her at the Anja Community Reserve while sunsets at the Isalo National Park felt like being in a scene from "The Lion King."
The second half of her trip was spent focusing on field work back at Centre ValBio. Tracking lemurs through the surrounding rainforests left Kayla with wet clothes, muddy boots, and numerous leech bites. Two lemurs in her vicinity gave birth, and though they hid themselves away for the delivery, within days they emerged into view with their brand-new young.
Kayla turned 17 while at the research station. Not a bad way for a future conservationist to spend a birthday.
Kayla's green tent sits beneath additional protection from the rain in Ranomafana National Park.
The work was grueling, Kayla says. Though in a rainforest, it was still winter there in the southern hemisphere, and the falling rain was cold. Keeping up with the lemurs meant constantly traversing and descending slippery hills. Blood constantly trickled from the leech bites on her hands and feet.
It didn't matter.
"She just dove right in," Dr. Wright says. "You know, sometimes I forgot that she was so much younger than everybody else because she just worked so hard. She's totally responsible and a real leader for her age. And when she started her research project, she really would go out there, you know? It's rainy and mountainous and it's difficult terrain. She didn't care. She just went out there and she studied those lemurs and she was really good at it. You know, some people just have an eye for observing animals in the wild and for understanding behavior, and she has that. I'm hoping she continues to use that in the future."
"I don't think I was completely ready to leave Madagascar," Kayla says. "I fell in love with that island. All the way home, all I could think about was how incredible my whole trip was. I expected that this journey would have some sort of impact on my life, but I never expected to be so profoundly changed as both an aspiring wildlife researcher and as a person."
And it began with a used book pulled in passing from a dusty bookshelf. But don't pin it all on fate, Kayla says.
"This just kind of proved for me that, if you just live your life based around your passions, rather than awards or accomplishments, you're gonna be so much more successful. I mean, I went to that bookstore because I love books. I went to the wildlife conservation section because that's what I'm passionate about. Obviously, I know this all seems very serendipitous, but at the same time, if I didn't have those passions, if I didn't have that mindset of just doing what I love, then it wouldn't have happened."