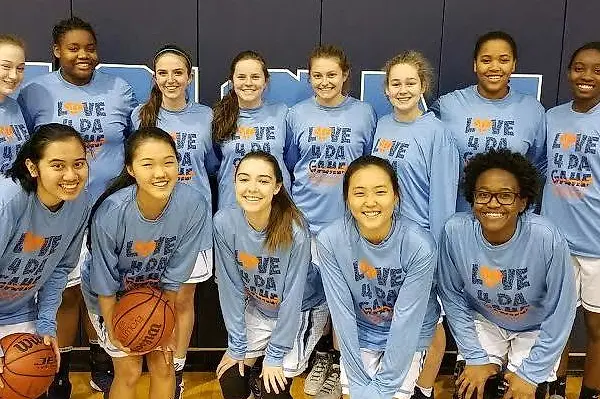 news
Unicorns make waves in winter season, look ahead to spring
NCSSM's women's basketball team made it to the second round of statewide playoffs this year, a level of success not seen in years for the team.
The winter sports season has been a highly successful one for the North Carolina School of Science and Math Unicorns. The school joined a new conference this year, playing for the first time in the new 2A Mid-State conference, a designation that means competition against larger schools than in years past. Despite this challenge, many NCSSM teams have earned high standings in conference play, with both swim teams and the women's basketball team moving on to compete at the state level this winter.
The men's swimming and diving team won their conference championship on January 16. Senior George Heidkamp broke the school record for the 100 freestyle race with a time of 48.49. Heidkamp, along with team members Max Brinker '19, Emile Charles '19, Jack Healy '19, Roger Moomaw '19, Stonewall Sisk '18, and Alexander Xiong '18 made all-conference this season. And it wasn't just the students who brought home prizes. Coach Michael Newbauer was named 2A Mid-State Conference Men's Swimming and Diving Coach of the Year.
In women's sports, both basketball and women's swimming and diving placed second in their conference championships.
While NCSSM has had perennial success in swimming and diving, the wrestling team saw a few breakout athletes forge a new path. Seniors Jason Blasidell, Ryan Greenblatt, Ayden Hochstein, Ben Nichols, and Hunter Wood were named all-conference athletes. The team took 3rd place in their conference.
This year, the women's basketball team, which made it to the second round of statewide playoffs on February 22, had a level of success that had not been seen by Athletic Director Greg Jarvis during his tenure at the school. On Tuesday, February 20, NCSSM hosted a playoff game for the first time in years and the team successfully beat South Lenoir with a squad of only 7.
"They managed to shut down one of [South Lenoir's] really good players," Jarvis said.
The short bench was due to Mini-Term, a short session between second and third trimesters during which students pursue special projects outside the typical curriculum, and many NCSSM students travel, meaning that they miss games, and teams are forced to adapt.
This is only one of the unique set of circumstances that face Unicorn athletes, who also face rigorous course loads, high standards for maintaining team membership, and a trimester schedule at odds with the semester schedule of most other schools in the conference. Because of the trimester system, many other school teams start practices before Unicorns have even held tryouts, and the time between tryouts and a team's first game might be only a few days. Tournaments and course finals also tend to coincide every season, and, as a two-year school, team members and team leaders turn over quickly at NCSSM.
Jarvis points to both superior time management skills and the rigorous dedication of athletes who face this unique set of circumstances in their success. "Because students know A plus B plus C equals D, there is more buy in," says Jarvis, noting that the coaches' diligent practice plans and students' careful adherence to them tend to yield results.
The new conference designation will continue to pose a challenge this spring, as NCSSM will now be facing schools like Carrboro that are competitive in similar sports like tennis and golf. The first games of the spring athletics season were played on March 1 by the baseball, softball, and women's soccer teams. Women's soccer coach, Henry Gallagher, also returns to NCSSM this spring, where he previously coached the men's soccer team to two title victories. The men's tennis team will also be defending their state championship title from 2017 this spring.
For more on NCSSM Athletics, visit gounis.com, or follow them on Facebook and Twitter.
Share this post.