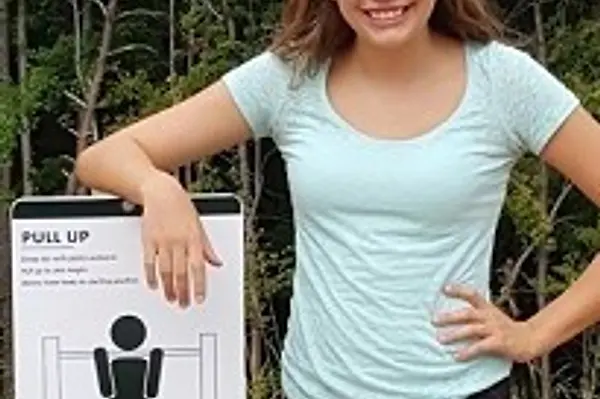 news
Two seniors complete service projects, receive highest achievement in Girl Scouting
Despite living in towns on opposite sides of the state, nearly four hours driving distance apart, Frances Massey '17 and Clarissa Somers '17 had very similar summers. Each senior spent a large part of the summer completing service projects in their home community and earning a Girl Scouts' Gold Award. We talked with them to learn more about their projects and why they chose to invest time in community service. 
Frances Massey '17 created six fitness stations in her home community, a service project that earned her a Girl Scout Gold Award.
Frances Massey '17
Massey, from Denver, NC, worked in partnership with Andie Taylor and the Denver/Lake Norman Rotary Club to build six fitness stations at her local rescue squad park. The fitness stations will provide free, entertaining, and easily accessible exercise opportunities for the community.
On her project, and the importance of community service:
"I am really passionate about exercise, probably because of my involvement in sports," says Massey, who runs track and cross country. "I realized that my community didn't really have anything like a fitness trail, which I had seen in other communities, so I decided to build one."
Massey has been involved in Girl Scouts for 11 years, and used her Gold Award project as an opportunity to get more closely involved in her home community, even while attending NCSSM. "Going to school at NCSSM makes it difficult to give back to my community at home on a regular basis, so I felt that my Gold Award project would be a perfect way to do so," Massey says. "I think that it is important to participate in service projects because communities build us up in so many ways, and it is important to remember that sometimes we need to give back."
Hometown: Denver, NC
Favorite class at NCSSM: Molecular Genetics
Dream job: A job where I get to travel frequently
Favorite food: Sushi
Secret talent: I can play the French horn
What book are you reading right now: Harry Potter and the Cursed Child
Any other fun tidbit you'd like to share? Fun fact: I am a quadruplet
Clarissa Somers '17 created three educational gardens as part of her Girl Scout Gold Award-winning service project.
Clarissa Somers '17
Somers, from Oak Island, NC, spent her summer creating three educational gardens in partnership with the North Carolina Maritime Museum at Southport as part of her "Plant Power" project. Somers wanted to create a space that inspired people in her community to value the environment. She designed and put in place an irrigation system to sustain the gardens, and created pamphlets for the museum containing a planting and irrigation guide. She said she hopes that museum visitors, youth in particular, will take an interest in the environment and want to re-create gardens themselves.
On her project, and the importance of community service:
"I pursued this project specifically because I want to study food science," says Somers, who has been a Girl Scout since 2004. "I understand the importance of gardening and consuming fresh, natural produce. I also believe that the historical significance of plants helps promote learning and healthy habits."
Somers is committed to community service because it gives her a chance to make a difference for others. "My favorite part of my Girl Scout Award is that it touches the community. A few days after completing my project, I heard that a little boy visited the gardens frequently to care for the plants and pick strawberries. It warmed my heart knowing that my project was already making a difference in one little boy's mind."
"I have had many opportunities in my life that I am determined not to take for granted," Somers says. "One such opportunity was attending NCSSM. I believe that my good fortune and hard work should be directed to helping others reach their own goals. "
Hometown: Oak Island, NC
Dream job: Flavor chemist at a Jelly Belly Factory
Best tip to avoid procrastination: Obsessively use a planner.
Favorite way to spend a Saturday afternoon: Going to the beach with my dog, Loki. He is half chihuahua, half pit bull.
Secret talent: Playing the saxophone, sarcasm, weighted hula hooping
What book are you reading right now: The Complete Sherlock Holmes Stories
Share this post.