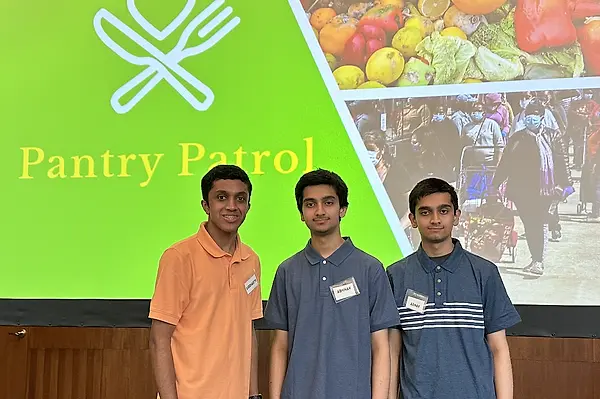 news
Trio creates app to address food insecurity
NCSSM-Durham seniors Arnav Meduri, Abhinav Meduri, and Siddharth Maruvada have been close friends since they were in middle school together at Carnage Middle School in Raleigh. For nearly the duration of that time, the three have also been united by their collaboration on an app called Pantry Patrol, which they've created to help food pantries serve more people in need by increasing efficiency and reducing waste.
The idea, Arnav says, originated during the pandemic when schools were operating remotely. Soon after schools closed to in-person learning, media outlets began reporting on the issue of food insecurity created by the disruption to school food programs that provided the area's most vulnerable children with weekday breakfast and lunch. Moved by these reports, the friends, who were by this time rising ninth graders, began brainstorming ideas to help.
"The issue of food insecurity was everywhere, and we really wanted to work on something that could help our community, especially knowing that," Arnav says.
For nearly a year, the trio researched food insecurity. Their exploration led them to conversations with the Food Bank of Central and Eastern North Carolina and faculty at the UNC Gillings School of Global Public Health. What became clear was that food pantries were on the front lines of fighting hunger, and that many did not have adequate technological resources. With all three interested in engineering and computer science, Arnav says, the friends settled on creating a software application that might help food pantries operate more efficiently.
By the end of their freshman year, the team submitted their work to a national STEM competition sponsored by the U.S. Army called eCYBERMISSION, where they won first place and received a $5,000 STEM-In-Action grant to continue their work.
The grant, Siddharth says, was a tremendous boost, not only to the development of the app, but in getting the product into people's hands.
"With this product, we also want to increase accessibility to technology in the community," he says. "One way we're doing that is we're actually using some of that grant money to purchase tablets and preload the application onto them so that even if a food pantry doesn't have access to some technological device, we're able to give them something so that they can still use our product."
"Accessibility is one of our core beliefs," Abhinav says. "We want to make this application free because food pantries already have lots of constraints. They run on tight budgets. So one of the things that we're going to continue to do is ensure that the application is free and affordable. Food pantries also seriously lack technical skills, so we designed Pantry Patrol to be a managed and hosted solution. We roll out updates to the app remotely, and they do not need to engage specialists to manage the application onsite." To emphasize that altruistic approach, the three friends have registered a non-profit organization, Pantry Patrol Inc.
Like all good creators, the Pantry Patrol team listened carefully to what potential clients were telling them. What they found was that a one-size-fits-all approach was a non-starter.
"It's been a learning experience for us," Abhinav says. "If we hadn't taken into consideration what the pantries were saying, the app wouldn't be as successful as it is. We learned to look at food pantries individually, with specific requirements. We learned to not try to merge all of their needs into one application, but kind of create separate application instances for each food pantry."
"Actually going out there and conducting these meetings with different pantries and getting their feedback is one of our favorite things," Siddharth says. "We get to see their excitement that finally there's been some innovation done in this field. Right now most of these pantries are relying on paper and pencil methods, which are very, very tedious. We've actually received some feedback from food pantries that our app is streamlining their operation and making things much more efficient. Hearing that excites us even more."
The app is filled with organizational and tracking features for pantry staff. From basic information on families using the pantries (such as eligibility for food stamps or subsidized meal programs) and donations from donors, to recording and tracking food donations from donor organizations, the app maintains a plethora of useful records in one place that, in many instances, can quickly be turned into graphs and reports that make it easy to see, at a glance, how well the food pantry is performing.
Though Pantry Patrol is far from a finished app, it is far enough along in development that, since arriving at NCSSM, the team has been able to focus more time on marketing their product through venues such as conferences and online events. Most importantly, they're getting into more and more food pantries, Arnav says. "We've established a relationship with five pantries so far that are now using our app, and we're actively engaged with others who are interested in using it."
The response from pantries has been encouraging, with staff at local pantries writing the team to express their admiration and appreciation. "The breadth of what you have done [on] this project is truly impressive — everything from setting up a 501(c)3 organization, the creation of the app, to setting up a website and providing video tutorials," said The Holly Springs Food Cupboard in Apex, NC.
The Emanuel Food Pantry in Durham shared a similar sentiment. "Thank you again for an amazing meeting!" they said. "We really appreciate your work on this, and your ability to listen to our needs, pivot, and adjust accordingly is invaluable!"
"Comments like these affirm that we are moving in the right direction and inspire us to continue improving the platform," says Abhinav.
There will come a time when the three friends will have to broaden the community of Pantry Patrol developers. College is not far away, and with it will come new demands on their time. The only way for the app to continue to grow and flourish is if additional people join the efforts and help spread the workload, particularly if the app reaches a national audience as hoped.
"We know that as this initiative grows, we won't be able to sustain it ourselves," Arnav says. "In addition to making this free to pantries, another goal is making the project self-sustainable. We hope to recruit more people who can work on this, and that includes people who may be interested in outreach as well as product development. But we'll stay involved. It's something we look to pursue beyond high school and college. We're really looking forward to helping out in any way we can with food insecurity and with food waste."