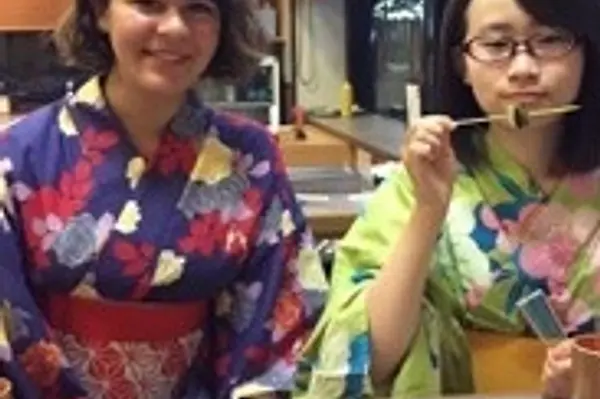 news
Touring Japan: Rice fields, temples, and new connections
Margaux Winter '17 and Katherine Barnes '17 during their 11-day trip to Japan in July.
By Margaux Winter '17
In July, I left North Carolina with 14 other students (including classmate Katherine Barnes) on an 11-day trip to Japan, organized by Sister Cities of Durham and Toyama College of Foreign Languages. We spent three days in Tokyo, six days in Toyama with a host family, and ended the trip with two days in Kyoto. Throughout the trip, we were able to experience Japanese culture, see famous sights, and bond with each other and our host families.
In Tokyo, the streets were crowded and busy, yet at the same time we saw a certain level of cleanliness and order even in outdoor shopping areas and subways. What might be considered a back alley in Durham was crammed with fluorescent signs, shops, and lights. Every area of the city was used, with tall vertical buildings crammed next to each other and streets built on top of each other, sometimes seeming four of five levels deep. Inside the city were shrines and temples. These sacred areas were given plenty of room to exist, perhaps the only exception to the crowded city.
The most memorable experience of the trip was the week I spent with my host family — a mother and her 17-year-old daughter. The Japanese school year is longer and structured differently, so my host sister's school was in session during my visit. Fortunately, our first Monday together was a holiday so my host sister, Hikari, had the day off. My host family exposed me to a range of events and experiences from cooking breakfast and dinner each day to attending a festival in the traditional yukata and participating in a traditional tea ceremony.
My host mother and sister were the most kind and generous people I could have hoped to have for a surrogate family. They drove me to Kenezawa to visit the market and the beautiful gardens, paid for an evening at the game center, and bought a plethora of gifts to bring home.
I was really struck by the presence of rice fields throughout Japan. In the prefecture of Toyama, rice fields are stuffed wherever there is room, between houses, buildings, and roads. If there is half an acre without a house, that space is usually filled with a rice field. In Toyama, I had the chance to hear a presentation by a woman who works one job during the day and on the weekend works as a rice farmer. The art of rice farming has been passed down through generations and is quite laborious. Rice in Japan is vital to all parts of Japanese culture, and is used in everything from food to paper.
In Toyama, I spent time with the other American students. We visited temples, blew glass, and practiced caligraphy. The trip was organized with the Toyama College of Foreign Languages, and many of our lessons and excursions were with the college's students and instructors. The students wanted to be sure that we could see all the significant cultural and popular areas of Toyama. On our final day there, we all attended an outdoor barbeque with our host families to celebrate the relationships we had made throughout the course of our stay.
In Kyoto, we stayed in a hostel and used a big bus to move around the prefecture. We visited the famous shrines in Nara. Many of them are home to semi-domesticated deer, which are viewed as sacred and thus protected in the area.
My travels in Japan left me with a broader world view and experiences that completely contrast with my life in America. Some of the other exchange students had not traveled internationally before, but all of our families were exceedingly generous and kind-hearted. Many of us plan to keep in touch with our respective host families through social media and a popular messaging app in Japan called Line. This experience allowed me to experience being in and navigating through a situation completely unlike my daily life, using only my prior knowledge and an open mind.