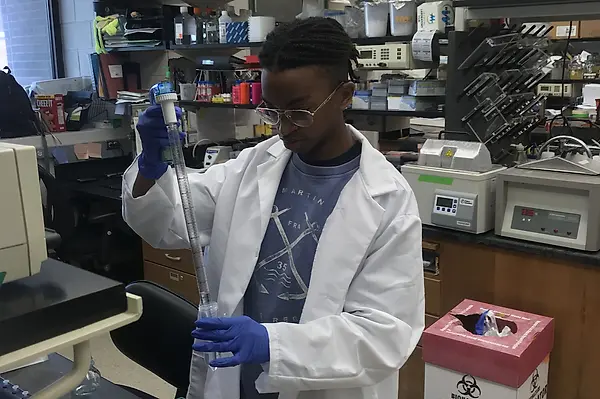 news
The thinkers, makers, and doers of NCSSM's Summer Research & Innovation Program
Online student Alexander Stanford '20 works in a lab at UNC-Chapel Hill as part of his experience in Summer Mentorship. Students in the mentorship program work alongside university researchers and local professionals in ongoing projects.
Zachary Richardson is seeking a cure for Parkinson's. The goal sounds lofty for a rising high school senior, but Richardson has been interested in Parkinson's research ever since his grandfather was diagnosed several years ago.   When he arrived at North Carolina School of Science and Mathematics from Rocky Mount at the start of his junior year, what most excited him was the opportunity to do in-depth biology research. In instructor Kim Monahan's Glaxo Summer Research Program in Biology, Richardson is engaged in a hands-on research project involving C. elegans (worms, for the layperson), the IGF-1 neural pathway, and the isoflavone compound genistein. He's looking into the possibility of reducing the neurodegenerative effects of Parkinson's disease by inhibiting the neural pathway often associated with such disorders.   Richardson and his 12 peers in Monahan's biology cohort of NCSSM's Summer Research & Innovation Program (SRIP) are undaunted by such formidable work. They check in with her and the teaching assistants (recent NCSSM graduates who also participated in biology SRIP), ask questions, and consider different approaches. Monahan says this is her favorite part: watching the students gain confidence as they troubleshoot and continue to develop projects they've designed themselves.    Boldness and persistence seem essential. Students come into SRIP with big ambitions and deepen their sense of self-confidence as they find themselves achieving tasks they set for themselves or those laid out by advisors.   In the mentorship cohort led by instructor Chris Thomas, 70 rising seniors work alongside researchers or professionals on projects that include creating "smart collars" for training therapy dogs, developing low-cost detectors to track background radiation, and testing oxygenated microbubbles as a method to reduce cancerous tumors. Though these students are working on established, ongoing projects, their mentors value their input and curiosity. That trust encourages students to take responsibility for their learning and to ask for help and feedback. In fact, Thomas says, "mentorship students ranked building collaboration and communication skills as the highest value of the program."    In Keethan Kleiner's computer science program, students Daequan Peele and Duncan Glynn are creating their own research project, an app that generates original music using recurrent neural networks. They're also trying to replicate the process on a simulated quantum computer to detect any benefits in quality of output, speed, or the complexity of the song. In the same cohort, student Griffith Baker and his partner Ralph Eddrman, create an app that uses convolutional neural networks to classify a flower in real time (it works for over 102 plants), and student Rohan Jangala created a self-balancing portfolio for investing in the stock market. This year, the computer science option was lengthened from one week to two.   "With the longer timeframe, the projects just became more ambitious," Kleiner says.   The students in Michael Bruno's chemistry group are equally enthusiastic. During the school year, students are pulled in many directions, especially highly motivated students like those at NCSSM. There are tests, study groups, and many disciplines demanding attention.    "The summer gives them that chunk of time they need and the freedom to think about only this," he says. Bruno says his own high school chemistry experiences were more typical. He did a high school internship at a college. While he learned plenty of techniques and practical knowledge, he says he didn't learn to ask questions and think independently about a project.    One of the primary goals of SRIP is to engage students as thinkers, makers, and doers in experiences that require them to apply classroom knowledge to the world beyond the classroom. Depending on the discipline, thinking, making, and doing can take a variety of shapes.   Kleiner says he selects students with a background in programming and coding, "but I'm not looking for software engineers." Yet, by the time students leave the program, they're a whole lot closer to becoming one. Engineers are, in essence, think-make-do problem solvers. The same can be said for the budding entrepreneurs, biologists, scientists, mathematicians, biomedical engineers, and historians who make up other cohorts of SRIP.    These students formulate complex questions to which they seek answers through real-world experiences — whether in a laboratory, a rapid-paced tech startup, or a graduate library. Their questions, whether addressing a complicated social issue or uncured disease, challenge the known boundaries of disciplines:   
Can complementing chemotherapy with vitamin C reduce the negative side effects of doxorubicin? 
Can the model for the U.S. prison system, which incarcerates disproportionate numbers of African Americans, be traced back to the plantation system of the antebellum South? 
Can E. coli be modified to replicate A. borkumensis, a marine bacterium with the ability to degrade crude oil?
Can biochars from North Carolina pinecones be used to absorb nitrates found in groundwater contaminated by hog farm waste? 
The answers to these questions could have powerful lasting impacts on our world. Even if some questions are too big to be answered just yet, the younger generation is formulating them. Even the music app in the computer science program is predicated on an altruistic goal. "Music is a luxury in today's society," says student and app developer Daequan Poole. "Not everyone can afford instruments or afford to learn music production skills," he says. "But these tracks can both teach and inspire."   And even when the project itself isn't aimed at a larger social impact, perhaps inspiring and challenging the students is making the world a better place, teaching them to independently test ideas and apply creative solutions to problems that initially seem unsolvable. They're going into the world as engaged citizens who will rise to the call of their curiosity, and they will have the courage, persistence, and skill to follow it past the point of ease to a place of discovery where truths are uncovered and diseases are cured.  
Freelance writer Kate Van Dis holds a bachelor's in English and creative writing from the University of Michigan and a master's in teaching from UNC-Chapel Hill. She is also an award-winning fiction writer.