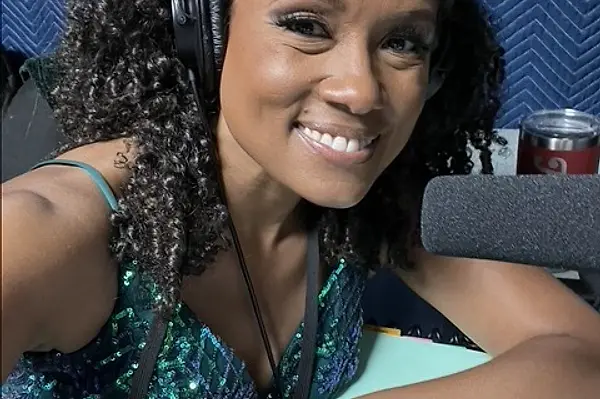 news
The role she was meant to play
Janora McDuffie, Oscars announcer and NCSSM graduate
Janora McDuffie was in a Kia dealership in Olympia, Washington, plugging the upcoming release of a new Kia electric vehicle when the call to audition for the live announcer role for the Oscars showed up in a text message on her phone. 
The L.A.-based actress, speaker, voiceover artist, and North Carolina School of Science and Mathematics Class of 1995 alum had always maintained side hustles since moving to California more than 20 years earlier to pursue her acting career. For working actors searching for their big break, side jobs help pay the bills during lean times. 
The path had been no different for McDuffie. Even though her Hollywood resume boasted more than 60 credits, including a stretch of six episodes of "Grey's Anatomy" in 2011-2012, she'd done things like tutoring and working trade shows as a presenter to stay ahead. She'd even been part of a bar mitzvah hype crew, pumping up partygoers with dance moves and positive energy.
Her phone dinged in the showroom as she was highlighting the new vehicle's driving range and charging rates and interior amenities. It was Will Packer, a film producer and old friend of hers who was putting together the Academy Awards show.
Two weeks earlier, Packer had touched base with McDuffie with a simple question: "Do you have a voiceover demo reel?"
"I didn't know what he was casting," McDuffie says of his initial request, "but I knew he was always working on something, so if he asked for a demo reel, I'm gonna send him a demo reel."
She had sent it and gone on about her business.
Now Packer was back, and he was more specific: Can you send another voiceover demo, and this time, can you make it "sound like the Oscars?"
"I was like, 'Oh, shucks, he's talking about [an audition for] the Oscars! Oh my goodness!'"
McDuffie as a second-grader at Eno Valley Elementary School
The best laid plans
Janora McDuffie tried hard to do something else with her life. She really did. But in the end, she couldn't escape the pull of showbiz. 
The acting bug bit her, McDuffie says, on a stage at Eno Valley Elementary along the northern edge of her hometown, Durham, when she was in second grade. It's not exactly where one might expect to find a trailhead for Hollywood.
"​​I just loved it," McDuffie says. "I loved the community, I loved the performing, I loved the interaction with the audience, that feeling of being on stage and the exchange of energy between what I'm doing and what the audience is feeling."
Throughout school, the happy but focused child who, in all her childhood photos wore a serious expression even though deep inside she felt great joy, sprang at every opportunity to perform. Maybe it stemmed from being the youngest of four siblings. From wherever it sprang, the energy she derived from the stage and the seriousness with which she approached both drama and her academic studies manifested itself in a healthy self confidence that was further nurtured by her family. She believed in herself, and she believed deeply, even as just a small child, that something special, something different, was waiting for her.
"I didn't know what it was," McDuffie says, "but I knew that there was something in the cards for me. Of course, as a kid, I'm not saying, 'Oh, there's something in the cards for me, the Lord's got a special path for me.' But I feel like that's why I had a bit of confidence in the things I did, because I knew that [whatever I was doing] was what I was meant to do."
But confidence often takes a hit at some point. As a high school freshman at Durham's Northern High School she auditioned for the lead role in the school's spring musical, traditionally the year's biggest production. She landed a much smaller role instead.
She was stunned. McDuffie knew she had the acting chops. Was it because she was a freshman auditioning for a role that usually went to an upperclassman? She went to her drama teacher for an explanation.
"I said, 'Why in the world did I get that bit part? I know I'm a good actress.' She put her arm around me and she said, 'Janora, not all of us can sing.'"
It was true, McDuffie admits. She can't sing. Further, she was afraid to sing publicly.
McDuffie quickly hammered out the dent in her confidence and the following year, despite still being an underclassman, landed the lead in the spring production of "Psycho Beach Party" – fortunately, not a musical.
But no one was prepared for the drama that lay ahead.
"Two days before the show was to go on," McDuffie recalls, "the principal at the time canceled the production. He had not read the script; he had not come to a single rehearsal. He only saw our promo photos up in the hallway. And in one of our promo photos were two guys holding hands. He canceled the play because they were gay characters."
Outrage ensued, McDuffie says. She and others at Northern High School wore black armbands in protest. The story hit the local paper, and some students at Duke University became involved, offering to help stage the play anyway. Parents got into the mix, too, with their own perspectives.
The play never happened.
"We were all crushed," McDuffie says. 
Start again, differently
Having grown up just a few miles from NCSSM's Durham campus, McDuffie had always been aware of the school. And she'd always been intrigued by it, always having a keen interest in and aptitude for math and science as well as theater.
Fueled by her deep disappointment over the play's cancellation, McDuffie decided to leave Northern High School and abandon one passion for another.
"I said, 'I am leaving this school to go to the school of Science and Math. I am never going to act again. I'm going to jump full throttle into my interest in science and math.'"
For the next two years she stuck to her plan, focusing exclusively on her studies at NCSSM. She was elected student body president. In her senior year, she was nominated for – and received – the prestigious Morehead (now the Morehead-Cain) Scholarship to attend UNC-Chapel Hill.
She was baffled by it.
"I didn't even know what the Morehead was until I was nominated for it from the school!" McDuffie says. "But I just showed up and I did my best and that was enough."
McDuffie was now on a very different trajectory. Though theater still tugged at her heart, the sting of the cancellation a few years before still lingered. An advisor at UNC-Chapel Hill urged McDuffie to major in what most interested her. The logic, he explained, was that employers often looked less at what you majored in, and more at how well you did in that major. A person willing to work hard and succeed was a person who could be trained on the job to be just as successful. And the best way to be successful in college was to study something you loved.
McDuffie double-majored in communication studies (with a concentration in performance) and psychology. 
Despite the performance degree, she was not planning a career in Hollywood.
"'I'm a Morehead scholar,'" McDuffie recalls thinking at the time. "'I'm not going to act. I'm going to do great things as a Morehead!' Whatever that means, right?"
She thought it meant joining corporate America because "that's what good college students do, right?" McDuffie says.
McDuffie wanted to travel, to be constantly challenged, to meet new people, to see new places. The data warehouse consultant job she landed straight out of college with Ernst and Young in Atlanta seemed to check all those boxes. She made the move from North Carolina, fueled by the possibilities ahead of her.
Six months later, she was still in Atlanta, bogged down in a "never-ending" project right there in the city.
"I never traveled, I never changed projects," McDuffie says. "All the things that I thought this corporate job would incorporate, all the things that made life exciting, did not exist."
Nothing more clearly illuminates the things that make us happy than immersion in things that do not. 
To go forward, McDuffie realized she needed to go all the way back to that second grader who, as her mother often said, walked on her toes when she was happy. And she'd never walked taller than when she was on stage.
"You can't run," McDuffie says now, "from what you're meant to do."
A social worker
By the fall of 2000, when McDuffie's plane barked its tires against the LAX runway, "The Jamie Foxx Show" had been airing on the WB channel for four years. The show had been the springboard for Foxx's acting career. Back home on the East Coast, McDuffie had followed the show since its beginning. Now she stepped off her one-way flight with what she hoped was the promise of a role on the show.
Several months before, back in Atlanta, McDuffie had told her administrators at Ernst and Young that she was leaving for Hollywood. To her great surprise, they fully supported her plan to pursue an acting career. Instead of going to L.A. cold-turkey, one of them suggested, how about she accept a transfer to Ernst and Young's L.A. office so she could pursue her dream from a position of financial security? She accepted. Another administrator passed her the names of two active contacts he had in Hollywood – a writer for "The Parkers," and a writer for "The Jamie Foxx Show." Call them, he said.
McDuffie worked the phones through the spring and summer, expanding her contacts and putting her L.A. plan together while keeping her day job in Atlanta. One of the West Coast folks finally put it to her plainly.
"Look, I can give you all the advice in the world," McDuffie recalls him telling her, "but I can't help you unless you're here."
"I had a big inkling that if I would get my butt to L.A., something was waiting for me," McDuffie says.
And now she was in L.A. After "The Jamie Foxx Show" – a non-speaking role but a union-actor role all the same – a small role on "The Parkers" soon followed.
"It was my dream coming true!" McDuffie says. "Sure, I didn't have any lines, but who's thinking about that when you're on the Jamie Foxx show and you just moved to L.A. on this dream! I was just ecstatic and just feeling right on time."
Soon McDuffie was busy enough to complete her separation from the corporate world. For the next 10 years she added television, silver screen, and voiceover roles to her resume. In 2011 she landed the gig she is best known for.
"I booked 'Grey's Anatomy' during a very dry spell in my acting career," McDuffie says. "I was auditioning for the [role of a] social worker, and when I went to the audition, all the women in the room were at least 10 to 20 years older than I was. So I was like, they want my mama up in here, my auntie! They don't want me!"
Thinking she had no shot at the role, McDuffie stepped before the casting directors and decided on the spot that, with nothing to lose, she'd play it the best way she knew: as herself.
She got the role. Janora McDuffie was now Social Worker Janet on an episode of one of television's most successful dramas.
McDuffie in a scene from "Grey s Anatomy"
"So the first day on set, you know, I'm playing the social worker. So I said, 'Alright, I need to be a social worker,'" McDuffie recalls. "So I put on this kind of jaded, tired kind of character. And the director was like, 'Cut! Cut!' And he said to me, 'Look, we hired you for your natural warmth and compassion. That's what we want.'
"It was so exciting that it was me they wanted," McDuffie says. "There was no need for me to put on anything else except what Janora brought naturally to the role."
One episode turned into two, three, four. But by her sixth and final episode, the serious, get-it-right, grind-it-out Janora of her earlier days had gotten in the way of warm, joyful Janora who landed the role in the beginning, she recalls.
"I lost the joy," McDuffie says. "I was like, 'Janora, you got to do well, because clearly they're calling you back and they want you, so be great. Do it. Be focused.'
"So, I took away my own joy. My first episode, I was just happy to be there. The director told me they had hired me to be me. And I was just delighted. And then I got too serious."
But McDuffie continued to act. In the ensuing years she landed several more roles in cinema, television, and radio drama. A dream had come true.
Sort of.
Another reset
In the beginning, McDuffie's dream was not just to make a living as an actor. The dream was to be a series regular in a one-hour drama.
But nearly 20 years after arriving in L.A., she was still searching for that one role to get her over the top.
Then COVID-19 shut Hollywood down. With the pandemic raging, there was nothing for McDuffie to do but spend time with herself.
It transformed her.
"That gave me the time to really look at my life," McDuffie says. "I realized, am I really even happy? Like, I'm chasing this dream. And I have success. I was on six episodes of 'Grey's Anatomy' with Grey and Derek, the main two characters! I was thinking, 'This is my big break!' But it wasn't. And that was hurtful." 
And it had also been 10 years since that role.
"So during lockdown, I asked myself, 'Do I love acting?' And the answer was 'Absolutely.' But I realized my favorite character is me. I love showing up and being me. I also realized that, however we play the game, time is passing. I don't want time to pass and be unhappy. So, I decided to change the way I play the game. Now, instead of being so serious about it and so results-oriented, I just show up. Now I just, you know, trust me, trust the greater power. That's where the faith in myself  is coming back strong in my life."
Landing the part
McDuffie nailed her auditions for the Academy Awards show and got the gig. It was like the first day on "Grey's Anatomy" again. We want you for you, the producers said. Just be yourself.
And she hadn't had to chase it. It came to her, but not before the soul-searching that led her to alter her approach to Hollywood. Gone now was the overwhelming pressure she'd put on herself for years to hit all the professional marks. Gone was the aching disappointment when she missed out on a role she felt she had to have to advance. Gone was the rigid, debilitating goal of achieving star status. She was here for the ride now, fully in the present, working hard and moving forward but determined to enjoy and appreciate whatever good fortune came her way. And man, had it come her way. 
All week as she rehearsed for the Oscars, McDuffie's social media had been lighting up with messages from friends and family, colleagues and acquaintances, congratulating her on landing one of the highest-profile gigs she had ever had. So when her phone pinged again, she assumed it was another thoughtful and much-appreciated pat-on-the-back.
But it was more. She opened the message.
"Hi, Janora," it began. "I've been following you for a bit, intending on sending you a message, but I hadn't come up with what to say.
"Your recent good news inspired me. My name is Megan Houpe. I believe my dad, Dr. Don Houpe, taught you [in foreign language] while you were a student at Science and Math. In the years since he's passed, I've been going through his things. Last year I was going through his wallet, and one of those things was a business card of yours. I know the success of his students always made him proud. So I just wanted to say that I know…"
Being from Durham, McDuffie admits, may have left her with a slightly different experience of NCSSM than most other students from much further away. A lot of her weekends were spent at home just up the road.
"I do feel like I missed a little bit," McDuffie says. "If I had a chance to do it over, maybe I would have dove a little deeper into some of the things at Science and Math that I hear students speak about during our reunions. But there are definitely certain things in life that helped form who you are. And for me, Science and Math is part of that conversation."
McDuffie pauses as she re-reads the message for what must be the hundredth time since she first received it. The extended silence feels like an entire lifetime is contained within it before she finally resumes. "'… I just wanted to say that I know he would have been so proud and happy for your success. Congratulations and best of luck.'"
McDuffie nailed her role on the Oscars.
Should stardom come knocking someday, she would not turn it down. Having a personal chef or a personal trainer or a driver ("L.A. traffic," she says) would be incredible. But there's a difference for her now between hoping for that regular slot on a hit drama and needing it.
"I have not accomplished all that I want to accomplish," McDuffie says, "but I have redefined the trajectory. I don't know what's gonna be next. But I'm showing up as me. And that's enough."
Elated and grateful, McDuffie is once again walking on her toes.
Share this post.