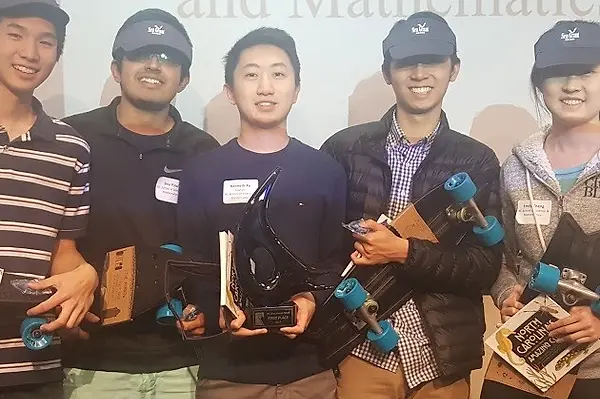 news
Team wins Blue Heron Bowl, advances to nationals
A team from NCSSM took first place at the Blue Heron Ocean Science Bowl,
A team of five NCSSM students took home first place at the Blue Heron Ocean Bowl in Wilmington, NC. The team's win in the regional marine science quiz bowl garnered them an all-expenses-paid trip to the 2017 National Ocean Science Bowl in April in Corvallis, Oregon, where they will face off against 25 other regional winners from around the country.
NCSSM's team of juniors Shiv Patel and Vincent Xia and seniors Raymond Gao, Kenneth Xu, and Emily Zheng, outscored 12 other high school teams from North Carolina and Tennessee in a set of timed matches in which teams answered questions related to marine science. NCSSM also won the competition in 2010, 2011, and 2015.
The evening before the competition, team members enjoyed dinner at the UNCW Center for Marine Science followed by a keynote speaker and a private tour of the Center.
The team had been preparing for the bowl since August. "We have been meeting since the beginning of the school year and met two times each week," says Xia. "Those of us who have done ocean sciences bowls before started preparing earlier."
"We study at first, and then we also do buzzer practice questions where somebody just reads questions," adds Zheng. "It's like a mock competition."
The bowl was fast-paced, particularly in the earlier rounds, as teams matched one another. "The competition was at times stressful, especially when the scores were close early on in the match," says Patel. NCSSM began to pull away, however, as the the teams progressed through the rounds. "It got better over time as we won more matches and realized how prepared we were."
Claiming first place in the Blue Heron Bowl has become something of a family tradition for Xu and Zheng; each student had a sister on NCSSM's winning team in 2010.
Xu and Patel also had personal connections to the bowl; the team from Patel's former high school, on which he still has friends, came in third place in the competition. Second place was claimed by the team from Xu's previous high school, a team he helped create when he was there. "Yeah, I taught them," he says.
Biology Instructor Amanda Martyn sponsored the team and served as chaperone on the trip to Wilmington. Her role as sponsor mostly entailed administrative duties such as submitting the necessary registration documents and transporting the team to and from the competition, she says. "This was an independent study for their team," says Martyn. "They did all the work. I shouldn't take credit for their hard work."
The 2017 Blue Heron Ocean Bowl was hosted by UNC-Wilmington, the Center for Marine Science, and Watson School of Education, and is part of the larger National Ocean Sciences Bowl managed by the Consortium for Ocean Leadership, based in Washington, D.C.
Share this post.