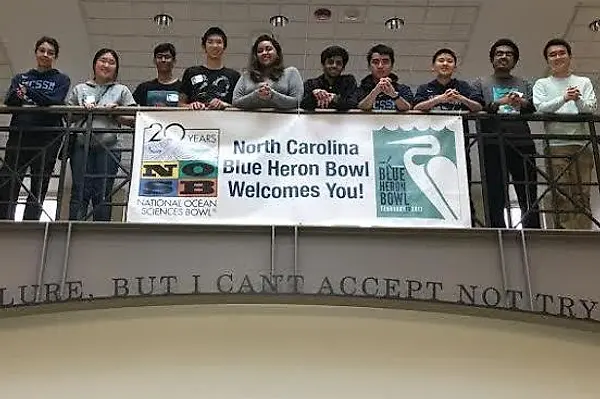 news
Team defends state title at Blue Heron Bowl, advances to nationals
NCSSM successfully defended its state title at the Blue Heron Bowl, and the team now advances to the National Ocean Sciences Bowl in Colorado in April.
A team from North Carolina School of Science and Mathematics successfully defended its state title at the Blue Heron Bowl in Wilmington, NC, held Saturday, February 20. The team's win in the regional marine science bowl quiz garnered them an all-expenses-paid trip to the 2018 National Ocean Sciences Bowl competition, to be held in April in Boulder, Colorado, where they will face off against 22 other regional winners from across the U.S.
NCSSM's team of juniors Vittal Bhat and Kelly Wang, and seniors Shiv Patel, Vincent Xia, and Michael Zhang, demonstrated their extensive knowledge of all things ocean, going undefeated through five round-robin and four elimination rounds in the ten-school tournament field. NCSSM also won the competition in 2010, 2011, 2015, and 2017.
A second team from NCSSM, including juniors Jackson Dowden, Hanna Tawasha, and Alex Zhuang, and seniors Kevin Jin and Nikhar Patel, also went undefeated in non-qualifying round-robin competition. Engineering Instructor Garrett Love and Biology Instructor Amanda Martyn sponsored the team and served as chaperones on the trip to Wilmington. This year's competition was hosted by UNC-Wilmington, the Center for Marine Science, and the Watson School of Education.
Students started preparing for the bowl in August. The bowl itself is fast-paced, with teams answering questions in the areas of biology, chemistry, geology, physical oceanography, social sciences, marine policy, geography, and technology. The students wrote about their experience in the competition for Sea Grant North Carolina's Currents blog. Read their post.
The bowl is part of the larger National Ocean Sciences Bowl (NOSB) managed by the Consortium for Ocean Leadership, based in Washington, D.C. According to their website, the NOSB is an academic competition and program that addresses a national gap in environmental and earth sciences in public education by introducing high school students to and engaging them in ocean science, preparing them for ocean science-related and other STEM careers, and helping them become knowledgeable citizens and environmental stewards.
The theme for this year's national competition is "Our Ocean Shaping Weather," which incorporates topics like challenges in mitigating the impact of severe weather events, the impact of sea ice levels on climate change, technologies used to predict global climate patterns, and policy related to weather research and forecasting. 
Share this post.