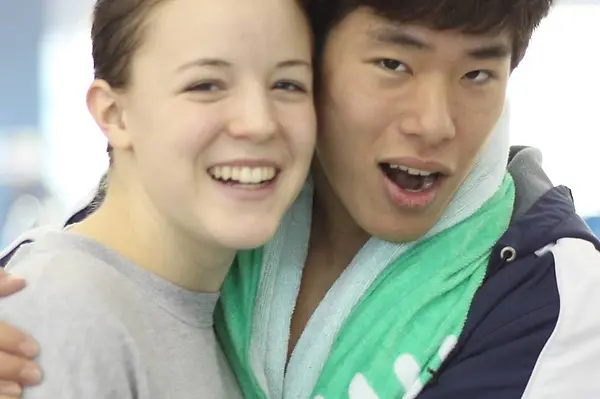 news
Swimmer Richard Lang '16 on motivation
Swimmer Richard Lang '16 with Mary Christopher '16, one of NCSSM's female distance swimmers.
Richard Lang
Swimmer (and amateur badminton and racquetball athlete). Heading to state championship with the men's swim team this weekend.
While NCSSM is gearing up for second trimester exams beginning next week, senior Richard Lang is also preparing for another test. With the rest of the men's swim team, Lang will head to the state competition this weekend, after taking a third place regional finish. Lang helped lead the NCSSM men's swim team to a conference swimming title (the team's fourth in a row), with wins in the 200 free and 500 free. We asked him to for his take on being a student athlete at NCSSM … and what his secret talent is.
On his favorite part of being a student athlete, and how he makes it work:
The best part of being an athlete at NCSSM is definitely the team spirit. All of us instantly start off with a mutual respect for one another—taking on the academic challenge alongside a 3-hour commitment daily is no joke.
Honestly, the balance between academics and athletics boils down to a long list of priorities. No matter how busy you might be, as long as you take a step back and organize everything that needs to be done—from homework to meetings or appointments with friends—you can organize things in such a fashion to where you can rearrange your schedule or ask for extensions. While the teachers at NCSSM might be challenging … the main change for me was the ability to talk to my teachers and ask for help. They understand the circumstances and are willing to work with students to help make things more doable.
And of course, make sure that you have fun while performing in whatever sport you decide to go into! When an athletic activity becomes more of a stress-creator rather than a stress-reliever, something's gone wrong in the system surrounding you. The moment that the sport becomes a burden to you, it often loses its original purpose altogether.
Hometown:
Clemmons
Favorite class at NCSSM:
AP Chemistry
Dream job:
Being able to work on creating a virtual reality (engineering and computer science)
Secret Talent:
Teaching and conveying complex ideas using simple metaphors
What I'm reading right now:
Gulliver's Travels, Jonathan Swift
Any other fun tidbit you'd like to share:
I believe that everyone has the ability to change the world, and whether they decide to use that power or not is up to them.
Share this post.