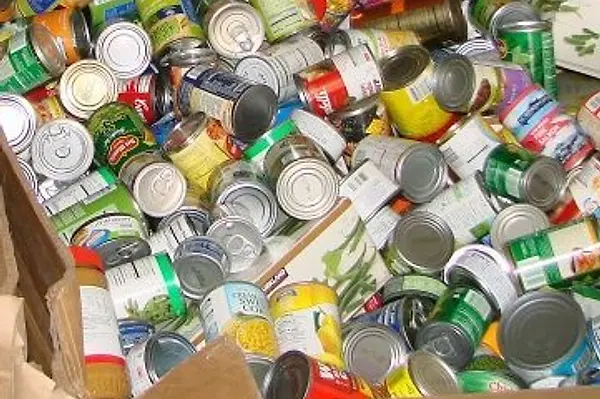 news
Students to host 8th annual NCSSM Food Drive
Chancellor Roberts poses with a group of students at a previous food drive.
This Saturday, April 1, from 10 a.m. to 2 p.m., NCSSM students will be holding their annual food drive on NCSSM's Durham campus to benefit the Food Bank of Central and Eastern North Carolina. This will mark the 8th year in a row that students have collected food items and monetary donations to provide individuals and families in need with vital food goods. In 2011, the second year of the drive, students collected 559,885 pounds of food, setting a Guinness World Record–most food collected in a 24-hour period–that still stands today.
"Setting the world record was a huge undertaking," says Sue Anne Lewis, NCSSM's service learning coordinator and advisor to Unis Fighting Hunger, a student-led group that is coordinating the NCSSM Food Drive. "It's hard to maintain that level of effort every year, especially given all the other responsibilities the kids here have, but we still manage to collect a significant amount of food each year." Recent drives have averaged about 10,000 to 12,000 pounds of food per drive, resulting in approximately 8,500 to 10,000 meals.
"Our goal this year is to collect 20 to 25 thousand pounds,"  says NCSSM senior Grayson York, one of the student leaders of Unis Fighting Hunger. "It's humbling to think that, by the end of the weekend, our group of people who are working on and contributing to this drive will have put food on the table for thousands of families across the state."
Residents of the historic Watts-Hillandale neighborhood adjacent to the school have been enthusiastic supporters of the food drive since the very beginning, contributing about 2,000 pounds of donated food each year to the drive. Bags for donated food goods are delivered to homes throughout the neighborhood prior to the drive to encourage neighbors to contribute. Beginning at 10 a.m. the day of the drive, students will travel through the neighborhood, collecting bagged donations set out for them. Collection stations will also be set up in the Club Boulevard parking lot for individuals and organizations wanting to deliver their donations in person.
Find directions and visitor information here
Local organizations have also been incredibly supportive of the student's efforts to fight hunger. Elmo's Diner on Ninth Street hosts a benefit day each year, and donates 10% of the total sales from that day to the Food Bank. Jamba Juice, also on Ninth Street, hosted a similar benefit event in support of the Food Drive. The Junior League of Durham and Orange Counties is soliciting drivers to transport students through the Watts-Hillandale neighborhood on the morning of the drive to collect bags of donated goods. And the Kroger grocery store at North Point shopping center has agreed to allow students to set up a collection point outside the store from two to five p.m on Sunday, April 2, the day after the drive.
"It definitely takes a community effort," says Lewis. "The success of every drive, whether it was the world record event, or the drives we've had since, have all depended on the goodness of our friends and neighbors. We hope we can continue to see such an outpouring of support of for folks who might otherwise go hungry without some help from those of us who have been a bit more fortunate."
Those willing to donate non-perishable food goods or cash to the drive can do so in-person on the day of the drive, or through online contributions. When contributing online, donors can choose to donate through the school's general food drive, or through residential-hall specific pages which are part of a food drive competition among students at NCSSM. Receipts will be available for contributions, regardless of donation method chosen.
For more information on the Food Bank of Central and Eastern North Carolina, please visit them at
http://www.foodbankcenc.org
, or learn more about the most-needed food donations
here
.  
Share this post.