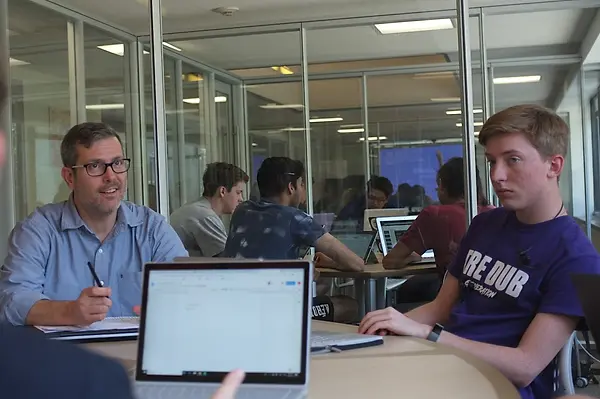 news
Students practice District C problem-solving approach to help a company hire more visually impaired employees
From left to right: Hahn Lheem '19, Joshua Morrow '20 (back view only), instructor Chad Keister, and Erich Hess '19 in Keister's Contemporary Challenges in Economics course.
Chad Keister moves through the library at NCSSM, dropping in on students in his Contemporary Challenges in Economics class as they work in groups of four or five in remote corners and quiet study rooms.   For the last three weeks, the students have been trying to figure out how a company that employs blind or visually impaired people can add 200 new employees to its workforce, expand its business services, and efficiently manage the additional workload.   Driving Keister's class is a solutions-finding approach developed by
District C
, a Chapel Hill-based non-profit committed to coaching high school students in the fine art of collaborative and creative problem solving incorporating diverse perspectives. In the eyes of District C, this new way of learning will better prepare students for the real world jobs of the future.   For Keister's class, time is ticking down; workable solutions are due in one week.   Keister completes his rounds, then retreats to a table in the library's center to give his students space to work.   "The last few weeks have been pretty intense," Keister says. "They've had to learn a lot of stuff in a short amount of time, so I've had to be a bit 'in their face' with instruction."   Students will earn a grade for their performance in the class, and that grade that will become part of their official transcript. The real pressure, though, comes from the fact that nothing about this challenge is hypothetical.   The company, Durham-based LCI Tech, is real, and so are their challenges. In one week students will pitch their proposed solutions directly to the company in a formal pitch session attended by high-ranking corporate executives, District C staff, NCSSM faculty and administration, and other stakeholders.   But this is also a matter of the heart. LCI Tech is part of LCI, one of the nation's largest employers of the blind or visually impaired, a group that struggles with a 70% unemployment rate. The futures of 200 people may very well be at stake.   "Some of the kids," Keister says, "are starting to feel a little stressed."  
An Idea Forms
Elements of District C's origin can be found in a conversation co-founder Anne Jones had several years ago with a high school teacher about a course called Introduction to Engineering Design.   "On the surface you would think it's about problem solving," Jones says of the course. "But what struck me in the conversation was that, from the teacher's perspective and from the student's perspective, this course was about computer-aided design."   Jones understands clearly the significance of technical skills. Without them, STEM-based employers would find it impossible to assemble competent workforces.   But something was missing. Students were being trained to do but not getting much instruction in how to think.   "It made me ask myself," Jones says, "'What if you take this idea of problem solving and only focus on that?'"   For a few years, Jones and her husband, Dan Gonzalez, who, like Jones, is a former science educator, ran ideas by one another. They talked to friends, colleagues, and professionals in education and business. If kids diverse in their backgrounds could be taught how to work as a team to seek solutions, and then get the chance to solve real-life challenges, what would happen?   Jones and Gonzalez committed themselves fully to the idea and co-founded the non-profit. Eighteen months of research and development and trial and error created an effective, sustainable training model. And through a series of who-knows-who conversations Jones had with colleagues and acquaintances, NCSSM became the first school partner.  
NCSSM and District C
Kendall Hageman, Director of Distance Education & Extended Programs at NCSSM, was part of those early conversations. Two groups of NCSSM Online students from cities including Fayetteville, Greensboro, and Winston-Salem went through District C training.   "A number of those students said that District C was a highlight in their collaborative engagement experience as an Online student," Hageman says. "They saw true value in their experience collaborating with other students to work on real world challenges these companies are facing."   "I am so on board with what they are doing," says Melissa Thibault, NCSSM's Vice Chancellor for Distance Education and Extended Programs, who also met with Jones early on. "I want District C for all our kids. I think it's that important."  
Real world, for real
District C works like this: Triangle schools nominate students for the program. Those who accept are coached through the process virtually and on-site at project partner and entrepreneurial co-working space HQ Raleigh. Afterward the students divide up into four-person problem-solving teams called C Squads and begin working directly with a business partner curated by District C. The entire process culminates in a "pitch" event where squads formally present their solution to their business partner. From beginning to end, the entire process takes about two months.   The results have been astounding. To date, 94% of businesses participating in the program have implemented or plan to implement — either in part or in whole — solutions suggested by their partnered C Squad.   "The students are coming to this as thought partners and collaborators," Jones says. "It's really cool. When you sit them across the table from someone like John Samuel [Technology Services Manager] at LC Industries, and he's saying 'We're struggling with this and we need your help,' gosh, it just lights them up.   "These students have so much potential," Jones continues. "When they actually get to apply that potential to something that's real and matters, boy, they're all in. They really switch on."  
Expansion and dissemination
District C's early success working directly with students made clear that an even greater number of students could be reached by extending training in the model to Triangle teachers for implementation in their own classrooms. So, they created the District C Coaching Institute.   Last summer, Jamie Lathan, NCSSM's Dean of Distance Education, and colleague Keister joined eight other Triangle teachers in the first cohort of "coaching fellows" in the program. They've since participated in more than 100 hours of programming to become familiar with District C's model of collaborative problem solving. Part of that training included experiencing the program exactly as a high school student would.   Working with the staff of A Place at the Table, a not-for-profit restaurant in Raleigh, Lathan, Keister, and their colleagues applied their newfound problem-solving skills to helping the restaurant efficiently manage the team of volunteers so vital to keeping the restaurant in business. For A Place at the Table, the experience helped improve the business' efficiency. For Keister and Lathan, it transformed them both professionally and personally.   "I'd never experienced professional development like that before," Keister says. "I've taught for 21 years, but it profoundly changed how I think about education. It completely changed my mindset on grades versus value created, not only for the students but for the organizations they are working for and with."   Lathan drew personal as well as professional lessons from the experience. "I had to learn how to be uncomfortable with my own limitations," Lathan says. " I didn't go to business school, I don't really think like an entrepreneur. It was really challenging thinking about where I fit in the team."   But Lathan felt an overlap between the restaurant's mission and his own morals and ethics.   "Realizing that connection was a big moment," he says. "After that I was able to forget about my fears of being inadequate and just stepped right in and offered whatever I could."   Lathan hopes to implement an abbreviated version of the District C model in the Summer Leadership and Research program he helps administer each summer.   Hageman says additional faculty and staff at NCSSM who teach residential, online and summer program students have already signed up for coaching.  
A talk with the boss
Back in the library, one of the teams in Keister's class has completed a conference call with John Samuel, the LC Industries executive. Opportunities like this typically don't present themselves until college, or perhaps not even until one is in the workforce.   Such a call might have easily rattled even a seasoned employee, but the students in this squad were grateful for the opportunity to engage with Samuel.   Lindsay Alexander-Eitzman, a junior in Keister's class, termed the call, "a really amazing experience … to talk to someone who actually runs a large company and to help solve a real world economics problem that could have a significant impact in the BVI community."   "This," senior Jack Healy adds, "has been a very different experience compared to anything I've ever done in school."     
To learn more about Chad Keister and Jamie Lathan's experience last summer in the District C Coaching Institute, check out this inspiring
video
.
Share this post.