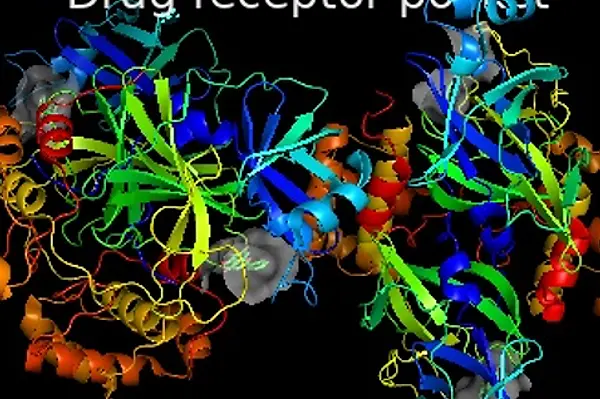 news
Students explore "Computing COVID-19" in new summer short course
In this image, novel inhibitor drugs for the SARS CoV-2 protein are surrounded by active binding sites embedded in the protein. This protein came from the Protein Data Bank (https://www.rcsb.org/) with the image generated by PyMOL, one of several computing tools used in the course.
By bringing to a shuddering halt daily life as we knew it, the COVID-19 pandemic provided students at NCSSM with the very thing that will, eventually lead to its own demise: time to study how the SARS CoV-2 virus causes disease and strategies for developing a drug to fight it.   That's exactly how Denver, NC, native Madison File spent part of her summer. The rising NCSSM Online junior from North Lincoln High School used some of her free time to enroll in an intensive two-week online computational science course at NCSSM called Computing COVID-19.    In the simplest terms, computational science uses the power of computers to simulate and analyze highly complex problems — in this case, to manipulate digital representations of the protein that unlocks human cells to be invaded by the virus, and various drugs that might challenge it. The advantage of such science is that a large amount of research can be done at a much faster pace than through more traditional research methods. It's not a foolproof approach — all results must be verified by bench scientists — but it does help move the process along more quickly.   Madison and her classmates spent the first week of the course using powerful computing tools to dig deep into the machinations of the protein at the core of COVID-19. The second half of the course saw them using a research-grade medicinal chemistry computing tool (provided gratis to NCSSM by Optibrium, a Cambridge, U.K.-based provider of software and services for drug discovery) to explore various drugs that have been suggested as possible treatments or vaccines. Instruction was daily, with morning and afternoon lectures, an independent lab, and help sessions sometimes lasting into the early evening. Dr. Holden Thorp, former chancellor at UNC-Chapel Hill and now Editor-in-Chief of the Science family of publications, also joined the class remotely to discuss the role of science and scientific publishing in the current pandemic.    "The main reason that I wanted to apply for the COVID-19 course was for the exposure to the computational sciences," says Madison. "I am a math and science girl at heart but had never been exposed to the computational side of my favorite subjects, simply because my home school does not offer classes in this specialty. I thought the course would be an amazing opportunity to 'get my feet wet' and see if computational sciences — including medicinal chemistry — were my thing."   That's the motivation for the collaboration between NCSSM and Optibrium, says Dr. Matthew Segall, Optibrium's CEO: "Through our educational outreach program, we aim to encourage the next generation of computational chemists, scientists and software developers, and enable them to explore the latest developments in cutting-edge technologies currently employed by leading pharmaceutical R&D organizations." 
Students in Computing COVID-19 used the drug discovery tool StarDrop (Optibrium, Ltd.) to conduct protein-ligand docking studies on a number of SARS CoV-2 inhibitor drugs, including drugs under study as repurposed drugs such as hydroxychloroquine, remdesivir, and dexamethasone.
The idea for Computing COVID-19 arose when the pandemic made impossible the traditional, in-person approach to NCSSM's Summer Research & Innovation Program, commonly known as SRIP. With nearly 180 rising NCSSM residential and online seniors in danger of losing their summer research opportunities, program faculty and administrators worked hard to transition their programs to remote formats while also finding ways to create novel opportunities to engage students as thinkers, makers, and doers virtually. Bob Gotwals, a veteran chemistry and computational science instructor at NCSSM, suggested using the opportunity to study the very thing causing such disruption. Computing COVID-19 was born.   Fortunately, SRIP was able to continue in a revised, remote format. With content for Computing COVID-19 now developed, the decision was made to open enrollment in the course to incoming residential and online
juniors
— a first for SRIP, which has historically only served seniors — in addition to several rising seniors already committed to SRIP. Computing COVID-19 also marked the first time a lecture-based course was added to SRIP's lineup of research and entrepreneurship opportunities.   The response was tremendous, with over 100 students expressing interest in the 80 slots available for the class.   Ariana Jenkins, a rising senior in NCSSM's residential program originally from Washington High School, was one of the unfortunate few who found her original research opportunity canceled because of the pandemic. But it didn't slow the Jamesville, NC, native down. She signed up immediately for the COVID-19 course, drawn both by the topical nature of the class and Gotwals' reputation as an instructor.   "I was interested in learning the logistics and analysis of COVID-19," Ariana said, "and I enjoy the teaching style of Mr. Gotwals. I know he's known for his use of intriguing program applications, which I was looking forward to."   Ariana labored intently. Considering the after-class tutorials and course videos as well as the formal in-class instructions, Ariana estimates that she spent nearly 130 hours on the course.   "This course definitely was challenging, but it was definitely worth it!" she said. "I gained a myriad of programming and computing skills, and valuable knowledge in regard to chemistry and biology concepts."   Like the rest of SRIP, Computing COVID-19 was not a credit-bearing offering. The absence of a formal grade allowed Madison the unique opportunity to explore the course's content without any of the stress associated with traditional pass/fail scenarios.   "So many times high school juniors and seniors get caught up in grades. I mean, that's all we ever hear about," she said. "But Mr. Gotwals gave students the opportunity in class to experiment with the software and tools and shifted our focus from grade-based thought to trial and error and experimentation. NCSSM gives you the opportunity to move away from (a grade-based format) a little bit and focus on learning the knowledge you might use to choose a future career."    The challenge in creating the course, says Gotwals, was not in the computational components, but in the virus itself.    "I've developed a lot of courses at Science and Math and I would say this has been one of the hardest courses to develop, even though it's only two weeks as compared to a trimester or a semester," he says. "The reason for that is that the science (on COVID-19) has been changing so quickly. For example, there was a lab that I wrote at the end of May, and I went back to check the lab the next day and it was already wrong because the data had changed overnight."   Gotwals pointed to other instances in which information shifted beneath the feet of him and his students. At one point the data on a website he and his students were utilizing changed while they were referencing the page during class. Vigilance was key.   "For this course," Gotwals said, "I can't be teaching science that's a month old. I need to be teaching science that's current as of the day I teach it."   For a short course, Computing COVID-19 was a heavy lift, akin to reading James Joyce's "Ulysses" purely for fun. But that's the nature of NCSSM students who take learning seriously. More than 100 students stood ready to sign up for an incredibly intensive non-credit-bearing class that was put together in an intellectually furious matter of weeks by an accomplished instructor. Such intellectual curiosity among students is a hallmark of the NCSSM experience.   "A few days before the course began I was still unsure what I had really gotten myself into," Madison said. "I mean, taking a class that is basically a school day's length during the summer seems pretty daunting and maybe not your first thought on your summer vacation. But after I got into the groove of working again it was amazing to be able to expand my knowledge to such a great extent in the span of two weeks."  
Share this post.