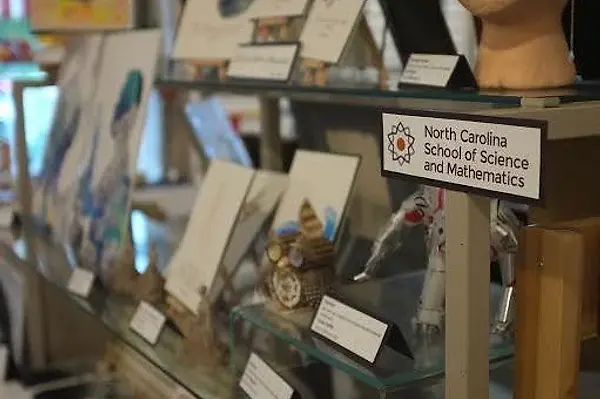 news
Students exhibit artwork at Zola Craft Gallery
Thirteen students had artwork selected to be exhibited at Zola Craft Gallery in Durham.
Thirteen student artists from NCSSM have been chosen by Zola Craft Gallery on Durham's 9th Street to have their work showcased alongside other artists from across North Carolina. The exhibit, called "Creativity at NCSSM," will run May 20 through May 28.
"The display at Zola Gallery looks amazing," says Carrie Alter, art instructor at NCSSM. "I am very proud of the students who were selected to show at Zola. This display gives them a real life, juried-like, art experience.
"I am equally proud of those students whose work was not included," Alter adds. "Zola Gallery, like any gallery, has a certain aesthetic, so the student work that was selected was chosen because it most closely matched the type of work Zola shows. There is so much talent and creative energy at NCSSM. The halls remain full of sophisticated and noteworthy student artwork."
Students with artwork in the exhibit are:
Anais Bauer Eirwyn Beres  Annie Chen Jennifer Fang Sarah Hoover Karenna Levin Helen Li Emma Morris Tiffany Preda Evan Reynolds Ari Sholoman Grace Steffen  Jonathan Stettler
Alter will be at the gallery from 4-6 p.m. on Saturday, May 27, NCSSM's Commencement day. Come by the gallery to see the exhibit, as well as hear more about the student artists, their work, and the art program at NCSSM.
Share this post.