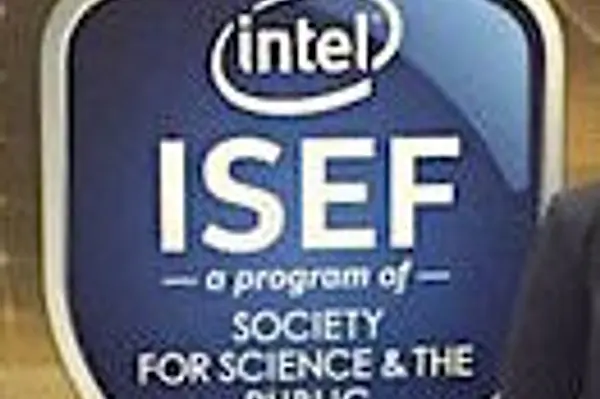 news
Students earn research awards among global peers at ISEF
Students presenting at ISEF 2016 in Phoenix met with Maya Ajmera '85, president of the event organizer, Society for Science & the Public. From left: Taesoo Daniel Lee '16, Rishi Sundaresan '16, Ajmera, Katherine Yang '16, Kimberly Andreassen '16, and Alisa Cui '16.
Society for Science & the Public, in partnership with the Intel Foundation, announced Grand Awards of the Intel International Science and Engineering Fair (ISEF) 2016, held in Phoenix, AZ, in mid-May. High school students earned the right to compete at the Intel ISEF 2016 by winning a top prize at a local, regional, state or national science fair.   Grand Awards winners from North Carolina School of Science and Mathematics include:   Alisa Fangchun Cui '16, Charlotte 
Mechanism of Inactivation of Piezo Ion Channels
Cellular and Molecular Biology Fourth Award of $500   Taesoo Daniel Lee '16, Charlotte
Improving Exciton Transport in Novel Tetracarboalkoxyphenyl Porphyrin Thin Films for Enhanced Organic Optoelectronics
Materials Science Second Award of $1,500   Rishi Shankar Sundaresan '16, Cary 
A Novel Method of Reverse Electrowetting Utilizing Self-Induced Potential with Direct Applications in Energy Harvesting
Physical Energy Second Award of $1,500    Science Instructor Michael Bruno accompanied the NCSSM contingent to ISEF, including Cui, Lee, Sundaresan, Kimberly Andreassen '16, and Katherine Yang '16.   "It was a very intense week, but I think the students had a great time. They were able to meet students from around the state and around the world," Bruno says. "It is really an international event with over 75 countries participating. The week starts off with the students having a pin exchange with competitors from other states and countries. After two days of setting up their projects, there is a whole day of judging followed by a day of public viewing. Thousands of school kids and media come into the hall to visit the projects and ask the students questions.
"NCSSM had three projects place and North Carolina had a total of six projects place, which is really good for a delegation of only 17 projects. The quality of projects is really very high at this level and I was proud of all of our students," he says.   Also: Read 
Duke Research Blog post
about Katherine Yang and Alisa Cui's winning awards for their research work at Duke.
Share this post.