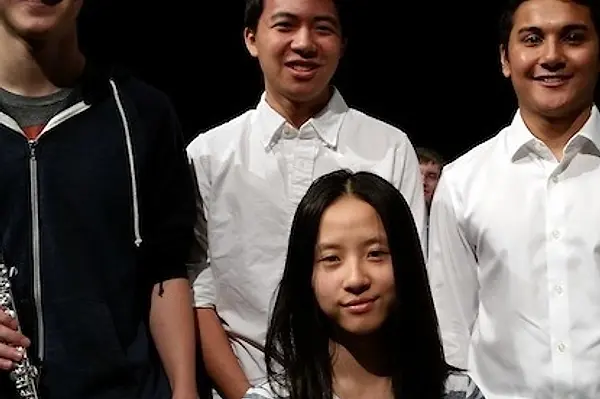 news
Student soloists perform at spring concert May 8
Student soloists performing on May 8 (from left): Max Schlenker '16, Kevin Chen '15, Sicheng Zheng '16, and Andreas Santos '15. Photo by Scott Laird.
The NCSSM Orchestra, conducted by Scott Laird, presents a concerto program Friday night, May 8 featuring four student soloists who were selected by audition to perform with the ensemble.  The soloists will each perform a single movement of a well-known concerto.
Following the orchestra performance, NCSSM's Wind Ensemble, under the direction of Phillip Riggs, will feature several fun pieces including Tower of the Winds by Daniel Bukvich, an original composition by Grant Miller '15, and Eric Whitacre's Godzilla Eats Las Vegas.  
Friday night's concert starts at 7 pm in the auditorium of NCSSM's Educational Technology Complex. The event is free and open to the public; families and community members are encouraged to attend.
The student soloists are:
Max Schlenker '16. Max, from Boone, has grown up around the Appalachian State University music program and has been a member of NCSSM's wind ensemble and orchestra all year. He will play Concerto in G Major for Flute and Orchestra, Movement 2, by Quantz.
"At NCSSM, a lot of focus is on getting the right answer and finding the solution that works, but music has never been about that for me," Max says. "Music is important to so many kids here because it is a free space to experiment and express yourself without worrying about being criticized. Music has always been about collaboration, and being able to work with Mr. Laird and the orchestra on putting this concert together has taught me a lot about how music brings people together. Some people consider practicing your instrument as "homework" or going to band as "going to class," but if you put in the time and dedication it becomes something that is much more than that. Some of my best experiences at NCSSM have been through the music department. Hopefully parents, faculty, and others can see how important music is to a creative and supportive student body."  
Sicheng Zheng '16. Sicheng recently took first place at the State Federation of Music Teachers' competition in the Muscially Advanced II category, playing challenging pieces by Kapustin and Muczynski. On May 8 the Cary resident will play Concerto 2 in A Major, Movement 3 by Rachmaninoff. She'll also play piano with the wind ensemble later in the evening.
Andreas Santos '15. Andreas will play Concerto # 20 by Mozart, Movement 2. A classical pianist and guitarist, the Clemmons native also writes and performs rap music. At NCSSM he also studied piano privately with Natalie Gilbert. "When I got to NCSSM, I had to sacrifice practice time in order to maintain my academic workload," he says. "I'm happy that Mr. Laird and Ms. Gilbert showed me how to practice more efficiently so that I could still have the time to learn my Concerto."
Kevin Chen '15.  An accomplished pianist, Kevin is from Chapel Hill and studies with local piano instructor Mary Turner. He also has played violin with the orchestra all six trimesters at NCSSM and serves as the orchestra's associate concertmaster. He is a long-time member of the Duke University String School.
Composer Grant Miller '15 is a talented musician from Newport, NC. An accomplished pianist and percussionist as well as composer, he was recently selected by audition to perform with the NC All-State Band as a percussionist.