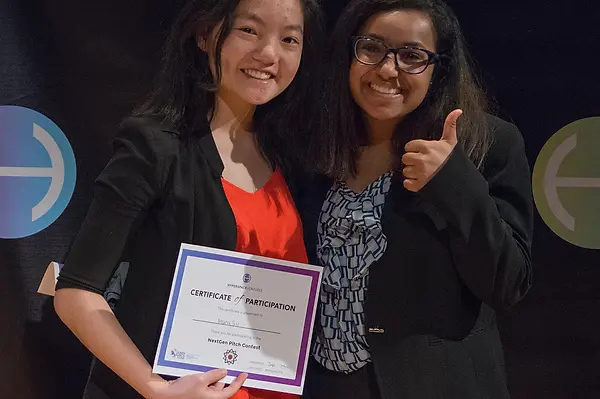 news
Student entrepreneurs pitch business ideas in NextGen Contest
Team SECURED took home first place in Saturday's NextGen Pitch Contest, winning a $1,000 cash prize.
On Saturday, March 24, 27 NCSSM students participated in the NextGen Pitch Contest, sponsored by Hyperspace Ventures. Before a panel of judges, contestants pitched 12 business ideas, from concept to competitive advantage.
Three groups were awarded cash prizes for the successful presentation of their business plans. SECURED, a low-cost mosquito trap that uses environmentally friendly methods, came in first place, winning $1,000. The team behind the product, seniors Vibhu Ambil, George Dimitrov, and Jacky Zhang, have been working in a mosquito lab at NC State University to develop their idea and have already founded a 501(c)3 for their product. "There were a lot of great teams and wonderful ideas that we saw… so we were very surprised when we won," says Ambil.
Levi Marland '18 won second place with ReSpun, a device that would allow waste material from 3D printing to be recycled. The current process behind 3D printing generates plastic waste that currently cannot be reused because of the precision required to make sure materials won't damage the machines. Marland's product was the only one that had no real competitors in the market.
Troffi, an online platform that connects food waste producers like juice bars to farmers in need of healthy ways to supplement their animal feed came in third place. Seniors Michelle Bao and Vincent Xia started this project after noticing how much pulp was thrown away at their neighborhood Jamba Juice and deciding to make a difference. They went to local farmers' markets to assess the needs and demand for waste products, and connected with juicers to find willing participants for their initial launch. "It felt amazing to have our hard work pay off," says Xia. "Moving forward we plan to continue to develop," he adds, in regard to what the team plans to do with their $100 cash prize.
The ideas generated by participants were innovation driven and spanned various fields. Mental health care improvements were championed by Carefree, an app to help students manage stress, as well as Team InSight, a monitoring system to evaluate emotional responses through video feedback.
Two more teams brought forward ideas related to physical health. The Mikros Wristband, a wearable bracelet for babies that monitors vital signs like temperature and pulse to address infant mortality, is currently under development through a partnership between NC State engineers and team members Nikhil Gadiraju '19, Daniel Li '19, and Sooho Myoung '19. Team BlueHealth Enviro is working to combat the bioaccumulation of mercury in fish farms through a cheap and environmentally friendly filtering system.
Teams Glass Garden, Aerosprout, and Bringing Silicon Valley Back to its Roots looked at unique ways to bring hydroponic gardening systems into consumers' homes with digital interfaces to promote ease of use. The Aerosprout team has assembled prototype versions of their product, which are in active use at NCSSM as well as a few area elementary schools.
CyanoBattery and Clean Computers took tech to the macro and micro scale. Junior Rob Landry's CyanoBattery built upon research using gene-edited cyanobacteria to generate energy. His product would offer an alternative to fossil fuels that could power the future. Junior Anna Gilman's Clean Computers looked at a more everyday solution to a very common household problem— dirty keyboards. With her keyboard vacuum, crumbs and grit would no longer inhibit the millions of laptop users worldwide.
The judging panel for the competition consisted of Randy Myer, professor of strategy and entrepreneurship at UNC's Kenan Flagler Business School, who also serves on NCSSM's Foundation Board, as well as John Battle, Muath Bishari, Philip Graham, and Olivia Klupar, all seasoned professionals with backgrounds in business, entrepreneurship, and venture capital. Students found the feedback and the process as a whole to be helpful for their growth in entrepreneurship.
"Our team also learned the value of pitching our product. If investors don't see the value or need of your product, it is a good sign that it may not be successful. Failure in entrepreneurship should not be viewed as something negative, in fact, it means that there is something that you can improve on," Ambil says.
"The hard part and the fun part of doing this is really being able to work through setbacks and issues. You have to work through issues and know you're going to have ups and downs," says Xia.
This year's contest was the first of its kind. Hyperspace and NCSSM hope to continue hosting pitch contests in the years ahead.
See more photos from the event here. 
Share this post.