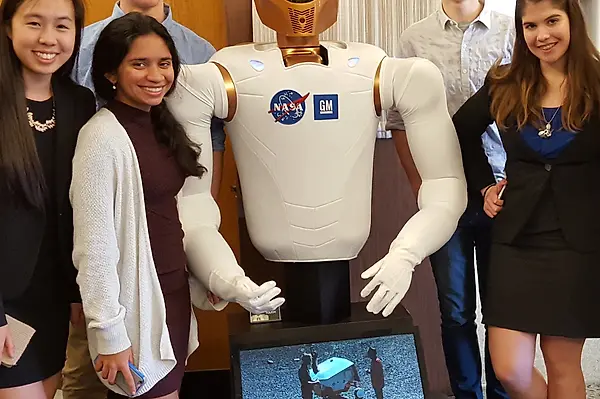 news
Student Engineers Aim For Space Station
Two teams of NCSSM students visited Langley Research Center earlier this spring as part of the NASA Hunch program. Now, they are racing against a May deadline to built prototype hardware for potential flights to the International Space Station.
Two teams of student engineers from NCSSM participating in the NASA HUNCH (High School Students United with NASA to Create Hardware) program traveled to NASA's Langley Research Center in Hampton, Virginia, this spring to pitch projects for possible flights to the International Space Station.
Juniors Michelle Bao, Angela Chen, Deven Jahnke, Adithi Rao, and Emily Spero are collaborating on a vibration isolation device to house delicate experiments and protect them from vibrations encountered during the liftoff and reentry of space vehicles. Fellow juniors Jonathan Kelley and Madeline Paoletti are building a device that will partner with a 3D printer already on board the space station to create tools and parts from a 3D-printed mold.
Myra Halpin, NCSSM chemistry instructor and longtime NASA aficionado (she was part of NASA's Teacher in Space Program), brought the HUNCH program to the attention of the students and served as their advisor along the way.
Through the HUNCH program, student teams essentially act as NASA subcontractors to design solutions for challenges ranging from hardware development to the culinary arts. NASA provides participating teams with the materials, equipment, and mentoring necessary to complete their projects.
Early in the academic year, NASA published a list of needed solutions, and invited potential HUNCH teams to select a project from the list and submit their ideas. NASA-affiliated mentors in regions throughout the country vetted the initial projects, then forwarded their recommendations to NASA for the development phase of the program.
Jahnke and Spero first pitched their isolation box to the NASA mentor as a two-person team. The positive feedback they received led to an expansion of the team, bringing Bao, Chen, and Rao on board. Kelley and Paoletti also received a recommendation to have their project, using a 3D printer to create tools and parts, move forward.
After initial consultations with the regional representative, teams continued to interact with NASA engineers via NCSSM's interactive videoconferencing facilities. "We actually had videoconferences with very specific sets of NASA engineers focused on the 3D printing and another group focused on the vibration isolation system," says Kelley. He and Paoletti also met with engineers from Made In Space, which has a 3D printer currently aboard on the International Space Station.
At Langley Research Center this spring, engineers from NASA moved among the students teams, reviewing their projects and offering additional input. Teams were guaranteed a review by at least four NASA engineers, "but we got to talk to seven or eight, total," says Kelley.
"So, basically, we're building this box that will go into a space cabinet," says Chen, describing a device that is being built to exacting dimensions determined by NASA. "We are making this universal for anything that's less than a certain amount of mass."
Chen and her teammates are currently building a prototype, which they are cleverly calling  VIBE (Vibration Isolation Box/Enclosure). To this point they have been busy creating and refining plans for the box.
Kelley and Paoletti's project, called Zero-G Unimold, will allow NASA to quickly build parts and tools onboard the space station.  "Replacement [parts] take six months to get up to the space station," says Kelley, "so if one tool or one part quits working on the Space Station they have to wait a long time [for a replacement] and it's expensive."
The Zero-G Unimold will solve this problem by inputting materials, as many times as necessary, into a mold already created by the 3D printer aboard the Space Station. It's a handy system, for sure, should a screw wiggle loose and become a satellite itself. Especially when the nearest replacement screw is 220 miles below, on the other side of Earth's atmosphere.
The Past, Present and Future, All In One Place
Langley Research Center is the oldest of NASA's field centers, having been established in 1917 by the National Advisory Committee for Aeronautics (NACA), the precursor to NASA. Though aeronautical research has been the primary focus of the facility, a number of historic achievements in space exploration began there. The Apollo lunar lander, the development of which was depicted in the recent film "Hidden Figures," was flight-tested in a hangar at the facility, a hangar the NCSSM teams got to tour.
Says Kelley, "We were pretty amazed by the fact that we were able to go onto the base and go into the hangar, and then, when they started talking about the historical significance, it was really cool."
"We got to see some of these huge 3D printers that they use," adds Rao, "and then we got to do the wind tunnel testing area. We got to actually go inside the wind tunnel and see how they test the models."
Touring a high-profile government-run space and aerospace research facility is something most engineers never have the opportunity to do in their lifetime. To have that opportunity as high school students, and to engage with engineers at work on projects that will one day fly into space, was beyond the expectations of the students.
"You know, I've been to the space centers and all the stuff touristy," says Kelley, "but I have never been able to go into the facilities to the extent that we did.
"There were not any signs anywhere that said, 'Oh, click the button and listen to this. No! It's the people who are in charge of the program for a branch of NASA just giving you the rundown of 'Yeah, this is what we do here.'"
"We're just in high school," Kelly adds, then trails off in amazement. "To take a little bit of time out of exam week to go up to NASA. . . ."
Getting Close
Both teams are racing against a May deadline to have their prototypes ready for another round of reviews by NASA engineers.
Rao and Chen and teammates hope to have a wooden mock-up of their isolation box ready before then, though the final hardware will be made out of metal.
"There is a lot of physics that goes into these projects," says Chen. "What took me by surprise was just how much we have to consider and how much math that goes into calculating a small aspect of a tool that we're using to isolate the vibration."
"I knew there were going to be a lot of calculations," adds Rao, "but it's tough getting all the information we need."
NASA will review the final projects in May to select which ones get to leave earth. Chosen projects and their teams will then begin an even more intense round of refinements to prepare the box for flight based on detailed feedback from the NASA engineers.
"We try to consider everything," says Rao, "but they have, like, PhDs in what they're doing, so [if their project is a finalist] they're going to know, 'This part's not going to work out; do this instead.'"
Kelley and Paoletti have printed their molds and have the system designed in CAD and are awaiting all the parts that NASA has helped them purchase from their buy list to come in. With the May deadline fast-approaching, Kelley remains optimistic when asked: Are you going to make it?
"I sure hope so," he says.
Share this post.