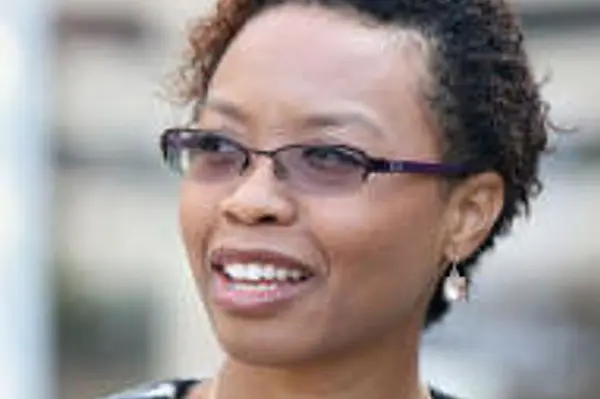 news
Strengthening community in Silicon Valley
Her work involves prosecuting everyone from petty thieves and drug dealers to rapists and murderers. As deputy district attorney for the county of Santa Clara, CA, Kalila Spain Patty '97 says her job feels like community advocacy, not so different from the nonprofit healthcare advocacy she did earlier in her career.
"As a prosecutor, you have a goal or position that you want to advocate for. You want to hold someone accountable for their crimes, and you pick twelve people and educate them as to why the person is guilty and how they should apply the facts to the law," she says. "Hopefully they'll do the right thing if you give them the tools."
Bringing criminals to justice in Silicon Valley is a long way from Patty's rural North Carolina childhood. She is the daughter of educators — her father served as an assistant superintendent of Bertie County Schools, her mother as a teacher. She first discovered a somewhat overwhelming new world when she entered North Carolina School of Science and Mathematics.
"Bertie County is the largest but also one of the most rural counties in North Carolina," Patty says. "It doesn't have a lot of diversity." Everything about NCSSM was new for her — from broadly diverse peers to having a roommate to sharing one phone for a whole hall of girls. And then there was physics class. "I'd never had any of the concepts, so it was a steep learning curve," she says. "The good thing is, you already know you're smart to have been admitted. And it's a supportive place where seniors help juniors, juniors help each other, and the SLIs are there to help you."
Science and Math prepared her well for college, she says, by teaching her time management skills and how to take advantage of resources. "You learn to figure out who to ask for help." In college, she majored in healthcare administration at UNC-Chapel Hill. "In high school I thought I wanted to be a virologist. But Science and Math helped me figure out that, yeah, that's not for me. You get exposed to so much at NCSSM, you're doing experiments and working in labs."
After graduating from Chapel Hill, Patty worked for three years with a public health nonprofit, NC Prevention Partners. Her work included advocating for insurance coverage for prevention benefits such as tobacco cessation or gym membership. Watching two lawyers on the nonprofit's board fight an attempt to overturn its nonprofit status piqued her interest in law. In 2004 she joined her older sister on the West Coast and entered Santa Clara University School of Law, graduating in 2007.
"I interned for a judge in Superior Court, who recommended that I try criminal law," she says. After interning, she worked in Alameda County for five years, then moved back to Santa Clara County.
"Justice reflects the needs and priorities of the community in which people live. In Alameda County, the cities are filled with high-crime areas where people work hard just to survive. Their lives are constantly challenged by serious, life-altering crimes like murder and rape. Crimes like drugs and theft become secondary compared to the urgent need to stop the even more serious crimes at their door steps," Patty says. "In Santa Clara County, the community has a relative low crime rate, and it is seldom a victim of the most serious criminal behavior. Residents have the time and resources needed to focus on other crimes like theft and drugs. Ultimately, we are an interconnected community, and stopping the lower-level crimes prevents the more serious crimes from becoming endemic."
Patty and her husband, H. Theodore Patty, an intellectual property lawyer from Georgia, have two young daughters. Living all the way across the country from her extended family, she holds tight to her Southern roots.
"My Southern experience makes me a better D.A.," she says. "Our nation's laws are based on rules but also on values and morals, things we believe in as Southerners. There's something to be said for family and for traditions, like the lifelong relationships you build at Science and Math."