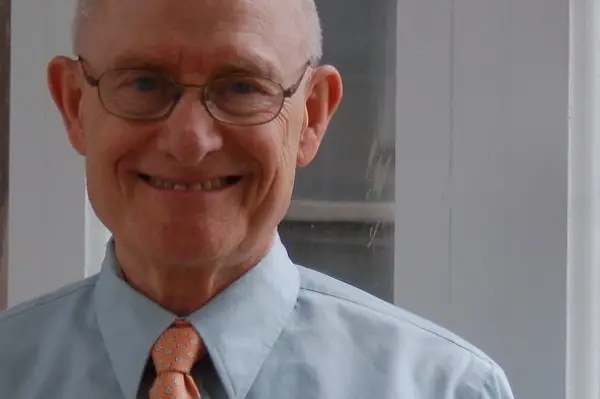 news
Steve Warshaw: 30 years of building bridges
Warshaw celebrates his upcoming retirement with Sustainability Project Leaders.
He had tried his hand at two careers — medical research with the Navy and state water administration in Texas — before becoming a teacher. The third time was the charm. Steve Warshaw spent two years teaching in a small, rural Texas town, then landed at North Carolina School of Science and Mathematics in 1985.
"I think I was hired because of my doctorate in freshwater ecology," he laughs. "The school was just starting an interdisciplinary course, Research and Limnology (the study of inland waters)." Within a year, he was asked to replace the head of the science department, who had resigned. In 1992, the school's executive director John Frederick asked Warshaw to step into his current role, then called principal, now vice chancellor for academic programs. Warshaw accepted on three conditions: that he could get some training, that he still be able to teach, and, if it didn't work out, he could have his old job back.
By all accounts, it's worked out. On June 30, Warshaw retires after 30 years of bridging the worlds of NCSSM administrators, faculty, and students.
It was trial by fire, he remembers, because that first spring the Rodney King police brutality incident in Los Angeles had stirred emotions on campus. Warshaw remembers walking into a heated meeting in the Watts Boardroom and learning about a published booklet that quoted faculty comments that students felt were racist. "It was all eye opening, to hear how strongly people felt about these issues. Until then I'd had an idyllic notion of the school and how we all got along."
With faculty, Warshaw says his priorities have been to support their innovative efforts, to handle resources fairly, to integrate ethics and integrity into the community, to use assessment results to improve teaching, and to communicate with others how they do that.
Read commentary by Warshaw, "Why STEM, liberal arts education should co-exist"
His involvement and accomplishments during his time at NCSSM are wide-ranging. A few in particular stand out to Warshaw. He takes great satisfaction in the progress made on the Sustainability Project — from fixing steam and water leaks on campus to building rain gardens and vegetable gardens, holding events, promoting recycling — mostly ideas from students. He's happy to have nailed down articulation agreements with 17 colleges and universities, so that NCSSM students can earn advance course credit, saving them time and money in college.
He's also proud of the Ethics in Leadership Conference. "The same teachers bring students back every year. That tells me we're doing something right," Warshaw says. "Kids say, 'We don't get to talk about these things anywhere else.' Teachers say the students keep talking, on the bus home and back in school."
Over the years, he says, students would probably say that he was fair, that he cared about integrity and character and, more recently, about sustainability.
"Students would tell you that I'm a friendly person, that I greet them by name — although sometimes by the wrong name," he says. "I read a while back about how schools can be an isolating place. That's why I've made a real effort to greet everyone I see."
"Our students are delightful. Some of them have serious obstacles, but most of them are a breath of fresh air who give you hope for the future. These are kids who are willing to give up a pretty well-planned path for high school — what classes they would take, with which teachers, what clubs and sports they'd do, their class rank — to come here. Plus they all have their own room at home."
Warshaw helped to get a fledgling athletics program off the ground in his first few years. "We realized we were missing out on some bright students if we didn't offer varsity sports, or have them play in a band," he says. Helping to coach the track team in its first few years, he watched Maria Trent '87 (now a physician and professor at Johns Hopkins University) win the state championship in the half mile her senior year after never setting foot on a track before NCSSM. "That's the kind of opportunities our kids discover here."
The third time was the charm for love as well as career. Steve and his wife, Cecelia, had each been married twice before when they met at the Texas high school where Warshaw taught. Cecelia was his first teaching mentor, he says. Their first date was a raucous dinner at Chuck E. Cheese's with Cecelia's son, Tripp, then 7, and Steve's daughter, Heather, then 4. Cecelia got home, closed her door, and told herself that was probably their last date, Warshaw remembers.
This August, the Warshaws will travel to Texas for three months to see family, including Heather and her three daughters in Austin. When he returns home, he'll pursue his hobbies — riding his bike, playing guitar, working on juggling, gardening, and reading. He and Cecelia are involved in several initiatives at their church, Community Church of Chapel Hill Unitarian Universalist. He'll continue to serve on the board of the NC Academy of Science. Beginning with the third trimester in spring 2016, he'll return to campus as a volunteer, helping Tom Clayton teach Environmental Ethics and Leadership.
"At my heart, I'm a teacher," he says. "I did not come in as a career teacher, I came in as an administrator who wanted to be a teacher. It took me a while to understand that. I wasn't concerned with why people do things, I just wanted them to do things. In the last half of my tenure, I realized that what's more important is why people do things. I'm a more caring person now."
Field notes for the new vice chancellor
Steve Warshaw offers three pieces of advice for his successor, Katherine O'Connor (the two will overlap in late June):
Listen and observe. "Get the lay of the land, get to know the people here. This is not a traditional high school, and not a university setting; it's something in between but not even that. We have such a distinctive clientele here and so much emphasis on outreach. There is probably not another high school like this in the country." 
Find ways to stay connected to students. "There's administrative ways to do that of course, like course changes and discipline meetings, but that's not what I'm talking about. Get involved with things like Mini-Term or a seminar. It's been so personally rewarding to me to see progress with the Sustainability Project, getting people engaged, aware, and motivated."
Find ways to support our faculty. "Stay aware of the remarkable things that our faculty are doing; it will give you the kind of respect and admiration they deserve. And it makes it easier to work with them, to walk in their shoes a bit. Find ways to support them — money, plaudits, attending their events."