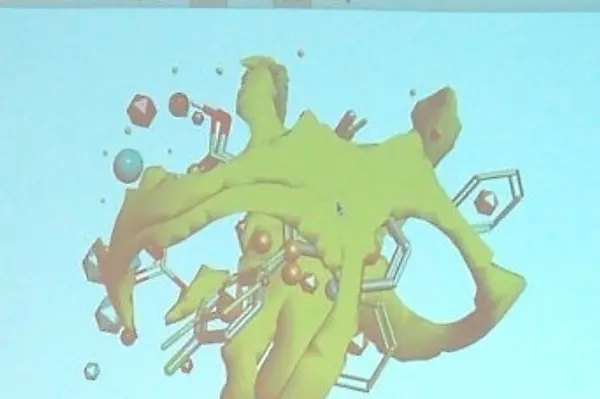 news
Software license gifts boost chemistry course
Chemistry instructor Bob Gotwals demonstrates the 3-D imaging in the StarDrop software that was gifted to his medicinal chemistry class by its developer
Students in Robert Gotwals's medicinal chemistry class at North Carolina School of Science and Mathematics can now predict and test the effectiveness of drug compounds and identify how the drugs are metabolized, thanks to two recent gifts of software licenses. Optibrium's StarDrop™ software enables students to predict properties for known drugs and then design new compounds based on models that predict the compound's metabolism, whether it could be administered orally or would enter the central nervous system, and many other factors. Cresset has also donated its torch3D module for StarDrop, allowing students to visualize, in three dimensions, where and how new compounds are biologically active.
"This is typically a graduate level course. It's a pretty unique opportunity for our students," says Gotwals, instructor of chemistry and research. "In all of my classes, our students use industry-grade software, not educational versions. These gifts give the class a huge leap forward in what we can calculate and predict."
Gotwals learned of StarDrop while attending the recent annual meeting of the American Chemistry Society. In talking with Optibrium's CEO, Dr. Matthew Segall, an exhibitor at the event, Gotwals explained that he couldn't offer his students a computing platform for drug metabolism. When demonstrating StarDrop software, including the torch3D module, Segall was struck by the notion of high schoolers undertaking such advanced work and was pleased to support the school by donating licenses.
"I was very impressed to hear about such an ambitious course, exposing high school students to the concepts of medicinal chemistry," Segall says. "The discovery of new medicines is vital for the future of the world's population and yet, with the pharmaceutical industry undergoing big changes and diminishing uptake of chemistry courses in higher education, there is a risk that the next generation of medicinal chemists won't be created. Starting early, with the most able math and science students, seems to be an excellent way to tackle this challenge. We're pleased to make a small contribution."
The torch3D plug-in module uses the molecular field technology that has been developed by Cresset. with whom Gotwals had met at the previous year's American Chemistry Society meeting. Cresset's CEO, Dr. Robert Scoffin, was also impressed by the teaching ambitions of NCSSM and was pleased to donate the torch3D module.
"StarDrop provides a uniquely intuitive and interactive environment in which to explore some of the more general challenges that medicinal chemistry projects face in the search for successful drugs," Segall says. "I hope that the experience of working with software such as StarDrop will help the students to pursue careers in medicinal chemistry and, more generally, the challenging and rewarding field of drug discovery."